Glamspiration: What To Wear To Thanksgiving
Wednesday, November 21, 2012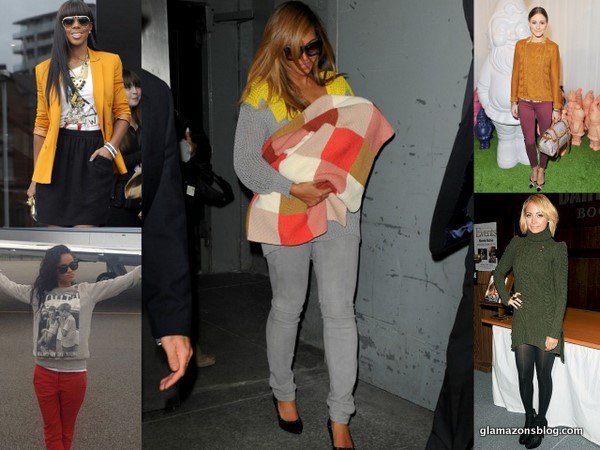 It's Thanksgiving time! T-Day is one of my fave holidays because you get to spend time with family, enjoy good food and take time to appreciate all the blessings of the past year.
I usually spend time laughing with my sister, cooking with my grandmother, hugging my niece, loudly watching the game and eating way too much amazing food.
The day usually calls for comfortable clothing with a lot of room for, ahem, food babies (you're familiar with this, right? when your stomach starts to look like you're 3 months preggers after that second plate of food?).
That means you don't want to wear pants that you'll have to unbutton or fussy dresses that cling to every curve.
Here are a few key things to remember when planning your Thanksgiving outfit:
-When it comes to silhouettes, relaxed is the name of the game. Oversized sweaters, sheer blouses, loose tanks and skater dresses are roomy and comfortable options.
-As for colors, since I'm corny like that, I like to dress in Fall hues for the holiday. Think orange, burgundy, red and forest green.
-Layer for your life! Don't you hate coming from outside in the freezing cold and walking into someone's house with the heat blasting? Maybe that's just me, lol, but no matter the temperature, layers will keep you comfortable just about wherever you go. Pile on the sweaters, cardigans, scarves and jackets, and just as easily peel them off when the temps change.
-For shoes, comfort is key. I love a flat or wedge sneaker for T-Day but fancier dinners may call for a heel. Go for a suede bootie with a sturdy heel that won't kill your feet by the end of the night.
OK, I think that should be it! Check out some a few outfit options for the big day below:
Dressy
Casual
Trendy
Flirty
Happy Thanksgiving, Glamazons!
Kisses,
Glamazon Jessica
View Related Posts:
[fbcomments width="600" count="off" num="15"]