GLAM SCOOP: Rihanna and Kate Moss Get Sexy for V Magazine, Solange Shines in Vulture, Halle Berry Looks Amazing With a 'Fro
Thursday, November 8, 2012
Glamazons,
WHAT is going on outside my window? *shakes head* I feel like we were just picking out swimsuits for the beach and now, I'm trekking through the dirty New York City slush snow…which is SO unsexy (save for my Marc Jacobs snow boots…determined to stay fly in the cold).
Since I don't mix with freezing temperatures like at all, I plan to stay under the covers and online shop for the duration of the day (four words: Alexander Wang Outnet sale). Please tell me you've hit it up, Glamazons!
But before I blow my freelance writer check on everything left on The Outnet, let's get into today's celebri-tea! Here's the scoop!
–Rihanna is everything there ever was and will be. Can I have her life? Slaying photo shoots, recording albums and taking hot Instagram pictures are the only things on her agenda…ever. And she does them all ridiculously well.
Her latest photo shoot couples her with none other than Kate Moss in lesbionic dominatrix photos for V Magazine's December 2012 issue.
Smoking hot. *fans self.* – Rihanna's Instagram
–Halle Berry looks like Diana Ross' spawn in her new editorial for Interview Magazine Germany.
The "Cloud Atlas" actress poses for a series of photos, giving the streets high-fashion realness (those shades!) and timeless beauty shots (yes to that flower in the hurr!).
I'm lobbying for her to have this afro permanently attached to her scalp.
It is LIFE-giving. – iluluonline
–Nas aka rap's Patron Saint is warming hearts for the holiday season in this adorable ad for Gap Holiday with his father, jazz musician Olu Dara. For those of you who aren't obsessed with Nas, this photo is especially poignant given the fact he and his Dad didn't always get along. But they have obvsi worked through their issues and forged a loving father/son relationship. Just beautiful!
Are you feeling all warm and fuzzy inside too looking at this? The only thing that would make it better is if his (adorable!) son Knight sat on Grandpa's lap. Swoon. – Necole Bitchie
-Wondering where M.I.A. has been? Well, apparently having a kiki with Versace designer Donatella Versace and charming her way into working with the brand. M.I.A. inadvertently spilled the beans during a lecture at the modern art museum P.S.1 where several folders with names like "Vintage Versace" were revealed. Smooth!
We're not sure what the collaboration will entail yet (though M.I.A studied at Central Saint Martins College so she's actually a celeb with a design background…imagine that), but I'm sure it will be funky, colorful and loud.
P.S. didn't Lana del Rey just fraudulently tweet that she was working with Versace which the brand formally denied? Sure she's somewhere crying in a corner at this M.I.A. news. – Grazia Daily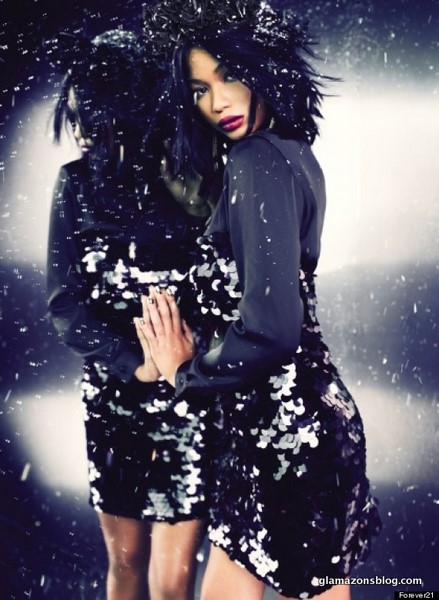 -What's the holiday season without a killer Chanel Iman campaign? The ridiculously gorg model shines in Forever 21 holiday ads which are so beautiful they make me want to put on sequins and go twirl in the dirty New York City slush snow!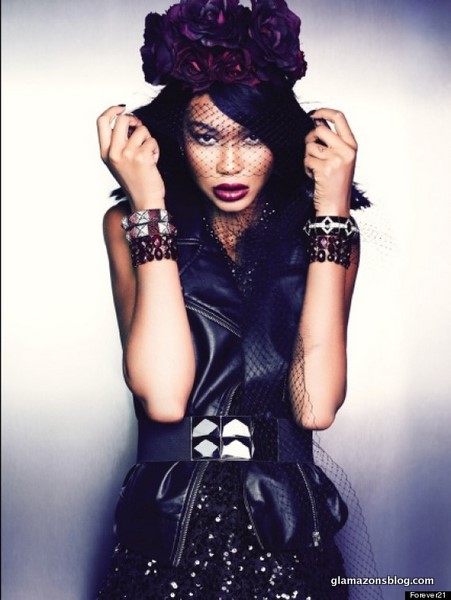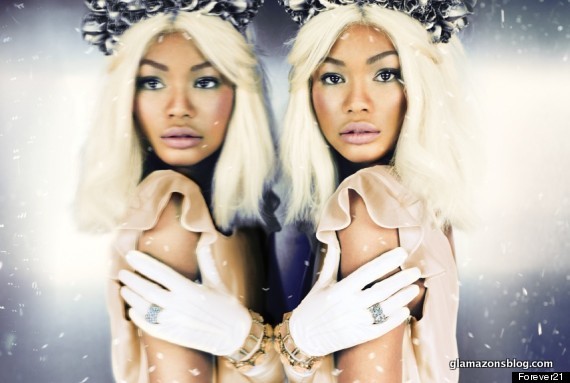 Get into her frosty makeup. Cold has never looked so chic. – Huffington Post
–Solange Knowles is still perfect, as evidenced by this breathtaking shot for Vulture and the accompanying article where she opens about how her and Beyonce became close (Bey held her down through the drama in her short-lived marriage to Julez's Dad) and how she's always babysitting Blue Ivy. So jealous.
P.S. Love how Solo is just chilling in Brooklyn during the interview, talking to strangers and walking past the housing projects…wearing multicolor silk. Story of my New York life. – Vulture
Until tomorrow!
Kisses,
Glamazon Jessica
View Related Posts:
[fbcomments width="600" count="off" num="15"]