Call The Glambulance: Illamasqua Sparks Backlash with Blackface Holiday Ad
Tuesday, November 27, 2012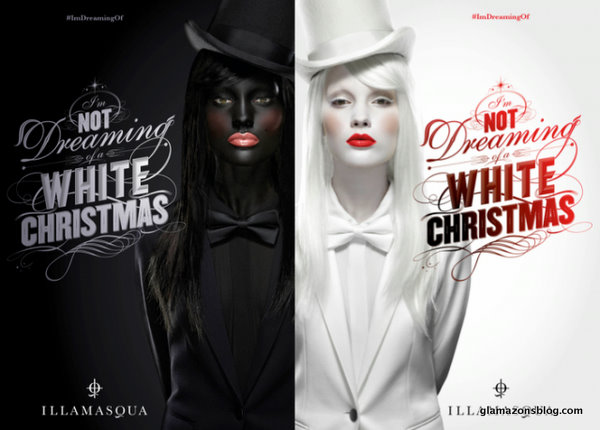 Glamazons, what is it going to take for people to do away with blackface for good? People were outraged when America's Next Top Model painted models in blackface, Beyonce posed in blackface and Claudia Schiffer posed in blackface for Karl Lagerfeld. And here we are again with a blackface holiday ad by Illamasqua (clearly, the marketing team missed all the aforementioned blackface incidents).
The popular beauty brand, established in the UK, debuted its holiday ad campaign on Facebook featuring a white model painted in blackface. The caption read: "Not dreaming of a white Christmas."
The racial implications of both the caption and picture rubbed supporters the wrong way. Many felt the hat, blackface and red lips were blatantly reminiscent of minstrelsy. Apparently, all of this was lost on the brand, who released the below apology:
We thank and acknowledge your comments regarding the above image. Obviously it was never our intention to cause offence; Illamasqua has always celebrated the right to self-expression and we continually push creative and artistic boundaries, priding ourselves on working with models of many ethnic backgrounds to reinforce this point. Alex Box, Illamasqua's Creative Director, has emphasised that this campaign is about colour ON the skin, not colour OF the skin, depicting polarity between the two images (both images are the same model) not race.
The image has yet to be removed.
Their intention may not be "to cause offence," but many believe they should have been more aware of the racial undertones of their imaging. The makeup invokes memories of blackface and minstrelsy that are painful and offensive to many of the brand's supporters. That's reason enough to apologize and take down the campaign, in my opinion.
What do you think, Glamazons? Do you find this ad offensive?
Kisses,
Glamazon Jessica
View Related Posts:
[fbcomments width="600" count="off" num="15"]