Halloween Glam: Lady Gaga, Kimye, Jennifer Lopez, Rihanna and More!
Friday, November 2, 2012
OMG, Glamazons, Hurricane Sandy came with an evil vengeance this year and shut Halloween down! While most of New York City (including myself) was concentrating on staying safe this year, celebs were out and about in full costume giving Halloween glamour.
I hope to celebrate on rescheduled Halloween (shoutout to Governor Christie) but in the meantime, let's get into the hilarious costumes celebs dressed up in.
Lady Ganja! Lady Gaga dressed up as her fave extracurricular activity: marijuana. She used the opportunity to rock a green wig and pasties, and also a rolled joint. Creative…but then what can we expect from somebody who makes everyday Halloween?
If you can believe it, Rihanna actually rocked the same costume, albeit she was a tiny bit more covered up:
Marihanna! Our girl Rihanna gave a ratchet Ganja gyal aka Mary Jane moment in green lingerie, a veil and leaf. We loves it.
Who rocked reefer best?
I'd say Rih.
Rihanna hung out at Greystone Manor with her besties Evelyn Lozada and Evelyn's daughter, Shaniece. While I don't know what Shaniece's dressed as, besides a boobalicious mask-wearer, Evelyn revealed her costume was Ariel from "The Little Mermaid."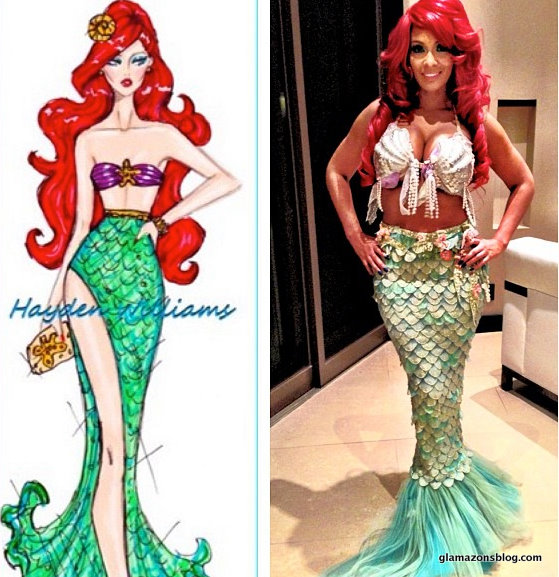 Living for her shoes: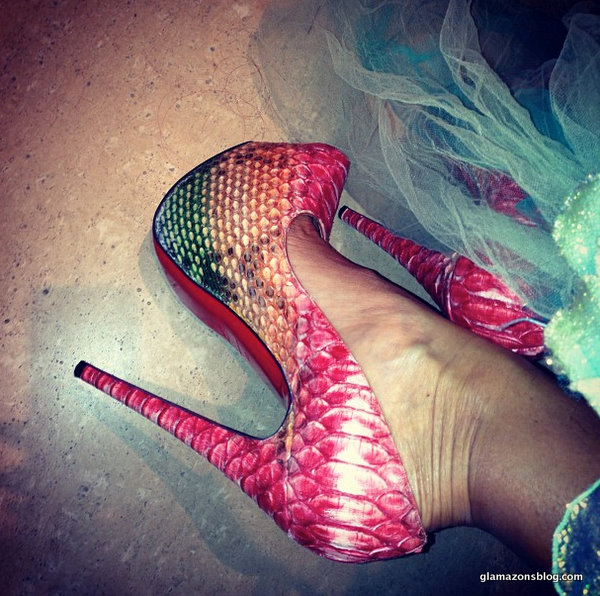 As you know, Kim Kardashian went as a mermaid (Madison from "Splash") for Halloween too but I think Evelyn snatched Kim's blonde wig.
What say you?
Diddy cracked me up posing as His Purple Highness Prince.
Cassie missed a great opportunity to dress up as Apollonia by going as Cleopatra instead. Still gorg boots!
Heidi also went for a glorious Cleopatra moment that was simply breathtaking. How amaze is her headpiece?!
Jessica Alba was adorbs in a family costume moment as "The Incredibles."
Gwen Stefani stepped out as Sandy from "Grease" which happens to be the cutest costume ever, though folks were upset given the hurricane of the same name.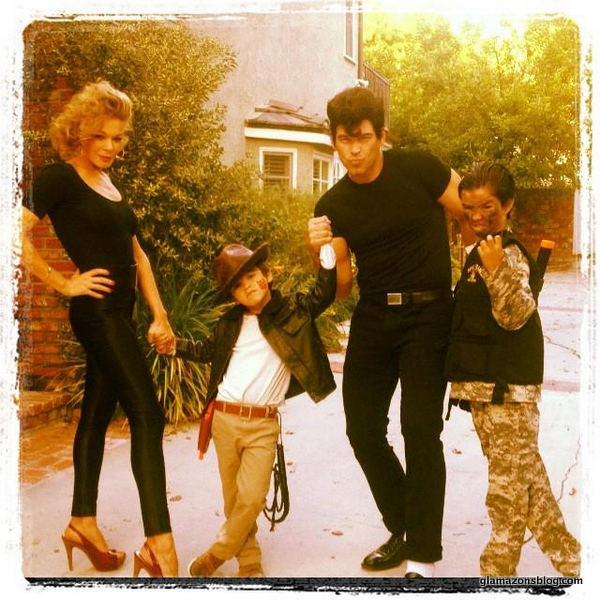 Leanne Rimes rocked the same costume – and got the same backlash. Is it justified?
Fergie and Josh Duhamel were pure cuteness dressed as Angelyne and Dennis Woodruff.
And Fergie Ferg also got sexy later as a kitty kat. HOT!
Jessica Simpson showed off her post-baby waist in a smoking hot Medieval costume.
Sickening!
Mariah Carey was too cute for words as Goldilocks with her three little bears, Nick Cannon and #dembabies.
Miley Cyrus made a hilarious Nicki Minaj complete with a pink pout, catsuit and booty for daysss.
Kevin Hart and girlfriend Emiko went as 70s "Soul Train" dancers – I'm SO stealing that costume next year as I always wanted to be one anyway. Hilarious.
Lance Gross went back to the 90s as a old school gangsta complete with Jheri Curl.
I cried laughing at this costume!
Angela Simmons was precious in an angel costume with a tutu and pearls. She's adorbs.
Diddy hit up another Halloween party as a dictator with a graphic Instagram photo and caption to match. *shakes head*
Ellen dressed up as a curvacious Sofia Vergara at the Emmys, wardrobe malfunction and all. LOL!
Jessica White re-used her outfit from the Victoria Secret runway show and went as a sexy angel.
JWoww was hilariously cute as a nerd. This costume was one of my faves!
Jennifer Lopez and her boytoy Casper Smart went as 70s hippies. His wig is troublesome.
Elle Fanning was a sultry Lady Liberty. How hot is that dress?
Chris Brown ruffled everyone's feathers by going as a terrorist (reportedly Osama bin Laden).
Le sigh.
And finally, Kim Kardashian made up for her and Kanye West's underwhelming mermaid/captain costumes by stepping out to Liv nightclub in Miami as Catwoman and Batman. 
Werque those curves, Kimmy.
Their cool, sexy, hot, awesome leather-y costumes also included an amazing Batmobile.
And a "BatClique" including Robin (Scott Disick), Batgirl (Kourtney Kardashian), The Riddler (Jonathan Cheban) and Joker (Anthony).
Loves!
Kimmy even treated her Instagram photo with cool comic book graphics.
They win best costume this year for me, but who gets your vote, Glamazons?
And what did you go as?
I'm totally dressing up tonight, Sandy won't stop my holiday spirit!
xo
The Glamazons
View Related Posts:
[fbcomments width="600" count="off" num="15"]