What I Wore: Forever 21 Chambray Shirt, American Apparel Red Skirt and Charles by Charles David Leopard Boots
Wednesday, October 3, 2012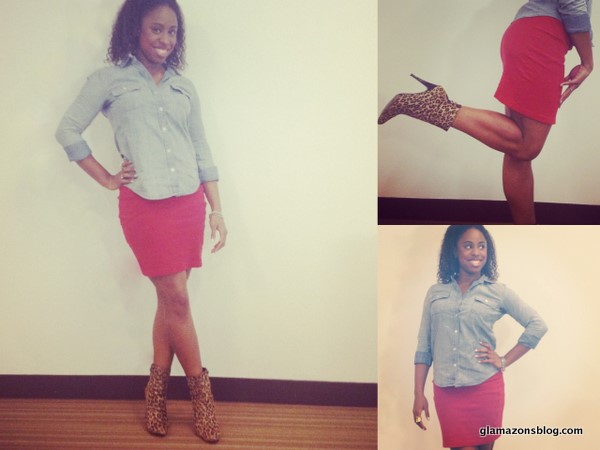 Glamazons, what is it with all this torrential rain?! Like, it is perpetually muggy in New York City and it feels like it was years ago when I could actually lay on the beach, listen to Frank Ocean and get my first and second life as I fell asleep to the smell of the ocean. Now, the only sounds I here are sirens, cab drivers cursing me out because I don't cross the street fast enough and dudes on the corner trying to sell me $5 umbrellas (that will fall apart in two seconds. Seriously, NEVER BUY THEM).
Oh and the smell of the ocean has been replaced with the stench of trash floating in icky dirty rain water on the side of the street (Can anyone explain why rain water in NYC turns black when it hits the ground? because it's clear when it's coming down from the sky? Please answer, I'm disgusted/confused).
Anyway, I was totally wallowing in my weekday sorrow yesterday morning when I realized, you know what, screw the bad weather! I am going to dress up, give the kids a sassy moment and feel sexy like it's the weekend when really it's only Tuesday aka two days until a new 'Scandal' episode day.
I immediately dismissed my usual uniform of leggings, an oversized off-the-shoulder top and my wedge sneakers (yes, I go for 80s flashdance whenever I dress casually) and went for the two things that make me feel like a sultry, irresistible vixen: red and leopard print.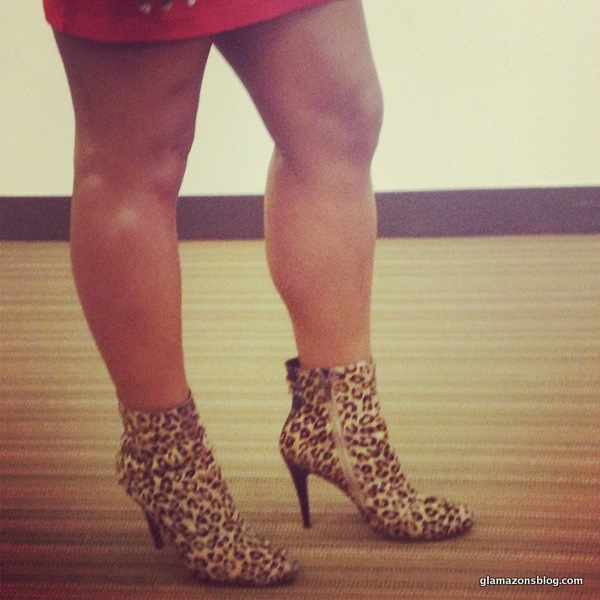 Out came my favorite leopard print ankle boots from Charles by Charles David. BOOM!
I paired them with my super-comfy red American Apparel pencil skirt. See? Sassy.
I tempered it all with a new chambray blouse I picked up from Forever 21, which I feel gave it a casual, daytime flair.
View Related Posts:
[fbcomments width="600" count="off" num="15"]