TRY THIS: Coterie.com's Noteworthy By Demeter Fragrance Library
Monday, October 1, 2012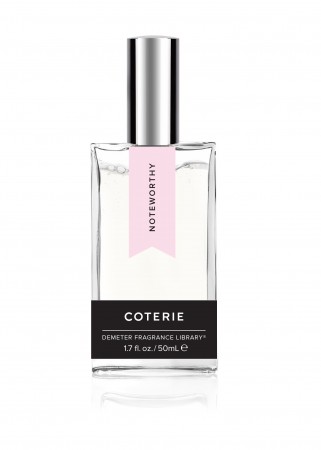 October is finally here! WOO HOO! I'm sure that all of you Glamazons are really honing in on what you're gonna be for Halloween (I honestly still have no clue…ugh) BUT I also wanted to point out that today marks the first official day of Breast Cancer Awareness month. I don't know about you Glamazons, but I think that breast cancer is a pretty big deal and I hope that all of you ladies will at least go to the doctor and make sure that you get checked it for it. You can also show your support by doing great things such as purchasing beauty/fashion items that give whose sales go towards finding a cure for breast cancer…starting with this amazing new fragrance from Demeter!
The brand has linked up with Coterie.com (a new site which offers exclusive, limited time only offers from top beauty brands) and created the scent Noteworthy, a "soft, uplifting scent" (all according to the press release of course). In order to create more awareness around breast cancer, Coterie has launched a #Noteworthy social campaign in which friends, guests and members can create inspirational notes and videos about the noteworthy women in their lives. You can share your own #Noteworthy stories on Coterie's Facebook page (facebook.com/coterieinc), Demeter's Facebook page (facebook.com/demeterfragrancelibrary) as well as through Twitter (twitter.com/coterie).
Noteworthy the fragrance retails for $45 and is a "fruity, floral scent" that contains notes of Frosted Italian Bergamot, White Jasmine, Blue Iris, Creamy White Rose, Cashmere Musk and White Patchouli.
Noteworthy eau de toilette is formulated with:
• 95% natural ingredients and fragrance oils
• Natural fermented alcohol
• No artificial colors, binders or emulsifiers
• No synthetic fragrance materials or phthalates
Noteworthy will be available for purchase OCt. 1-31 and 30% of the proceeds will be donated to the National Breast Cancer Foundation, Inc. For more information, visit coterie.com.
What do you think, Glamazons? Do you plan on giving this pretty fragrance a try?!
xoxoxo
Glamazon Andrea
View Related Posts: