Glamazon Giveaway: Win L'Occitane Shea Butter Hand Cream!
Friday, October 5, 2012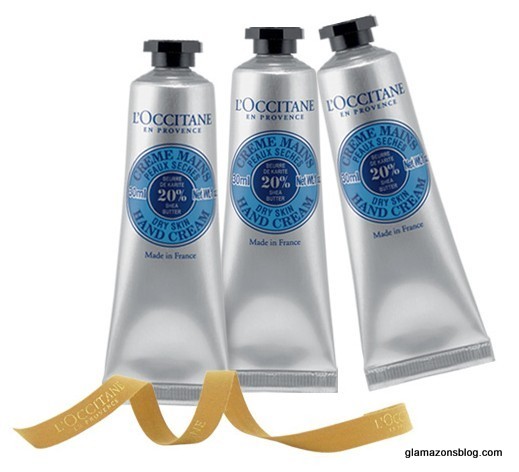 Glamazons, I have this thing every Fall/Winter where I get obsessed with my hands. Like, I want them soft and supple at all times because I hate when the weather gets cold and they're all crusty and dry (and…because you never know when you'll be holding hands wiht a boy, wink).
That said, I SWEAR by L'Occitane's Shea Butter Hand Cream. The honey-enriched cream is a must-have for every woman's beauty bag. And it seems the rest of the world agrees with me. It is so popular that one is sold every three seconds around the world. Yep, it's THAT amazing.
So the people at L'Occitane are so amazing, they're giving away free 10ml tubes of the hand cream, which is perfect for combat dry hands as the weather gets colder. To snag one, log onto Facebook and click to "like" the L'Occitane fan page. That easy.
PLUS if 500,000 fans are reached from October 1st – October 14th, they'll give away the 30ml size tube AND you will receive a voucher for 15% off your next purchase that can be redeemed at any L'Occitane store nationwide. Amazeballs, right?
But it gets better. YOU can win the FULL SIZE (5.2 oz) hand cream right here with us. Why do you get this special treatment? Because you're Glamazons. (Duh).
To win the FULL SIZE cream, enter the Glamazon giveaway by doing the following:
-Like The Glamazons Blog page on Facebook and Twitter.
-Share this post on your personal Facebook and Twitter pages.
-Leave a comment when you're done!
That's it. We'll announce the winner on October 18th. Good luck, Glamazons.
Stay Fabulous!
Glamazon Chantel
View Related Posts: