GLAM OR SHAM?: Kim Kardashian and Kanye West Dress Up as a Mermaid and Captain for Halloween
Saturday, October 27, 2012
Can I be real with you guys for a second? I'm one of those super excitable, corny people who love dressing up for Halloween. Remember when I went as pregnant Beyonce? Yeah.
I love playing dress up and getting creative with my costume. But I always thought…when I get a boyfriend, like a real serious boyfriend who I love more than my Louboutins, I had to make plans for how I'm going to win an award for best couples costume if he's not down to dress up. Yes, these are things I think about when I have nothing better to do.
So my plan for getting around it? I would work from whatever he's actually wearing and try to make a bootleg costume out of it. If he's in a printed sweater, he's Mr. Huxtable and I'm Claire Huxtable! A Yankee fitted? He's Jay-Z and I'm Beyonce!
Looks like Kim Kardashian's done the same. Instead of giving the kids a Heidi Klum / Seal costume couples moment, her and Kanye West have settled for a mermaid and a captain. Yawn boots.
Kim posted the above picture on her Instagram with the caption "me and my captain."
Apparently, Kim is channeling Madison from the 1984 film, "Splash" but that doesn't lend itself to a cool idea for Kanye's costume.
A captain, guys? Really? Are we trying to make something out of Ye's random nautical moment? 'Cause it's not working.
I mean, even Prince Eric would've been better. Yes, Prince Eric from "The Little Mermaid." And a red wig would've been perf for Kimmy, am I right?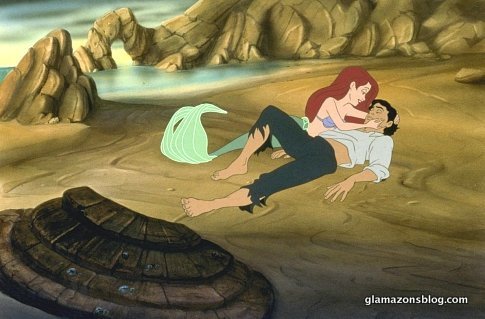 Atleast then both costumes would've been interesting. And to think, all Ye needed was a white shirt and a ripped pair of jeans! And maybe a combover.
Their actual costume pairing is so…awk. Kanye doesn't even look comfortable.
And if he's a captain, where the hell is his Captain's hat? We know he owns one.
For me, this is totally a SHAM. What say you, Glamazons? Is this couples costume a good one?
P.S. Luckily, my boo is open to Halloween costumes. Umm…any ideas, Glamazons? What are you dressing up as?
Kisses,
Glamazon Jessica
View Related Posts:
[fbcomments width="600" count="off" num="15"]