A Day In The Life: BRAG 42nd Annual Gala with Angela Simmons, June Ambrose and More!
Friday, October 26, 2012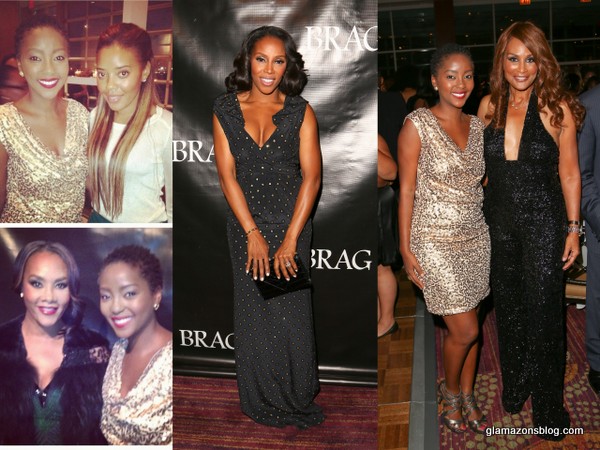 Glamazons, when you think of your ideal Friday night, do the words 'gala & awards ceremony' come to mind? No? Me neither.
Well, until this past Friday. On that fateful night, I had the ridiculously great fortune to be on the invite list for the Black Retail Action Group, Inc (BRAG) Awards Gala held at Pier 60 in Manhattan.
Talk about titillating, inspiring and laugh out loud fun! Seriously, it was a night well spent. It was a super special gala because the organization was celebrating their 42 years of fashion industry services. To toast their anniversary, the organization honored 5 industry leaders and awarded scholarships to students of color hoping to break into the fashion industry.
A fabulous time for a fabulous cause…AND star sightings? Sign me up!
As soon I walked into the venue, I was promptly escorted into the awards gala area. Hurriedly making my way to my seat, I almost passed out once I recognized the celebrity face at my table. Sitting at table 30 was none other the gorgeous Vivica A Fox. Can you imagine?
I've always felt like I've known Vivica ("Two Can Play That Game" is like The Glamazons' dating manual!) so it was so cool to hang with her.
Dressed in J. Mendel from head to toe, Ms. Fox was serving up 1950's old Hollywood Glamour and looking all types of fierce.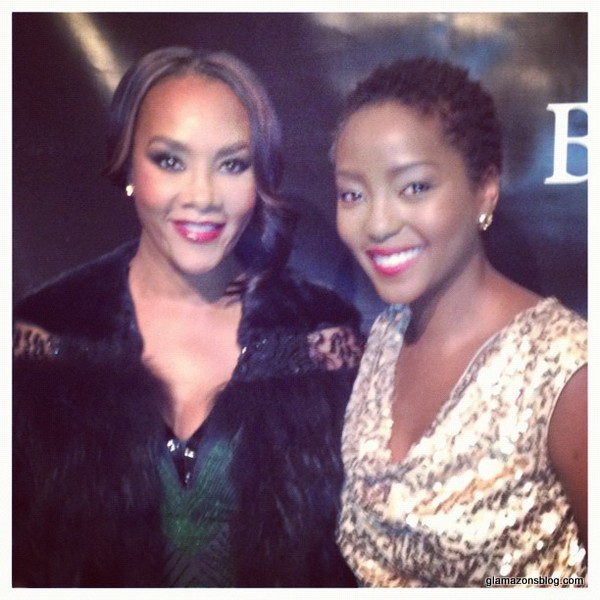 I can't dish on the specifics of our juicy conversation (just know we're besties now…kidding lol) but what I will say is that she is witty, intelligent and very down to earth. Don't you just love it when a celebrity is not caught up in their own hype? I know I do.
The actress was one of special celebrity guests, along with the always beautiful and gracious Angela Simmons that came out to support BRAG.
How gorgeous is she? Loving her new blonde highlights!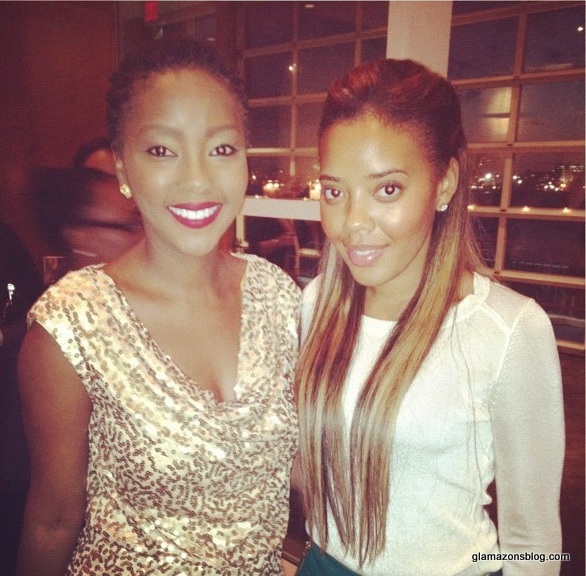 After the star sightings and impromptu photo shoots, it was time for awards and acknowledgements. Tamron Hall emceed while BRAG acknowledged 5 leaders in fashion: Thomas M. Belk, Jr., CEO of Belk Inc., the amazing Susan Akkad, Senior Vice President, Local and Cultural Relevancy at Estée Lauder, our beloved June Ambrose, Celebrity Stylist and Reality TV personality, Fern Mallis, Creator of 7th on Sixth and President of consulting agency Fern Mallis LLC and lastly Beverly Johnson yes thee Beverly Johnson.
She was so sweet to me!
And of course, June Ambrose was there looking fabulous!
She was all smiles with fellow honoree Fern Mallis.
It was super inspring to listen to the honorees' speak about their path to success and throwing in tidbits of personal experience, triumphs and defeats. Of course, I listened while drinking and eating (the food was delish); and later, I got up to dance to tunes spun by one my favorite DJ's – the ever so fashionable DJ Kiss.
Out of all the celebrities in the room, the brightest stars for me were the students being awarded scholarships. They were not shy about networking and discussing their passion for retail with whatever celebrity or attendee was within earshot. It's so cool to see other fashion enthusiasts eager about making their mark on the business and living their dreams.
'Twas a fun night, Glamazons!
Check out more pictures from the gala, Glamazons:
xo,
Glamazon Makho
P.S. For more information about BRAG, visit www.bragusa.org
View Related Posts:
[fbcomments width="600" count="off" num="15"]