Glamazon Giveaway: 3D Eyeshadow From OFRA Cosmetics!
Thursday, September 20, 2012

Hey Glamazons, it's time for another giveaway! This time around we're getting into some innovative beauty with OFRA Cosmetics.
This brand has launched a line of 3D Eye Shadow and maybe it's just me, but that seems pretty freakin' cool!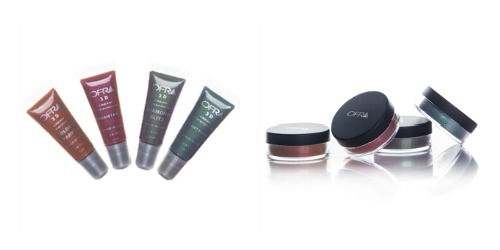 Each eyeshadow has a blend of three pigment colors that are combined into one. There's a holographic luster to each shadow, so onlookers will probably see a different color from different angles when you're wearing it.
Get ready to pull out your 3D glasses when you're glamming up because we're giving one lucky Glamazon the opportunity to win all four of the 3D Eye shadow cream colors! Here's how to enter:
-Like Glamazons Blog on Facebook.
-Follow @glamazonsblog on Twitter.
-Leave a comment when you're finished.
Winners will be announced on Friday, October 5th!
The shadow comes as a loose powder and as a cream. The OFRA shadows cost $20 each and can be purchased at http://www.ofracosmetics.com/.
Glamazons, what do you think about 3D eyeshadow? Is it something that you would try?
Ciao Bellas,
Glamazon Margo
View Related Posts: