Happy Birthday Beyoncé! PLUS Get Her Made in America Festival Sportiqe Brooklyn Nets Dixie Shirt
Tuesday, September 4, 2012
Glamazons,
Today is a special day, not only because New York Fashion Week is starting and it's the first day of the Democratic National Convention, but because our lady of laid lacefronts, her royal highness, Beyoncé Giselle Knowles celebrates her 31st birthday today. *does the full Single Ladies routine in her honor*
The new mother to Blue Ivy, best performer alive according to Jay-Z and Michelle Obama's BFF has been showered with praise from Justin Bieber, Michelle Williams, Gwyneth Paltrow, her mother Tina Knowles and Jay's mom, Gloria "Mama" Carter. See a few of those notes below:
From Mama Tina
From Mama Carter
Awww!
But umm, The Glamazons haven't formally paid homage yet! So to wish the Ultimate Glamazon the fiercest of birthdays, we're patting our weaves, doing the Naomi Campbell walk (a la "Get Me Bodied") and giving you the tea on her super cute, casual chic, rockstar look at hubby's Made in America festival yesterday.
Queen Bey kept a low profile in leather pants and boots, a jacket around her waist, red lips, funky rings and a Sportiqe Brooklyn Nets off-the-shoulder t-shirt.
Her outfit made for the perfect layered fall look with a dash of glamour and attitude. I don't know about you Glamazons but off-the-shoulder shirts and leather pants will be my thing this Fall (with a darker lip though, very goth glamazon).
Anyway, we searched high and low and couldn't find her exact shirt (being the co-owner's wife has its privileges) / UPDATE: we found her shirt!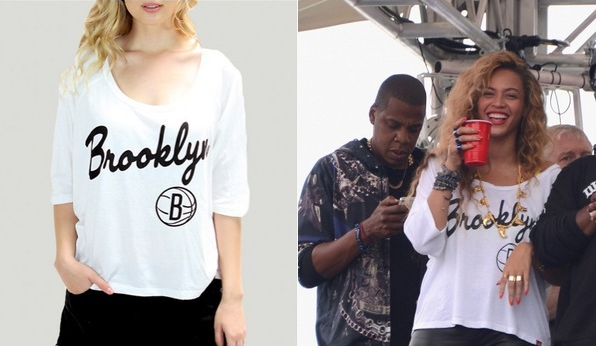 Woohoo!
Get her off-the-shoulder Sportiqe Brooklyn Nets 'Dixie' shirt here.
Plus a couple cute options if you want to rep the Brooklyn Nets:
Sportiqe Brooklyn Nets Womens Andrews Off Shoulder Sweatshirt – Ash, $45, footballfanatics.com.
Sportiqe Brooklyn Nets Ladies Icing Abyss Premium V-Neck T-Shirt – Ash, $35, footballfanatics.com.
Brooklyn Nets Ladies Cut Off T-Shirt – Ash, $30, shop.cbssports.com.
And the ever-brilliant @TAJrani, music writer and t-shirt aficionado, came up with the cute #DIY idea of simply ironing the logo on a white off-the-shoulder shirt. Totally do-able.
Channel Bey with these pieces:
Loves!
Excuse me while my heart melts.
Happy Birthday Beyoncé!
Kisses,
Glamazon Jessica
View Related Posts: