What They Wore: Rihanna, Zoe Saldana, Amber Rose, Gabby Douglas and More at the 2012 VMAs [Video]
Friday, September 7, 2012
Last night was truly mayhem, Glamazons, between President Barack Obama's Democratic National Convention address, Fashion's Night Out and the 2012 VMAs. Like, at the same damn time?!
Of course, due to our super fun blogger crawl, which I'll tell you all about shortly, Fashion's Night Out was priority on my schedule last night. Though I'm proud to say I looked up Rihanna's dress on my phone (GLAM SLAM!) and listened to the President's speech in a cab from Soho to Harlem at like midnight last night. And the cabbie, Christina and I erupted into applause after every soundbite.
Anyway, while I was (literally) dancing in the streets of downtown Manhattan for FNO, L.A. was buzzing for the 2012 MTV VMAs. The red carpet had incredible lewks, baby bump rubs (are the VMAs the new way to announce you're pregnant?) and err, some misses (why Nicki? just why?). Let's discuss!
I mean, no matter how crazy and entertaining the event, Zoe Saldana still gives you elegance. The beauty showed up in a fitted cream Salvatore Ferragamo dress with funky strappy black heels. She gave you a faux bob moment with her dreamy, wavy hair pulled back and topped it all off with a smoky eye. She looked radiant. When is she ever NOT GLAM?
Rita, WTH? I am quite distressed by Rita Ora's ill-fitting studded Emilio Pucci jumpsuit. It's SO not flattering. The waist is riding too low and the pant legs are too high. The pointy black pumps just add to the visual assault. It's just wrong, wrong, wrong. And to top it all off, she's rocking necklaces with a high sheer neckline. Ma'am. We don't deserve to look at this. SHAM.
There she goes. If Rihanna isn't a candidate for natural beauty that slays, I don't know who is. Her feeaaachhhee (Jackée voice) haircut made its red carpet debut last night with an Adam Selman clean white gown that draped over her body like a greek Goddess, chile. Yasss!
She topped it off with nude sandals and an orange-y red lip. With her subtle yet beautiful look, she snatched every wig within a 50-mile radius. Well done, Rih. GLAM.
Oh, hey Pink! She gave us rock-and-roll diva in a silver, gunmetal Stella McCartney long-sleeve gown with a sizzling slit. That blonde hairstyle so reminds me of the "hair gel" scene in "There's Something About Mary." Cute. GLAM.
Miley Cyrus seemed to be channeling Pink in her look which was a bit edgy but dripping with full-on glamour. She made good use of her haircut teaming it with a brilliant Emilio Pucci gown.
The dress features a low neckline and sheer panels, balanced by long sleeves and a floor-sweeping hem. An embroidered Edie Parker clutch tipped the glam factor over the scale. Love this look! GLAM.
Aww Amber! Amber Rose pulled a Beyonce and debuted her baby bump on the 2012 VMAs red carpet. She makes a beautiful pregnant woman (as if there was ever any doubt!). Seriously, she needs to bottle up that glow and sell it.
The mother-to-be wore a long sleeve embroidered gown that gently hugged her growing tummy, and gave bleached blonde realness and smoky eyes for your nerves. Her look really and truly needed a dab of this lipstick, but she is stunning anyway. GLAM.
If you thought Amber's belly and Rih's cut was the news of the night, think again. The real story? Taylor Swift showed up to a red carpet, not. wearing. sequins. *faints* The country star looked like a whole new woman with sleek locks, sharp bangs and a sexy J. Mendel pantsuit topped off with gold strappy Tom Ford heels. But she still gave you that perennial red lip. Old habits die hard. GLAM.
Glamazons, I like this new edgy Alicia Keys. Also sporting a new cut, Mrs. Swizz Beatz was very fashion-forward in an Alexandre Vauthier silver gown with a sharp one-shoulder neckline. Love the way the cut compliments her dress! She spiced things up with equally bold dark jewelry and sexy Gucci sandals. Peep that Angelina Jolie pose but with the left leg – and her glowing skin. New glam squad, Alicia? We approve! GLAM.
Confession: if I had money or stardom and could request any designer's look, I'd wear Peter Pilotto everyday. He's so dope! Emma Watson lived the dream in a funky Peter Pilotto dress that's graphic high fashion queen on top and pretty Spring princess on the bottom. Her black lace up sandals were the perfect add-on. GLAM.
Why does Katy Perry look like she's dressed for bed? Her red and turquoise Elie Saab nightgown is so uninspiring, though I love the black long Rapunzel wavy locks on her (but they're a bit Morticia Addams). SHAM.
Nicki Minaj's streetwalker meets policeman look almost ruined Fashion Week for me. Did Mitt Romney endorse this? SHAM.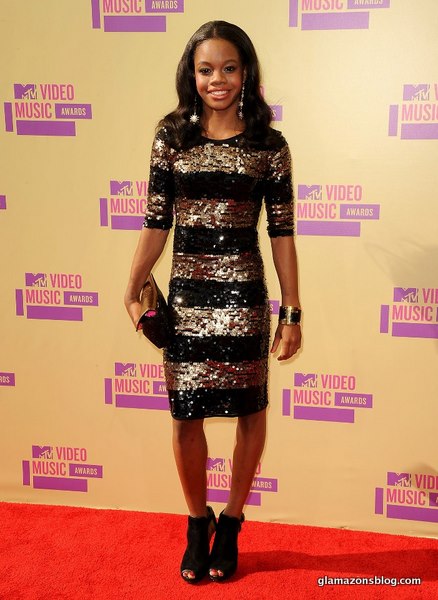 Aww what a beacon of light and sunshine! America's sweetheart, Gabby Douglas, was darling on the red carpet in a black and gold sequin dress, peeptoe pumps and hair laid for Athena and Zeus. GLAM GLAM GLAM!
So there you have it. It's clear what my faves were but tell me yours in the comments!
And purely for entertainment purposes…
Why is Drake walking through a shade convention?
Leave it to Rihanna to get groped up onstage as her "first love" (Chris Brown) and rumored side piece (Drake), who fought over her, watch from the audience. That maneater life!
#whereiskarrueche
–
–
Yes, Rihanna and Chris Brown greeting each other is so serious they have it on film!
Check out some of my other fave vids:
Kevin Hart is hilarious:
–
–
Rih and A$ap Rocky get close for "Cockiness" (and peep Rih's dance routine):
–
–
Gabby Douglas makes a cameo (!!) during Alicia Keys "Girl On Fire" with Nicki Minaj:
–
–
2chainnnzzzzz!
–
–
I live my entire life for Frank Ocean:
–
–
Did you watch the VMAs, Glamazons? What did you think of the show?
Kisses,
Glamazon Jessica
View Related Posts: