Win It: New Vaseline Total Moisture Body Lotion!
Thursday, August 9, 2012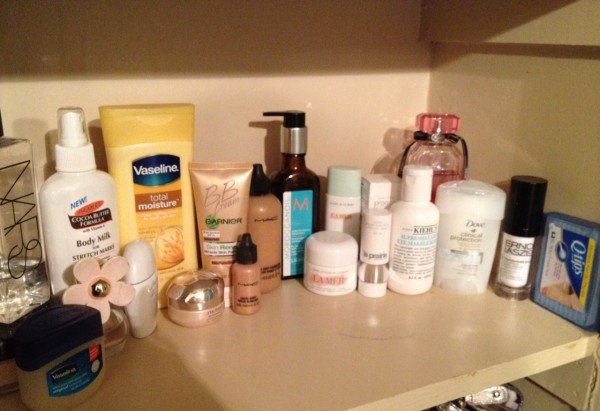 Hey Glamazons! So, I've been busy traveling a ton this summer (which is a good thing!) but my bathroom area has become quite a cluttered mess (which I don't necessarily view as a bad thing, but I can't find anything which makes it not that great). According to a recent medicine cabinet study released by Vaseline, only 36% of women admit cleaning out their medicine cabinets less than once every two years. About 13% of women admit to not ever cleaning out their medicine cabinets (yikes!).
While I should probably be locked away for the insane amount of beauty products that I have in my possession, I decided to get a bit more organized while unpacking. And THEN I was inspired to share my top three medicine cabinet beauty faves with you all!
1. Vaseline Total Moisture (Pure Oat Extract): For those that know me, you'll know that I change out body lotions at least once every week. This means that I have an insane amount of half-used, not-even-opened-yet body lotions. However, this Vaseline Total Moisture body lotion has proven to be my everything and allowed me to get rid of all of the other 10,000 body lotions I had in my medicine cabinet. It has a nice, clean scent and combines pure oat extract and Stratys-3 multi-layer moisture complex which not only feels great on my skin but also moisturizes extremely well.  (Which, for you non-sciency minds means that it gives you 24 hour moisture.)
2. Palmer's Cocoa Butter Formula Body Milk For Stretch Marks in Calming Lavender: Being that I've got a bun in the oven, I'm obsessed with anything I can slather on my belly to keep stretch marks at bay. This stuff is super light and also soothes the dryness and itchiness that can sometimes come along with pregnant skin. OH and the calming lavender scent is also a great bonus! (I use the Vaseline Total Moisture lotion on the rest of my body.)
3. Garnier BB Cream: I always have so much to do and so little time to get it done! Those days of being able to spend an hour or more just putting on makeup each day are pretty much over for me, so I love anything that keeps my skin looking pretty that I can just put on in two seconds. This stuff contains both sunscreen and works as a tinted moisturizer, so I can skip the foundation, throw on some bronzer and go!
Now it's time for you to go and organize your medicine cabinet! I kid, I kid Glamazons. But, seriously, maybe this post has inspired you to do so (or at least think about it). And, because I believe that everyone needs more beauty products, I'm giving away five 10 oz. samples of the Vaseline Total Moisture! Just follow us on Twitter (@glamazonsblog) and tell us how many body lotions you have in your medicine cabinet along with #Vaseline.
xoxoxo
Glamazon Andrea
View Related Posts: