GLAM OR SHAM?: Miley Cyrus' Short Blonde Haircut
Monday, August 13, 2012
Glamazons,
I'm all for experimenting with hair. I mean, I change my hairstyles atleast once every two weeks. And have rocked everything from short cuts to shoulder-length bobs to huge afros to long hair laid for Zeus and flowing like a Beyonce weave. So I'm not mad at Miley Cyrus' haircut, but boy what a change this is:
The former Disney star, who is engaged to that FINE guy from Hunger Games, Liam Hemsworth, drool, debuted her new haircut on Twitter. Miley Cyrus "big chopped" so to speak with the help of hairstylist Chris McMillan.
The result? A super short shaggy 'do shaved on both sides. And it's platinum blonde. Get it, girl.
I'm really not mad at this style. OK, at first, I was a bit shocked and very "really, Miley? really, girl?" But this tweet made me change my mind:

Guys, I feel that. That is totally how I feel about my curly coils. And a fan actually pulled up a video when Miley was 15, saying she wanted short, blonde hair like Twiggy:
–

–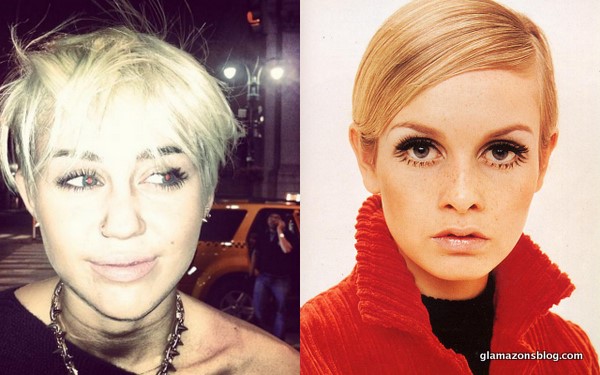 Is she doing Twiggy justice?
If she likes it and feels it speaks to her personality, than I'm all for it.
Can you BELIEVE how different it makes her look though?
Oh and Miley shut down her haters: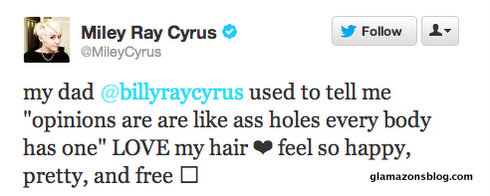 Though Tyler the Creator still tweeted:
"@mileycyrus your barber's an asshole."
Then, he deleted it.
Charming.
What do you think of her new haircut, Glamazons? Is it GLAM or SHAM?
Kisses,
Glamazon Jessica
View Related Posts: