Fashion Faceoff: Kim Kardashian vs. Dianna Agron in Stella McCartney Paneled Cotton-Blend Velvet Peplum Dress
Wednesday, August 22, 2012
OK, Glamazons, so I'm dubbing this style the little peplum dress to replace the little black dress. This new signature dress style has been all the rave in fashion land recently. And it's clearly here to stay as we've seen EVERY celeb in this lewk.
The latest Glamazons to rock the trend actually stepped out in the same dress!
Let's start with Kim Kardashian. I think she looks amazing! Her Stella McCartney Paneled Cotton-Blend and Velvet Peplum Dress fits her like a glove without looking trashy. This is definitely one of Kim's more polished looks.
She paired the dress with Christian Louboutin 'Bis Un Bout' Illusion Pumps, which have also been a hot commodity this season.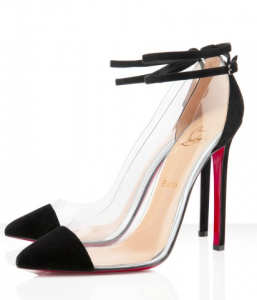 I have lived for these shoes ever since they came out, Glamazons! And though we see them on tons of celebs, I still haven't lost my love for them (sigh). The Illusion pump adds the perfect dose of sex appeal to this otherwise modest dress.
Kim also added gold cuff bracelets to adorn both wrists…love! This is totally my style!
Diana Agron also sported the dress awhile back after an appearance on The Late Show with David Letterman. Though Dianna looks great, WHY, WHY, WHY… is she sporting this velvet nighttime look during the day??
I know it has to be a little uncomfortable sidewalk strolling in this ensemble in midday heat!! We all know how velvet feels on the body when we begin to sweat (Yuckfest!!).
Due to the sunlight that beams on Dianna as she poses, we're able to notice the cotton-blend and velvet divide of the dress a bit easier on her slender frame.
A pretty amazing combination for Ms. McCartney to pair together if I must say so myself.
Dianna played up the classic style with loose pin curls, a red lip and Yves Saint Laurent 'Tribtoo' Leather Platform pumps. She looks gorg but…leather, plus velvet during the day. I'm hot just looking at her!
So, it's pretty obvious that my pick is Kimmy K though both girls look fab. What are your thoughts, Glamazons? Who wore their Stella McCartney paneled-cotton blend velvet peplum dress better?
Everything With Style,
Glamazon Lindsey E.
View Related Posts: