GLAM SCOOP: Chris Brown and Rihanna Performing Together at VMAs? John Galliano Sues Dior? Kim Kardashian Tweets Wedding Gown
Wednesday, August 29, 2012
Hey Glamazons!
It's Hump Day! Hope your week is treating you fabulously well. I'm super excited to hit the ROOS-Shane&Shawn men's shoe Launch Party tonight (deets tomorrow) and the 3 year anniversary party for one of my fave sites LoveBrownSugar.com tomorrow (deets Friday). Yes, instead of staying home and catching up on all the sleep I can get before Fashion Week I am out hitting the town…in these shoes: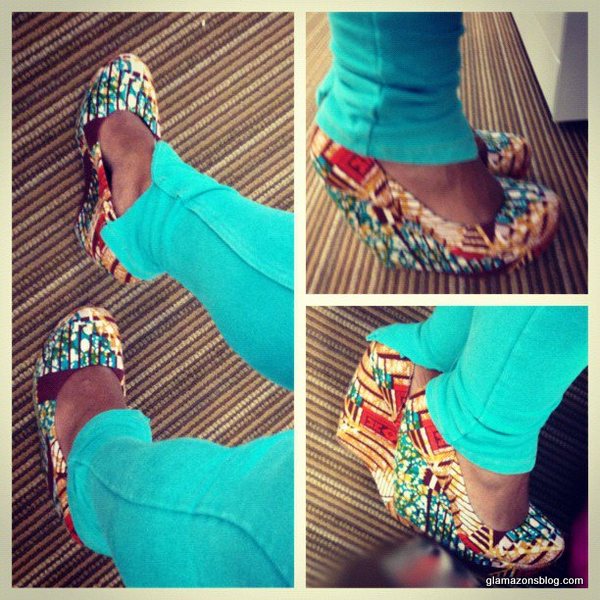 Yasss!
Before I paint the town turquoise though, here is the latest tea in fashion, beauty and entertainment:
Say what? Chris Brown and Rihanna reuniting on the VMAs stage? After Rih admitted on "Oprah's Next Chapter" that she's still very much in love? Karreuche, girl, keep an eye on them from backstage. – The Style and Beauty Doctor
We may not have been crazy about her outfit yesterday at the nail shop, but Angela Simmons knows how to serve for a photoshoot!
The entrepreneur is edgy and beautiful in her shoot for Fearless Magazine. Werque. – The YBF
Fall is on the horizon and in New York City, that means we can all expect plenty of rain. The bright side? Matthew Williamson is collaborating with Havaianas on limited-edition rain boots. Can you imagine the colorful prints on those babies? We're buying the whole collection. – Fashion, Etc.
Grace Bol makes my life. Here she is posing in colors for Flaunt Magazine.
Get into her supermodel aura, Glamazons. You love it! – Beauty Is Diverse
So… Kim Kardashian is still doing the most.com. The reality star posted a picture on Instagram of herself trying on a wedding dress with the caption "late night fitting #pucci." We're pretty sure Yeezy picked it out, seeing as how he dresses her now. *Confused face* – Huffington Post
While we gush over Azealia Banks' new lipstick for MAC Cosmetics, the brand is also pushing its collection hemmed by former French Vogue editrix Carine Roitfeld. MAC has released video and images of the line, which Roitfeld says will make women appear "tired and sexy." Umm…is that the new look?! If so, it's a trend I'm not trying. *puts on eyecream*
–

–
What do you think about the collection, Glamazons? – The Gloss
Keke Palmer is like the cutest, most stylish young Glamazon ever. She's so sophisticated yet age appropriate. And that hair is always serving! Her look from the Do Something Awards is perfect for a white party moment over Labor Day Weekend. Steal it over at LoveBrownSugar.com. – LoveBrownSugar
No one can forget when John Galliano was unceremoniously fired from his job as lede designer at Dior for a drunken anti-Semantic rant in 2011. Now, according to The Telegraph, Galliano is suing Dior.
Via Fashionista:
"According to the UK paper, it is "believed that Galliano has lodged an employee/employer dispute claim for over €15 million [$18.85 million] at the Conseil des Prud'hommes." While nothing has been confirmed–and the details are sketchy, at best–if the Telegraph is right, this could mean that Galliano plans to sue Christian Dior S.A., which is owned and chaired by LVMH head Bernard Arnault, and which owns 91% of the John Galliano label. It's unclear what exactly Galliano is suing for (wrongful termination?) but according to The Telegraph, a Paris hearing is scheduled for February 4, 2013."
We're scratching our heads about this. Does he really have a case for wrongful termination? And why wait almost two years later to bring them to court? Will be interesting to see how this will unfold. – Fashionista
Until tomorrow!
Kisses,
Glamazon Jessica
View Related Posts: