Carol's Daughter Founder Lisa Price on the One Hair Mistake Most Women Make and Her Favorite CD Product
Tuesday, August 7, 2012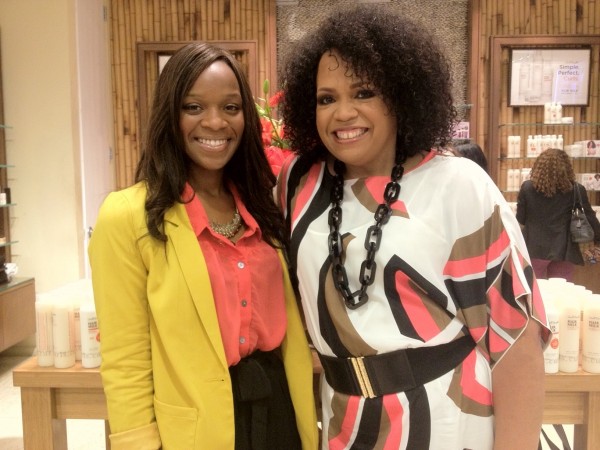 It's been 18 years since Lisa Price launched Carol's Daughter and from the looks of things at the kickoff party for her 100 Billion Curls tour, business is still booming.
I was able to catch up with the gorgeous, bubbly beauty mogul at the Macy's on State Street in Chicago, and we had a blast! With a live DJ spinning hot 80's and 90's R&B and the sight of curly (and relaxed)-haired women scouring the Carol's Daughter counter as they clung to the advice and tips of the beauty experts who were on-hand at the event—I felt like I was a guest at a fabulous beauty gathering.
Lisa glowed with her big, lush curls in tow and was eager to share her enthusiasm for the revamped Hair Milk product line, (the products have a new fragrance, BTW),  the newly launched Transitioning 1-2-3 Kit and hair in general.
Check out our refreshing conversation below.
GM: You've launched the 100 Billion Curls tour this year to celebrate the Hair Milk line. Why did you decide to promote the products in such a major way?
LP: Because of all of the history and specialness about it, and the fact that it's still new 18 years later—you can still yell about it and do a curl tour.  I changed the fragrance because in the past people complained about not liking it. I want people to have the freedom that I have. I remember when I got married, I had curly hair, but on my wedding day my hair was set in rollers and hot curled and styled because I didn't know if I would have a "good hair day" because I hadn't made hair milk, yet, so it was kind of hit or miss.  I look at my pictures and I love them, but I don't look like me. That's not what I looked like when I met my husband and that's not what I look like every day of our lives, but I was afraid to not be able to trust my hair. I'm in a place now, where I know what my hair is going to look like. When I landed at 1 a.m. and knew I had to be on the news at 8 a.m. , I didn't have to worry about my hair.
GM: What's the beauty mantra for this collection?
LP: The basic philosophy is simple, perfect curls. Cleanse, moisturize, style. It's been my experience that people get the cleaning part right but what they might miss is they're putting sulfates in their hair and don't even know it because of the different shampoos, or they're using something that has a lot of later even though it's sulfate-free. They don't really need the lather.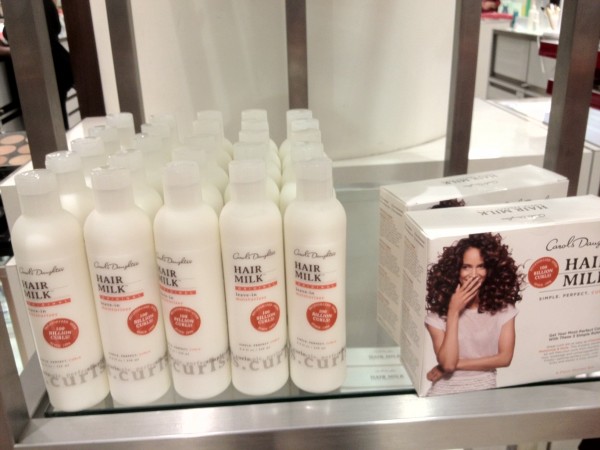 GM: The Hair Milk Co-Wash Cleansing Conditioner sounds like a staple from the collection. What sparked you to create this product?
LP: When we promoted Hair Milk, the first time we changed the packaging, I started to hear about co-washing maybe 3 years ago, and I remember hearing about all of these curly women not shampooing and just washing with conditioner. I started to do that and the only time I would use a shampoo was when we were developing a shampoo. I noticed my hair was fuller and didn't lay as flat, so I wanted to incorporate that into Hair Milk. I don't think that it works for everyone's style because I feel like when you wear your hair straight, you do need to shampoo it just to get everything completely out of it, so that you can have movement.
GM: Curly hair comes in several curl patterns, what's your take on these classifications?
LP: I think they're important, so that people can understand which product they need. Unfortunately, I'm not well-versed on it. I think some people need that kind of structure, but then everyone has to embrace whatever that chart is, so that all of our recommendations can be universal, and that's our next step.
GM: What's the one beauty mistake that women make when it comes to maintaining their hair?
LP: I felt like people were going straight from cleanse to style. So, they were going straight from cleaning to a pudding or a gel and they weren't putting moisture in their hair and then they're wondering why it's so dry all of the time. Well, it's because you're not moisturizing. You're shampooing and conditioning it and maybe you leave a little conditioner in, but you're missing the moisturizer between.
GM: Do you think your brand has been put into the curly hair box?
LP: I think people know that we do it all. There was a time when I would do an event like this and women would say "I only use your body products because I relax my hair, but my sister has natural hair and she loves your hair care products." They don't say that anymore. Now, they come to us and are like " I have a relaxer, what can I use because I hear you have really great stuff," or "I color my hair and I like to flat iron it, do you have anything for flat ironing?" They actually know to ask us now, where before there was this assumption that they weren't welcome, but they know that they're welcome now.
GM: Carol's Daughter recently launched the Transition Movement with the gorgeous Solange Knowles as the face of the campaign. What inspired this?
LP: We were trying to figure out what we wanted to do to become a part of the transitioning movement because since Carol's Daughter has been around since 1993, we were there since the first going natural movement. When people in the 90's cut all of their hair off, or braided it or locked it, we were one of the few companies where people could get products to cater to that hair. Now, it's a different movement. Now, it's not just going natural—it's transitioning. Now, you have people who have never relaxed and they're blowing out their hair or they have relaxed and they're finding a way to transition. We were sort of resting on the laurels of knowing that we were there from the beginning with going natural, but the transitioning girl was a different girl. She's out there looking. We though "What is she looking for? We probably have products that she can use, so maybe we can put a collection of things together."
GM: You also launched a website, transitioningmovement.com, why did you want to make this an interactive?
LP: We did focus groups in NYC and Chicago to see what the issues with transitioning were. We went online saw what people blogged about and talked about on YouTube and we saw that people had problems with product buildup, they had sores on their scalp, and their hair wasn't growing in evenly. They were doing the big chop twice because of multiple hair textures growing in, or they were trying to grow it out long but the hair is weak and breaking off. We decided to address those problems because no one else seemed to be doing it. We saw that people were looking for information, so we created a website where they could talk, share secrets and have support.
GM: What's your favorite Carol's Daughter product?
LP: Whenever someone asks me what my favorite product is, I always say Hair Milk. For it to be my favorite and something that I've used on my hair for 18 years, almost every day, you know it's a great choice. I'm not a pudding person—I didn't think I needed it. When I went to New Orleans it was 99 degrees and steamy, so I took Hair Milk's pudding with me. I put it on my hair every day and I didn't have frizz. I just had big hair. I'm super proud of that collection. It's still fresh and beautiful. I love that I can build on it.
GM: What do you want people to know about transitioning or just loving and caring for their hair in general?
LP: I just want you to love yourself and do things because they make you happy.
Talking to Lisa was an absolute breath of fresh air, and the 100 Billion Curls event was a blast! The tour will stop through 80 cities. Make sure to check your local Macy's store to see if the event's coming your way. During each party make sure you take picturers and post them to Instagram with the hashtag #simpleperfectcurls, and winners will be chosen daily to receive the Hair Milk Collection.
Are you a fan of the Hair Milk Collection? Is this a line that you're interested in trying?
Ciao Bellas,
Glamazon Margo
View Related Posts: