GLAM SCOOP: Beyonce for House of Dereon Fall 2012, Nicki Minaj's "Pink Friday" Perfume Bottle, Gabby Douglas for Essence
Tuesday, August 21, 2012
Hey Glamazons!
Happy Tuesday! Hope you are living fabulously. I'm trying to find out what to do with myself for the last two weekends before summer is over and slavery Fashion Week starts! And I may or may not be spending freelance writing checks on ASOS. Hey, I need new fall clothes. Don't judge.
I stopped long enough between retail shopping binges, though, to give you today's celebri-tea! Let's get to the fashion and beauty news!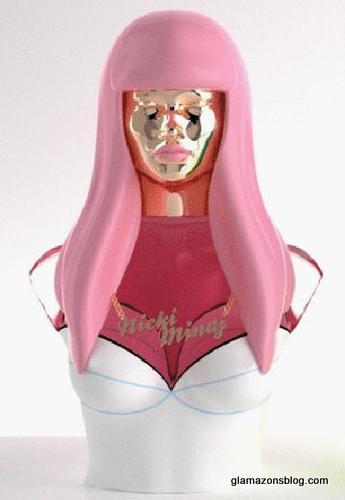 –Nicki Minaj, much like Lady Gaga, isn't just going to give the kids a fragrance without being all weird about it. She isn't releasing a juice made of blood and semen like Mother Monster, but she has created a bottle which looks like those Styrofoam heads and shoulders they put wigs on at the beauty supply store. Which actually is kind of fitting. And strange. Imagine that bottle staring back at you from your dresser in the dark. *shivers* What do you think of it? The fragrance will hit stores this September. – The YBF
–Fashion's Night Out spokesbeauty Solange Knowles is featured in Elle Magazine with her adorable son, Jules. The Elle editors go inside Solange's home, which she shares with son Jules and boyfriend Alan Ferguson in Carroll Gardens, Brooklyn (sidenote: I totally wanted to live there before moving to Harlem. Can you imagine me and Solange chatting over Pinot Grigio and raiding each other's closets…OK really me begging her to rock these shoes? Would've been everything).
Her humble abode is designed to purrfection and Sol says it was inspired by her wardrobe, which is also coincidently perfect. Via iluluonline: "I had a moment when I looked at my closet and I was like 'Whoa, I don't really have any basics. And with my house, I wanted to find a balance of having great colors and patterns but also a really livable, warm, serene space."
Loves! – iluluonline
-Oh, Beyonce, you make my life. She gives you attitude and sickening hip to waist ratio in the new Fall 2012 campaign for House of Dereon.
Take it all in as this may be the only time you see Bey wearing Dereon clothes, which are very edgy and sassy this season.
I'm talking leopard, buckled boots, cut-out dresses and leather vests. Bad girl Bey. I love it! – House of Dereon Facebook
–Gabby Douglas is luxuriating in a full-on diva moment, starting with a fantabulous photo shoot for Essence.com.
The 16 year-old history-making gold medal-winning Glamazon flips her Ted Gibson-styled hair and radiates beauty for the magazine, which will feature her in the October and November issues.
Watch the video here. Werque, Gabby, Werque! – Essence.com
–Lady Gaga is now brunette! She serves up dark-haired glamour with her fresh hue which she affectionately has dubbed "Louis Vuitton Brown." I'm so into this moment and sure she's going to give fashion icon realness with her new 'do. Though, of course, I'm partial to her blonde afro. What do you think of it, Glamazons? – Lady Gaga's Twitter
Until tomorrow!
Kisses,
Glamazon Jessica
View Related Posts:
[fbcomments width="600" count="off" num="15"]