Handle Your Scandal: Celeb Boutique Uses Colorado Shooting "Aurora" Trending Topic to Sell Their Kim Kardashian Dress
Friday, July 20, 2012
Glamazons,
I'm sure by now you've heard of the tragic news of the shooting in Aurora, Colorado during a midnight screening of "The Dark Knight Rises." Reportedly, a 24 year-old man, who was dressed up as one of the film's characters, Bain, opened fire at the theater killing 12 people and wounding 38, including young children. So sad!
My heart aches at the thought of sitting in a theater catching a movie with loved ones and realizing suddenly your life is in danger. I'm praying for the victims of such a senseless tragedy.
Unfortunately, Celeb Boutique, a site that sells replicas of celebrity dresses, tweeted about the tragedy in a light many are finding offensive.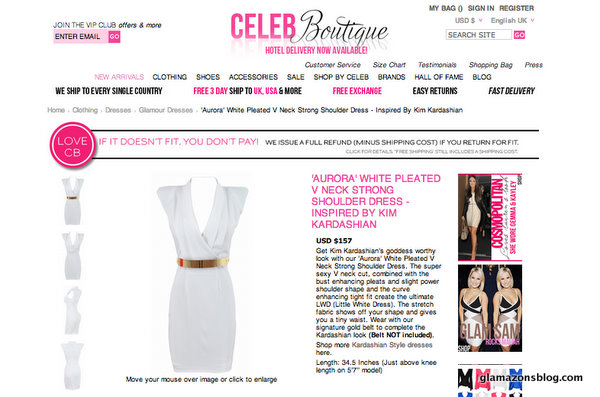 The company sells an "Aurora" dress (above), inspired by a piece Kim Kardashian wore, and tweeted: Aurora must be trending because of their product. See the tweet, which has now been deleted, below:
To be honest, I can't imagine that they would have knowingly joked about a tragic shooting that way. Maybe they were in the dark?
Still, many are asking for an apology and I can't blame them. People would expect a retailer to be sensitive to such a devastating tragedy and not capitalize off of it.
What are your thoughts, Glamazons? Was Celeb Boutique out of line for their tweet?
Kisses,
Glamazon Jessica
UPDATE: Celeb Boutique has released the below apology: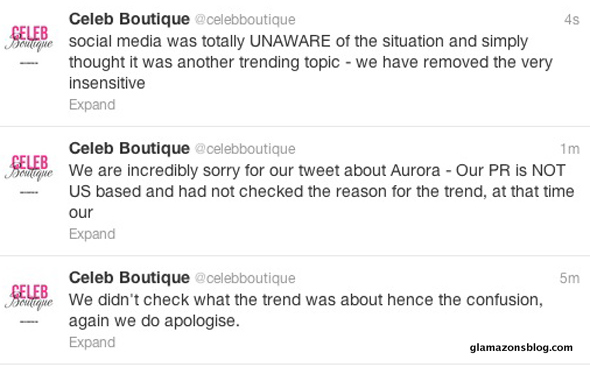 Too little too late?
View Related Posts: