GLAM SCOOP: Michelle Obama Joins Pinterest, Michael Jackson Theme for Met Gala 2013?, Lady Gaga Talks Bloody Perfume
Wednesday, June 13, 2012
Happy Wednesday, Glamazons! I'm so excited to check out Rachel Rachel Roy's new collaboration with Seu Jorge at Macy's Herald Square this evening. Get all the tea on the collection via Twitter. Until then, let's get into today's fashion and beauty news! Ultimate Glamazon Michelle Obama is dabbling in social media, Lady Gaga reveals her perfume (remember the one inspired by semen and blood?) and more! Here's the scoop:
-Mrs. Michelle Obama has GOT to the coolest FLOTUS of all time. She's now pinning! Fall in love with pictures of the Obamas during Snow Day, a rare photo from their wedding and even a picture of Mrs. O as a baby. Can you imagine how great the fashion board will be? – Pinterest
-The 2013 MET Gala may be a tribute to the late Michael Jackson. SQUEAL! I'm crossing my fingers that this rumor is true Glamazons because a spectacular exhibit, and a red carpet that's actually exciting (Balmain, galore!), will accompany that "MJ" theme. And maybe even a hologram performance at the dinner? OK I'm pushing it. – Fashion, Etc.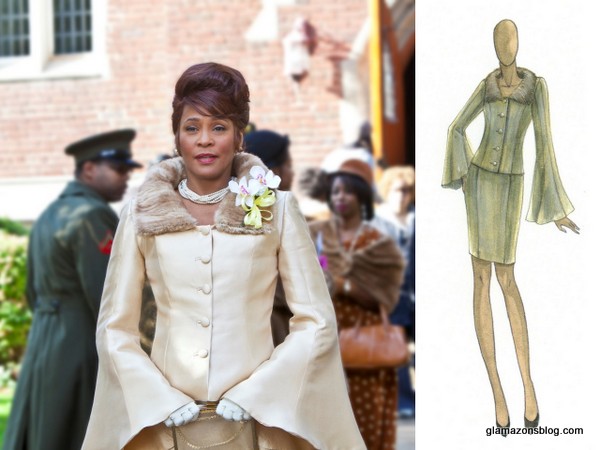 -B. Michael had the honor of designing for the late Whitney Houston's last film, Sparkle. He expounds on the regal designs like that stunning regal suit she wears in the promo above. Love it! If you missed it, check out the trailer here. – Whitney Houston
-Guys, Chris Brown is a painter and some of his pieces are actually pretty cool. Check out some of his pieces from his Dum English Exhibition Opening at Opera Gallery in New York City Monday. – iluluonline
-Why won't people let Disney stars grow up? Selena Gomez is making headlines for posing with cleavage for Elle. The poor girl had to defend her boobage in a statement:
"Honestly, I do understand that I have a younger fan base, but I also have a fan base that's my age and that I kind of relate to. I am getting a little older, but it's not anything that I'm not proud of. I think it was very classy. It isn't anything that I wasn't comfortable with. I thought it was beautiful — I loved it."
If she's old enough to drive, have a boyfriend (ahem, Justin Bieber) and show her midriff in Versace, a little decolletage is SO not a big deal, right? – Styleite
-This shoot so makes me want to pick out my 'fro and head to the beach.
You simply have to check out Varsha Thapa's gorg editorial, "Heatwave" for Rouge Magazine, photographed by Manny Roman and styled by Michael Tucker Vos with hair by ShinYa and makeup by Jai Williams. – Beauty Is Diverse
-So you may recall those Lady Gaga perfume rumors in which the scent was said to smell like "blood and semen." Yeah. Well, Lady Gaga attempted to dispel those rumors and just ended up confusing us (and grossing us out) more. Here's the explanation:
"It was taken out of my own blood sample, so it's a sense of having me on your skin. I wanted to extract sort of the feeling and sense of blood and semen from molecular structures, so that's where [the rumors] came from. That is in the perfume, but it doesn't smell like that. Actually, the perfume smells like an expensive hooker."
Now, say what now? (Nene voice). I'm all for smelling like an expensive hooker, as is the point of perfume (kidding!) but I don't want anything that comes close to Lady Gaga's blood on my body. I don't even like the sight of my own blood let alone someone else's.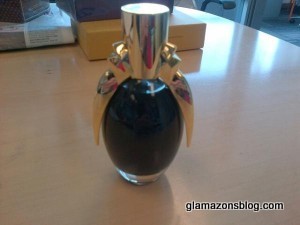 The perfume will be called "Fame" and see a Flare Magazine editor's Twitpic of the bottle above. What do you think about this bloody perfume business, Glamazons?
Update: Lady Gaga tweeted pics of the Fame: Black Liquid perfume on Twitter, revealing she was none too happy with fashion editors leaking it (please forgive me, Mother Monster).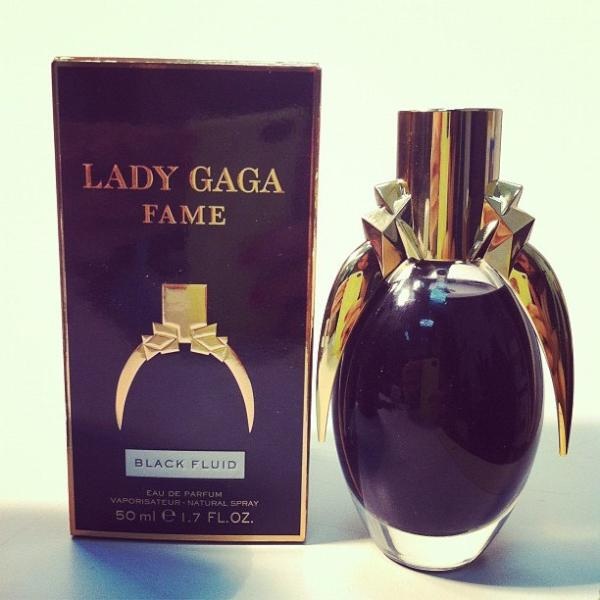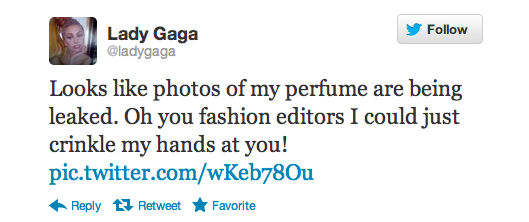 How does one crinkle their hands? Hmmm…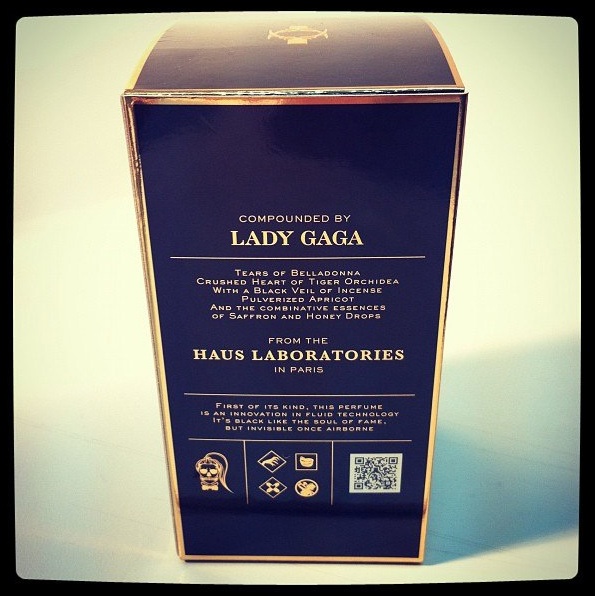 Anyway, seems the fragrance will contain belladonna, tiger orchidea, incense, apricot, saffron and honey drops. Sounds like a powerful, sensual scent, no? Will you buy it now, Glamazons, despite the fact it contains Gaga's blood? - Fashionista/Lady Gaga's Twitter
Until tomorrow!
Kisses,
Glamazon Jessica
View Related Posts: