Glamazon Jessica Meets President Barack and Michelle Obama! PLUS Get Her Boy by Band of Outsiders Dress
Monday, June 11, 2012
Glamazons, so…the other day…I met the President of the United States, Barack Obama. Oh and one of my favorite women in the WORLD, Michelle Obama. SQUEAL. I can't even believe it!
OK, here's the (short) backstory: I was invited to an event at the White House by my amazing friend 'B' and was given less than five minutes to chat, shake hands and snap pictures with President Barack Obama and First Lady Michelle Obama. And since I have praised Mrs. O's style since before her husband took office, I had to pay homage with my look! That's customary, obvs.
For the occasion, I chose one of my favorite pieces by a designer her and I both love: Rachel Roy. I wore the sheath dress with a printed top and tweed skirt which I also wore here. I complimented the look with a triple strand pearl necklace and satin black peeptoe pumps.
I wore my natural hair out and free (!!!) in a trendy top knot. A little blush, eyeshadow and bronzer and that was it. I was ready to meet Mr. & Mrs. President.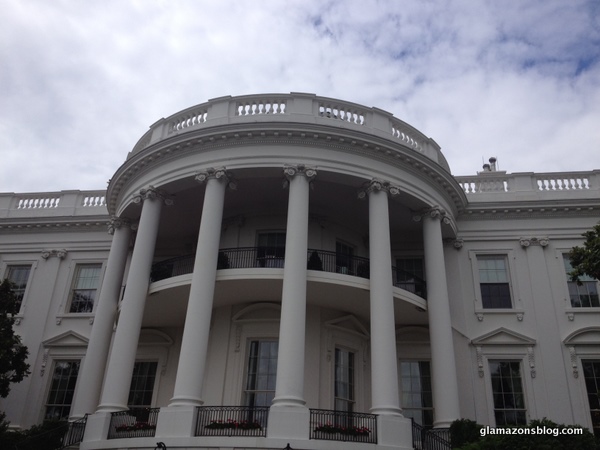 After taking in all the sights from the White House (above) to the Rose Garden (below), I waited, surrounded by Secret Service, for a glimpse of one of my favorite couples.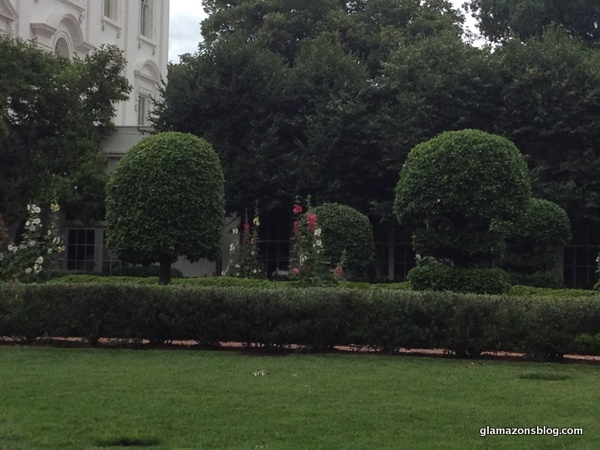 Finally, after we spent hours jamming to Earth, Wind & Fire played by the Marine band, President Barack and Michelle Obama emerged on the White House lawn. I was gagging, Glamazons! President Obama looks even better in person and everything about Michelle Obama from her hair to her glowing skin was just perfect.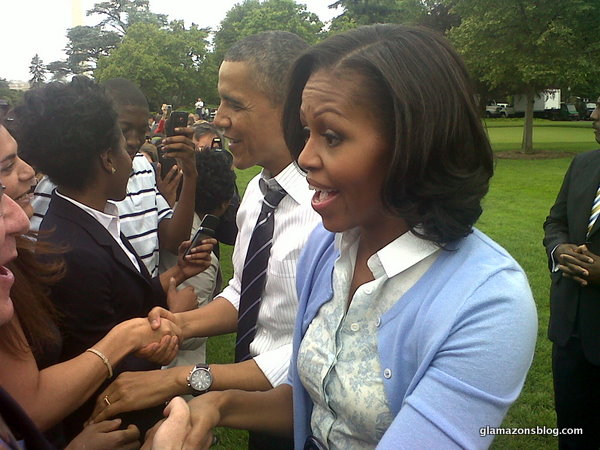 After a short speech, they took the time to shake hands and chat with a ton of people in line. I am such a nerd I had practiced what I was going to say – and I remembered it (believe it or not) to tell them. What I hadn't anticipated was their reactions.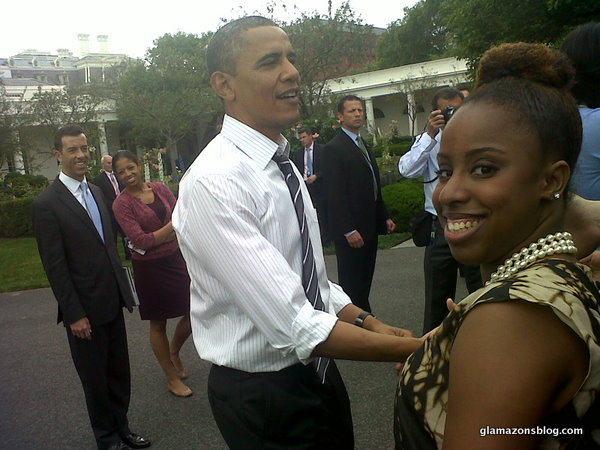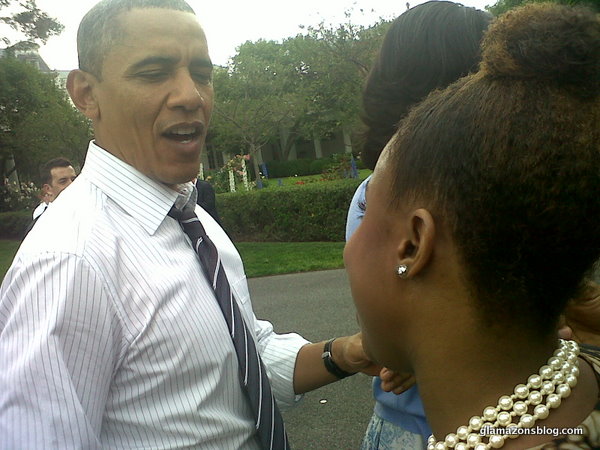 President Obama was so thankful and kind to me; and Michelle Obama was warm, genuine and gracious. She even gave me a hug and a kiss!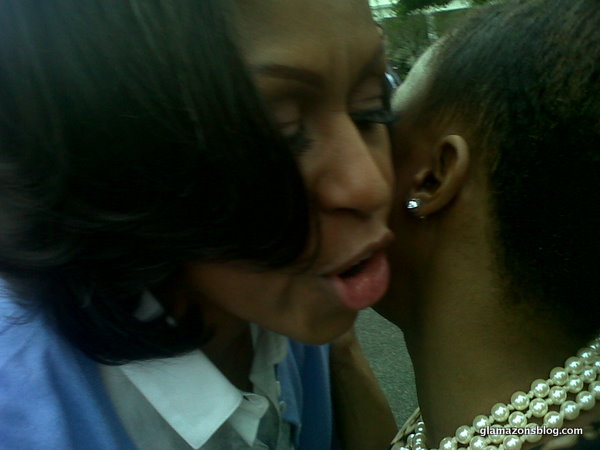 Seriously, I kid you not, it felt like I had known them forever. They were so down-to-earth that I wasn't even nervous!
BTDubs, Michelle is beautiful! Her hair was laid for the Gods and blowing in the breeze. Yasss! Her makeup was also done beautifully with Ardell lashes as my friend hilariously identified and pointed out.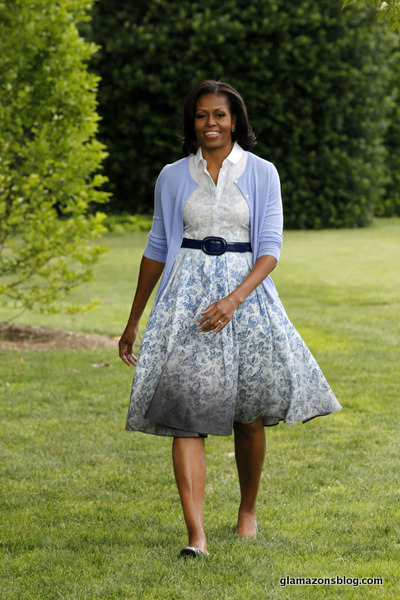 Her look was perfect for the cool summer day. She wore a Boy by Band of Outsiders floral shirt dress with a trendy ombre print. She brought the look together with a belt, a blue cardigan and metallic flats. Comfortable, stylish, feminine, weather-appropriate. GLAM SLAM!
The blue floral ombre print is a signature motif in Band of Outsiders Spring 2012 collection:
The print is classic Michelle Obama; the florals are regal and feminine while the ombre look is trendy and modern.
Mrs. O's exact dress is unavailable but you can pick up other Boy by Band of Outsiders pieces in that gorg ombre print below:
Glamazons, not an understatement: this was truly a day I'll remember forever. What an honor to meet a couple I admire so much! And their humility and kindness made me respect them even more.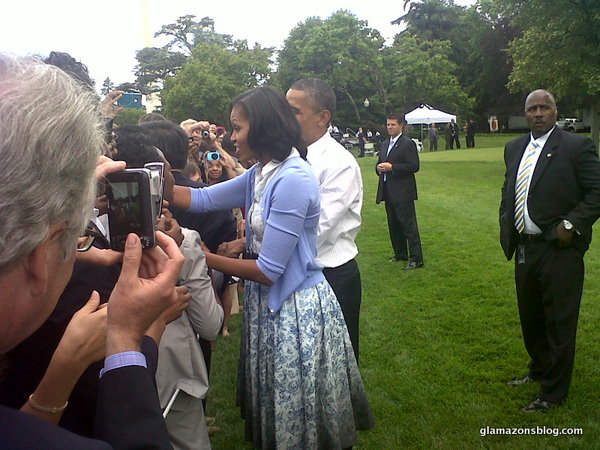 So there you have it, my time at the White House.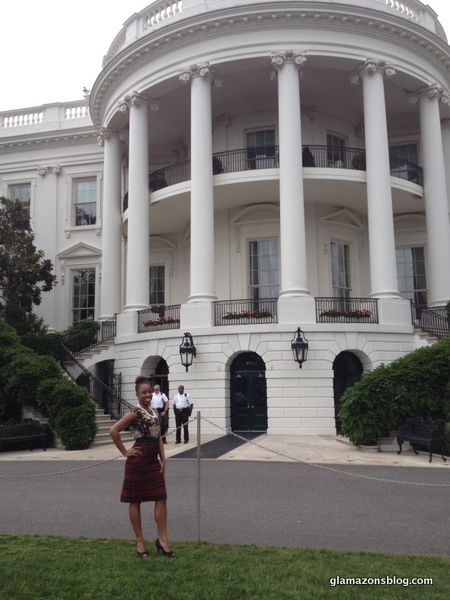 A special thank you to 'B' for the invitation. Love you!
Kisses,
Glamazon Jessica
View Related Posts: