Fashion Faceoff: Kelly Rowland vs. Christina Ricci in Charlotte Olympia Kiss Me Leather Ankle-Strap Platform Pumps
Tuesday, June 19, 2012
Glamazons, Kelly Rowland is at it again! The "Summer Dreaming" singer wowed us all when she dressed up in a Maria Grachvogel gown for the video (wasn't it amazing?!) and now, even her casual looks are motivating us to look fab!
The Ebony Magazine covergirl made an appearance with Lil Wayne to perform 'Motivation' at Hot 107.9's Annual Birthday Bash this weekend wearing drool-worthy pumps with distressed cut-offs and a white t-shirt.
Her Charlotte Olympia Kiss Me Leather Ankle-Strap Platform Pump in Nude completely took her outfit to another level, right?
Love it!
Coincidentally, actress Christina Ricci was spotted sidewalk strolling near her home in Los Feliz in the same shoe! Christina is most known for her role as Wednesday Addams in the TV series 'The Addam's Family.' (Remember that…?? I can't be the only one that loved that show!)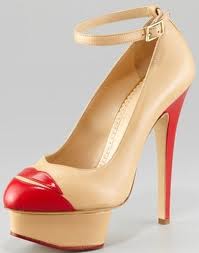 If you look closely, you will see the cute lip-shaped design at the toe area of the shoe, a signature motif of the Kiss Me Collection. The delicate ankle strap provides stability for this 5 1/2″ suede covered heel. The 1 1/2″ platform adds a dash of fierce to the padded leather insole and leather lining.
Pucker up, Glamazons! Are you in love yet?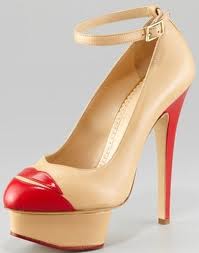 The shoes also come in suede: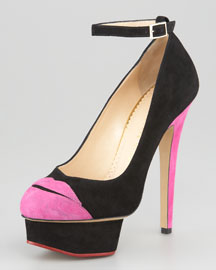 I need these to live. Pick up these kissable pumps below:
And check out Kelly's performance with Lil Wayne here:
-

-
Who wore the Charlotte Olympia 'Kiss Me' Leather Ankle-Strap Pumps best: Kelly Rowland or Christina Ricci?
Tell us in the comments!
xo,
Glamazon Lindsey
View Related Posts: