A Day In The Life: Jacob & Co. Photoshoot aka The Day I Learned Why Diamonds are a Girl's Best Friend
Monday, June 4, 2012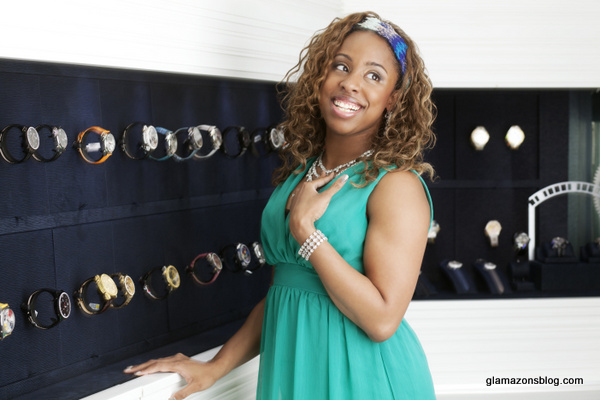 Glamazons,
When someone invites you to an evening taking a glamorous photo shoot in diamonds at the famed Jacob & Co. boutique in midtown, you jump at the chance to attend! That might be an average day for the likes of Beyonce or Kimmy K., but for me? It's a total once in a blue moment. The email had barely hit my inbox before I was picking out a dress and hauling over to 57th Street between Park Avenue and Madison to play in jewelry all day.
The event was even better than I imagined! When I walked past security (yes, security), I was greeted with a glass of champagne and told to walk to the back for hair and makeup. After getting beautified, I was ushered to the front of the store and asked to pick from my choice of Jacob & Co. jewelry. This is where I fainted. Just joking but really, my pick of Jacob & Co. diamonds? It was all too surreal.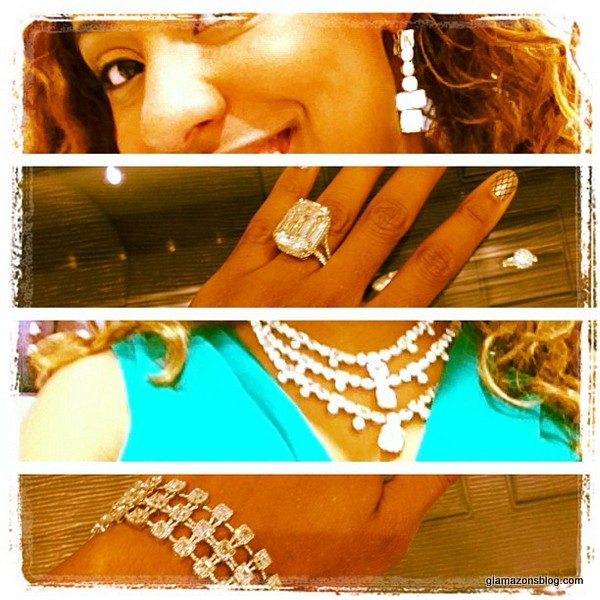 I picked out about $50 million dollars worth of jewelry in a diamond necklace, a Princess-cut diamond ring and a bracelet. I also added the diamond drop earrings. I quickly realized that if I had access to diamonds and champagne, I wouldn't need anything else…not even a man…ok, maybe still a man but only occasionally…to go out with and show off the diamonds. Just joking (but kind of serious).
Anyway, the wonderful people at Jacob & Co. were nice enough to do a photoshoot after we got all dolled up! Check out the final shot below: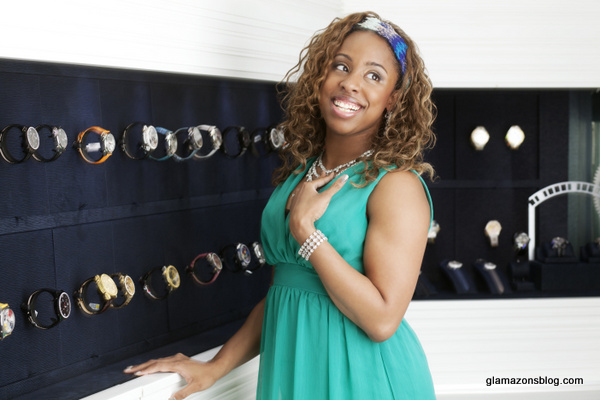 Ahhh-maazing!
So of course, I chatted up everyone in the store. I told them how I stayed up the night Kim Kardashian went to the New Jersey Nets game to post on her amazing Jacob & Co. ring.
The associates were so kind that they let me try it on! Guys, my post didn't do this ring justice! It can bend at the knuckles (my full finger rings don't do that) for ultimate comfort. How. Cool!
I got tea on celebrities who come into the store (Jacob the Jeweler is only mentioned in almost every rap song…example: Kanye West: "I went to Jacob with $25 mil before I bought a house…" LOL!). You'll be happy to know most stars were really kind and friendly…as I'd imagine anyone would be while shopping for diamonds.
When it was time to leave, the associates basically had to hold me down and pull the jewelry off me. Kidding! I reluctantly took it off but luckily, I have pictures to always reminisce about my day in diamonds! Big thank you to Jacob & Co. and Monique for the introduction to my new best friend! Glamazons, do you have a love affair with diamonds? What do you think of the jewels?
Check out more Jacob & Co. here or visit his boutiques.
Fun times!
Kisses,
Glamazon Jessica
View Related Posts:
[fbcomments width="600" count="off" num="15"]