GLAM SCOOP: Pharrell for GAP Hong Kong, Zuhair Murad To Design Jennifer Lopez's Tour Wardrobe, Willow Smith "Do It Like Me (Rockstar)" Video
Wednesday, May 2, 2012
Happy Hump Day, Glamazons! Despite it being a very dreary Wednesday in New York City, I'm happy the month of May is here as I plan to party everyday to celebrate my birthday (and summer), starting with Cinco de Mayo this weekend. Are you celebrating the holiday? What are your plans? Before I scour the web for the perfect margarita Mexican food spot, I'm giving you the latest and greatest in fashion news. Let's get to it!
Currently trending: celebs emerging from water. Rihanna did it in her "Where Have You Been?" video and Selena Gomez does the same in the ad for her new eponymous fragrance. Of course, Selena's is the PG, purple, princess version. What do you think of her ad? – MTV Style
Marilyn Monroe's popularity continues to soar years after her death. The icon has inspired recent movies ("My Week with Marilyn") and a collection for MAC Cosmetics. AND she's covered Vanity Fair three times in five years! She's getting more attention than living stars!
Her latest Vanity Fair cover for the June 2012 issue hints at nude pictures she took to compete with the late, great Elizabeth Taylor's rising fame. Is that not an attention strategy some celebrities use today? She was so ahead of her time. – Jezebel
I will never understand why someone would counterfeit Uggs but sites that knock off the ugly popular boots (there are 3,000 in total!) have been ordered to pay up to $686 million collectively for selling repicas. And for their poor taste. Kidding! – Fashionista
In a copyright battle I can understand, Hermès won a $100 million judgment in their case against knockoffs, forcing 34 imitation websites to shut down. – New York Post
My husband Pharrell is as handsome and impeccably-dressed as ever in his new ad for GAP Hong Kong.
Photographed by photographer extraordinaire Annie Leibovitz, the "Pharrell: Spaces and Places I've Been" author poses alongside actress/model Angelababy. Fresh! – High Snobiety
Kate Moss poses for her 32nd (yes, you read that right) cover of British Vogue. Shot by Mert and Marcus, the veteran model rocks a Versace dress and red/orange lips while she seductively holds a rope. With all those mag covers under her belt, we can only cross our fingers that she's one of the judges on Naomi Campbell's new reality show, The Face. She clearly knows the modeling game. – Styleite
At her Hollywood press conference, where she looked glamazing in Lanvin, Jennifer Lopez announced that Zuhair Murad will design the wardrobe for her tour with Enrique Iglesias. We're sure there will be lots of sequin jumpsuits involved. – Fab Sugar
This is happening: somewhere in the sky, Hello Kitty Airplanes are flying. How do you feel? – BuzzFeed
People Magazine took the time to compile several sketches for Angelina Jolie's wedding dress following her engagement to Brad Pitt. Sweet gesture, though I'm betting she goes with a gown in her favorite color. – PeopleStyleWatch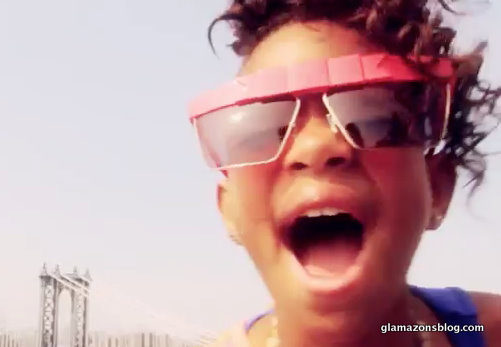 Get into the latest video from young luminary, Willow Smith: "Do It Like Me (Rockstar)."
–

–
Those pink sunglasses are everything. – The YBF
Until tomorrow!
Kisses,
Glamazon Jessica
View Related Posts: