GLAM SCOOP: Theraflu Shades Kanye West, Katy Perry Covers Teen Vogue, Kris Humphries Poses For WestEast Magazine In His Underwear
Friday, April 6, 2012
Finally Friday, Glamazons!! Woohoo! What are your plans for the weekend? I'm busy planning a May getaway (birthday month!) and maybe even some shoe shopping! Speaking of shoes, Blue Ivy has a new fabulous pair (of course!) and we've got more news on Kanye West's Theraflu song (and ahem, his latest fling), Kris Humphries' unfortunate fashion shoot and Katy Perry's latest cover in the scoop! Let's get to it!
Strike A Pose: Katy Perry Covers Teen Vogue
A blue (literally and figuratively) Katy Perry covers Teen Vogue's May 2012 issue. Katy, why so serious? Teen Vogue is known for its energetic, vibrant covers so this pose is so underwhelming (Michael Kors Project Runway voice).
But…this Oscar de la Renta blue and white gown ROCKS! I love how Katy and Rihanna make magazine editors work around their hair and the stylists (usually) live up to the challenge.
What do you think of this spread, Glamazons? [Huffington Post]
This Is Happening: Designer Vogue Easter Bunnies
For some odd reason, Vogue asked 30 designers to makeover the Easter bunny in the most fabulous, fashion-y way possible and they obliged. Check out easter bunnies designed by Nicholas Kirkwood, Peter Som and more. Sigh. If they're this bored, can't they just design a wardrobe for regular people like me? [Styleite]
Call The Glambulance: Kris Humphries Poses In Undies for WestEast Magazine
I couldn't think of a worse time for Kris Humphries to reveal what may be the most uncomfortable athlete fashion shoot since Kobe Bryant's L.A. Times debacle (ugh, remember that?).
The Hump (as Khloe Kardashian used to call him) poses for WestEast Magazine in, of all things, his undies. Who authorized this? It's sad Kris Jenner didn't come on as his manager because she would've never let this go down. Check out more pics below:
Now, New Jersey Nets haters can chant Kanye West's rap line taunting Hump AND blow up these pictures to embarrass him. Just terrible. Update: The Kardashian clan called the photos "desperate." Wow, shots all around. [Hollywood Life]
Handle Your Scandal: Theraflu vs. Kanye West
Speaking of that god-awful Kris Humphries' diss, here's the lastest in Kanye West news:
After dropping new song Theraflu yesterday, which Kim Kardashian said she loves on The Today Show, 'Ye debuted the accompanying artwork on the internet (above) (did Kim pose for this?). Meanwhile, he was spotted parading around New York City with his new publicity stunt girl, Kim Kardashian. The twosome enjoyed The Hunger Games movie, lunch at Serafina (random, I always go on dates there, food is great!) and shopping at FAO Scwhartz and Jeffrey's. Apparently, they were filming for E's "Keeping Up With The Kardashians." Let me give you a moment to scowl.
It seems everyone isn't so happy for Kanye as Theraflu spoke out about the song, throwing epic shade: "We in no way endorse or approve of the references or use of the image and likeness of Theraflu in this manner."
Now would be a good time to photoshop out the Theraflu box in the song illustration, Kanye. Just trying to help. [[The YBF]
Alicia Keys for Vibe
Alicia Keys covers the May 2012 issue of Vibe Magazine photographed by Jill Greenberg. Keys looks stunning in black lipstick and a killer pompadour, styled by Jill Greenberg with hair by Adir Abergel and makeup by Fancesca Tolot. In her first "real" interview, she opens about omens that her and Swizz Beatz were meant to be together. One such sign? He kept her credit card by mistake after a dinner with mutual friends. Nice one, Swizz. [Vibe]
Don't Be Mad: Blue Ivy Already Has Adidas x Jeremy Scott Sneakers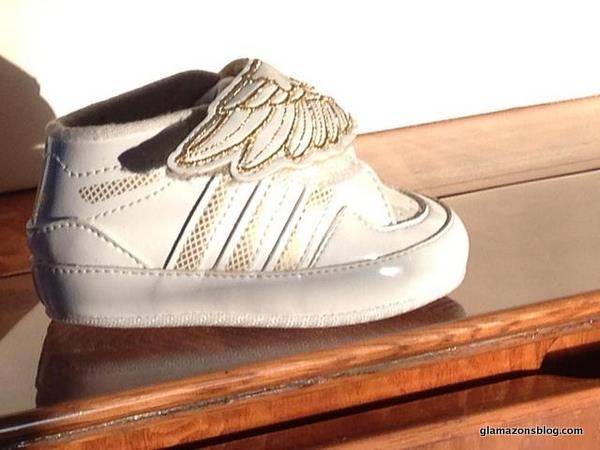 The rest of us may be eagerly awaiting our tax return but money is no issue for infant Blue Ivy. After shutting every other celebaby DOWN with her gold Little Marc Jacobs flats and fur sling, dad Jay-Z debuts Blue's Adidas x Jeremy Scott sneakers via his blog (Yes, every Carter has a site now). Dad cleverly called the post "Jet Blue" and captioned the pic "Blue's first flight." I can't be the only one trying to get adopted by this family. [Life & Times]
Magazine Glam: Cassie for Wonderland Magazine
In other news, Cassie is still beautiful. She shows off her great genes for Wonderland Magazine.
She looks exquisite despite the half-shaven hairstyle that just won't go away.
In the interview, she reveals she's huge in the UK (who knew?) thanks to…the "tone of [her] voice." Hmm… [iluluonline]
I Need This To Live: Chris Benz's Presidental Barbie
Lay your eyes on the chicest President you've ever seen: Barbie. Mattel debuted the fifth "I Can Be President" Barbie doll, styled by none other than Chris Benz. The doll, which comes in white, black, Asian and Hispanic versions, rocks a pink skirt suit in signature Benz print with red, white and blue ruffles, pearls and pink pumps. Obvs, what my nieces are getting for Christmas. [Glam.com]
Janet Jackson is Amazing…
And her new commercial for Nutrisystem is proof:

Loving that snatched waist and tangerine dress, Ms. Jackson. My favorite line? "Get on it now, and look great this summer." Roger that! [Huffington Post]
Have a GLAM weekend!
Kisses,
Glamazon Jessica
View Related Posts:
[fbcomments width="600" count="off" num="15"]