Get The Look: Solange Knowles' Bold Lip & Glowing Skin at the American Beauty Party (PLUS Her Proenza Schouler Blouse)!
Tuesday, April 3, 2012
Glamazons, Solange Knowles is taking the worlds of F&B by storm, and I like it! Her face was beat to utter perfection at Caliborne Swanson's American Beauty book launch party! I kid you not ladies, as of lately Solange (who is featured in the book) can do no glammy wrong in my eyes; homegirl is always on point!
From her shimmering, golden skin to her poppy red lips, this look was stunning. Of course we're not going to tease you by just ranting and raving about how well Solange pulled this look off, we're sharing tips on how you can get the look yourself.
Get The Look!:
Start by applying primer to a clean, moisturized face.
Apply concealer where needed followed by a sheer foundation or tinted moisturizer. Solange's foundation is golden and luminous, so mix a little golden bronzer or shimmering face cream with your foundation for an added glow, followed by.
Full brow's are a hot trend this season, and Solange is working them the right way! To get this look use an eyebrow pencil or eyeshadow powder to fill in your brows and/or to give them a nice, arched shape.
Touch up your T-zone using a highlight to bring more dimension to your face. Make sure you blend for the look od a natural glow.
Bring glam chicness to your eyes by lining the upper and lower lashlines with black eyeliner. Follow with two coats of volumizing mascara.
Let your lips steal the show by topping it all off with a bold, red lip!
Try these products to help you get the look:

Glamazons, are you feeling Solange's beautifully beat face? Are you excited to try this look?
Oh and since we give you both the beauty AND fashion scoop, let's talk about that outfit!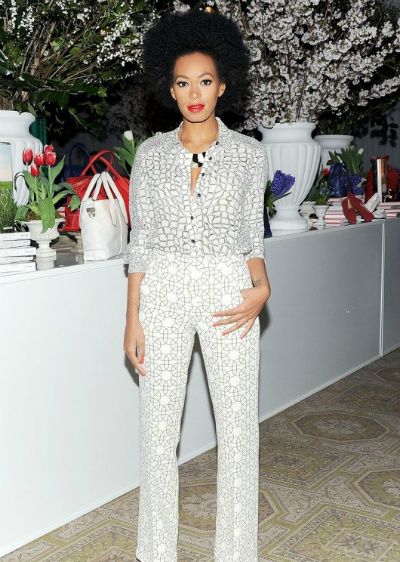 Solange wore a Proenza Schouler abstract crocodile print blouse and pants while DJ'ing her way through the night in support of the book release.
She looks so GLAM, don't you think?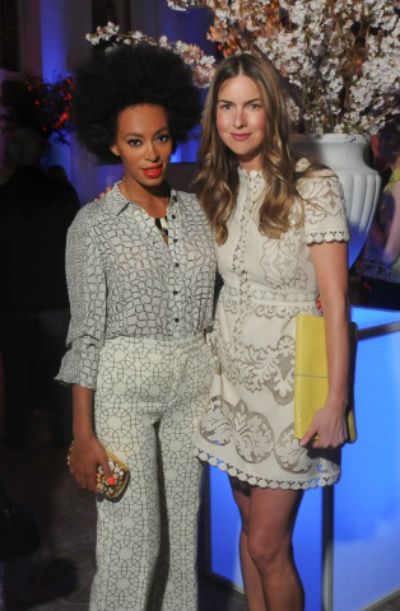 If you love her look, get her exact blouse and similar pants and accessories here:
Ciao Bellas,
Glamazon Margo & Krystal
View Related Posts:
[fbcomments width="600" count="off" num="15"]