GLAM SCOOP: Willow Smith Dyes Hair Yellow, June Ambrose Launches Sunglasses, Vogue Mom Puts 7 Year-Old on Crazy Diet
Monday, March 26, 2012
Hey Glamazons!
While we were partying, brunching or beaching for our LIVES! (Rupaul voice) this weekend, celeb Glamazons were toasting the launch of June Ambrose's sunglasses line, playing dress-up in Geisha wear and fooling around with hair dye. Let's get to the new fashion and beauty news, shall we? Here's the scoop!
–Between Katy Perry, OMG Girlz (please tell me you know who that is) and Pharrell, crayola-colored hair dye is having a moment. The title of trend ambassador, however, unequivocally belongs to Willow Smith. The singer ditched her green hair for a new yellow buzzcut and what's even more surprising is the fact that we're actually NOT upset at the color change. In fact, we're hoping Katy Perry switches hers up next (blue period…OVER). [TheYBF]
–That beautiful Elle Magazine cover of a nude, pregnant Jessica Simpson was censored in an Arizona grocery store, 'lest a little child be devastated by the sight of a round belly…which is weird considering that's where kids come from and all. [Fashionista]
–Looks like June Ambrose's amazing work on Mischa Barton from the first episode of Styled by June has inspired Barton to design clothes. Head-scratch. We know June is glamazing but one step at a time, doll. [The Gloss]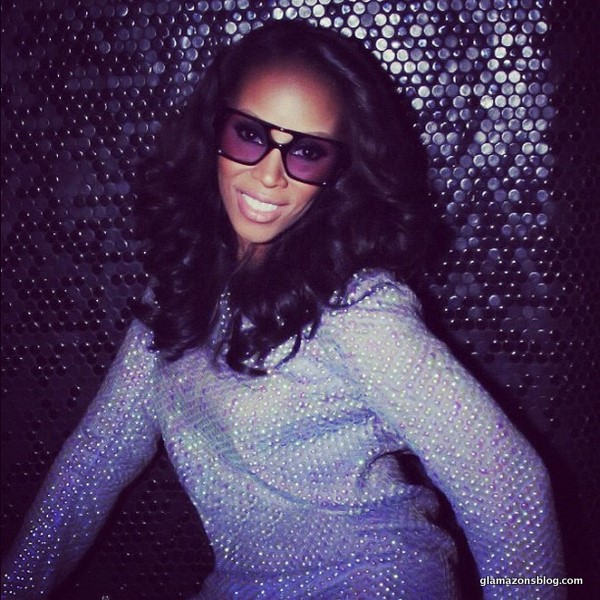 –Speaking of June Ambrose, the perenially fab stylist debuted her sunglasses line with Selima Optique over the weekend with an equally fabulous soiree attended by Ty Hunter (Beyonce's stylist, below), Chef Roble and more.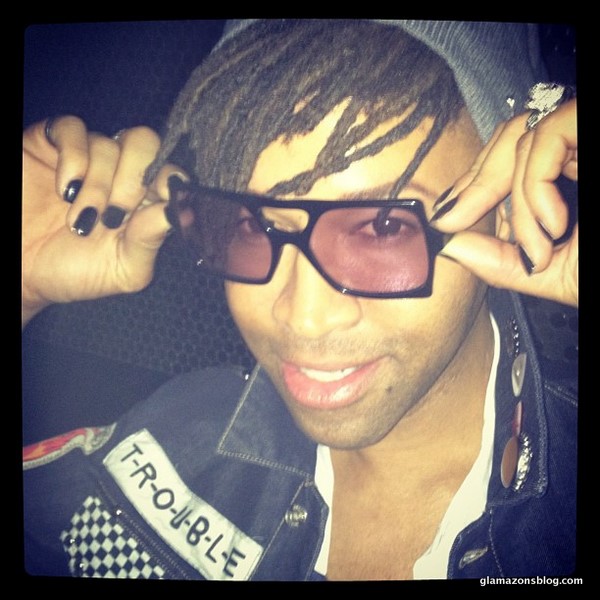 The collection, which includes The Summer (named after her adorbs daughter, seen on June and Ty above), Chance (named for her cutey son) and The Hi Brow, retails for $275 each and is available here. [June Ambrose's Instagram]
–President Barack Obama's campaign is, like, the most fashionable one ever! Now in addition to nail polish and a tee from Mama Beyonce and grandma Tina Knowles, he can add t-shirts designed by Diddy and Russell Simmons to his roster. Can we get a sheath dress designed by Michelle Obama, too? [iluluonline]
–A new season is the perfect excuse to indulge in a bit of shopping! Get yourself some delectable statement jewels to jazz up your Spring looks curated by LoveBrownSugar. And yes, her amazing Yumnah Najah Designs ring from Channing In The City's anniversary party is in there! [LoveBrownSugar]
–So guys, we already gave you the tea that AnnaSophia Robb has been cast as Carrie Bradshaw in the new CW show, The Carrie Diaries (a prequel to Sex and The City). We were hoping for Lizzie Olsen but now that we've seen AnnaSophia's promo photo, we're believers. Are you, Glamazons? [Just Jared]
–Oh, Vogue. The fashion glossy featured a gripping story by Dara-Lyn Weiss, an obviously disturbed mother, who chronicles her efforts to keep her 7 year-old daughter in shape. And by the way, those efforts include throwing fits when people try to hand the child salad. We're serious. Mommy has suffered from body issues in her personal life in the past (umm, duh) and we can't seem to figure out why Vogue would publish her article. We're adding this story to Anna Wintour's list of thin-cidents, which also includes trying to photoshop this photographer's stomach. Le sigh. [The Cut Blog]
–News Flash: Rihanna is GORGEOUS.
She taps into her 'Gangster Goth Geisha' side for her 'Princess of China' video shoot with Coldplay and was kind enough to TwitPic some behind-the-scenes glamazingness.
Singing criticism aside, that girl gives indisputably good face. [Beauty Is Diverse]
Until tomorrow!
Kisses,
Glamazon Jessica
View Related Posts:
[fbcomments width="600" count="off" num="15"]