GLAM SCOOP: First Look at Tom Ford Womenswear Fall 2012, Franca Sozzani Defends "Racist" Haute Mess Spread, Olivia Palermo Covers Elle Ukraine
Tuesday, March 20, 2012
Good evening, Glamazons! I hope you are enjoying the gorgeous weather! I know I am. Rooftop parties are CALLING my name, lol! But let's move onto the important stuff, shall we? Here's the scoop!
First Look at Tom Ford Womenswear Fall 2012
Tom Ford doesn't like releasing images of his collection the conventional way by letting editors do annoying things like TwitPic or post pictures on the internet. Instead, he wants full control of the way the media receives information on his collection. Last season, editors were not allowed to take pictures. However, this time around, his team has done us the favor of releasing video of his Fall 2012 womenswear show (how very kind).
And boy, was it worth the wait! The collection is a study in luxury with languid gowns and lush fur coats rooted in white and black hues, including the exquisite gown Gwyneth Paltrow wore to the 2012 Oscars.
Gold-plated or Swarovski crystals adorn the necklines of many of the dresses and accessories like orange and gold clutches and snakeskin knee-length boots uplift the line. What do you think of the collection, Glamazons? [Tom Ford]
Franca Sozzani Says Vogue Italia Haute Mess Editorial Isn't Racist
Vogue Italia is facing a bit of controversy following their recent editorial entitled "Haute Mess." Now, Glamazons, I'm sure you are all familiar with hairstylists that experiment with non-conventional colors, candy, household items, etc. and create, well, haute messes.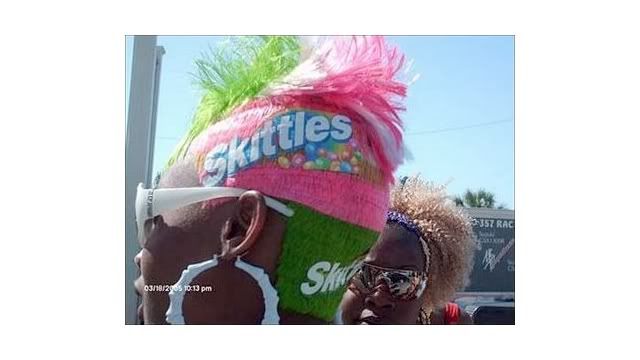 The moment I saw photos from the editorial, I was immediately reminded of such stylists and I admit I give regular sideeyes to those 'creatives.' However, critics are taking offense to the editorial and perceiving it as an attack on an entire race, instead of just bad hairstylists.
And EIC Franca Sozzani isn't taking the criticism sitting down:
"A racist image, I really do not understand. I went through the pages so many times. Like when we did the Black Issue, everybody said that we did that on purpose because Obama was the person chosen to go to the White House, and if you just think one second, not more than one second, you can see that to make a magazine like what we did for the Black Issue, it takes six months [to do]. … People wanted to see an economical and a financial [decision], just to get more money, because we talk about Black Issue, it's probably because the president is black. What do you answer? They don't know what it means to work at a magazine. That's it."
This woman just can't escape criticism, huh? What do you think of the spread, Glamazons? Do you think it's racist? [Stylite]
New Nail Trend! The Caviar Manicure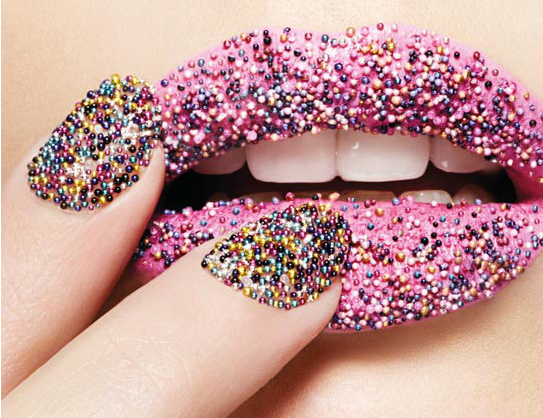 Glamazons, it looks like we can look forward to a new trend this year called the "caviar manicure," which is basically beads sprinkled over polish to look like seeds. It may sound strange but it looks incredibly cute! British nail polish brand Ciaté will be launching a collection of these caviar manis in the next couple of months. Will you be trying it out, Glamazons? [Fashionista]
Olivia Palermo Covers Elle Ukraine
Get into that red lip Olivia Palermo is rocking! The socialite turns up the glam on the April 2012 issue of Elle Ukraine. Doesn't Olivia looks absolutely stunning? What do you think of her shot, Glamazons? [Beauty is Diverse]
Kate Moss Guest Stars on Ab Fab, Gets Insulted by Patsy!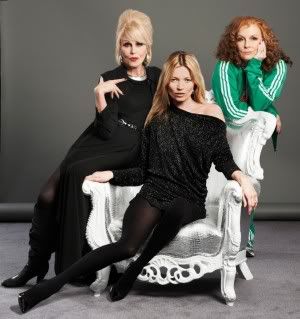 Guys, don't you just LOVE Absolutely Fabulous? The show is hilarious and is really exactly what my life is going to be in ten years. We got our hands on a sneak peek of the new season, which is set to debut worldwide soon. In the clip, which features Kate Moss and Stella McCartney, Patsy insults Kate by labeling her as a part of the "39-ers" club. Doesn't she know she's only 38? LOL! Check out the video below:
Funny stuff. Will you be tuned in when the show airs? [Fashionista]
Nicki Minaj Covers Complex Magazine
Just when you thought magazines ran out of creative ways to shoot Ms. Nicki Minaj, Complex Magazine comes and blows your mind with a black and white printed tongue. If I see little girls walking around town rocking this like they do pink lips and blonde hair, chile. Nicki covers the April 2012 issue and has a revealing interview with Miss Info about why record labels can't recreate her. Kind of like how folks say she recreated Ki…oh, nevermind. [iluluonline]
Swimsuit Model Arrested for Meth?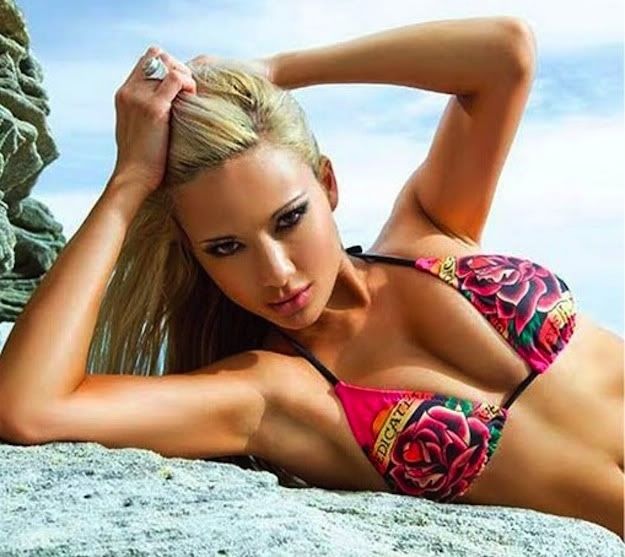 Swimsuit model Simone Farrow has found herself in a heap of trouble with the law after using "19 different aliases to ship methamphetamine around the world by FedEx and even the postal service." When her bad habits finally caught up with her, she fled to Queensland to escape. Messy, Messy. Here's what she had to say about going M.I.A.:
"The only reason I've done this is because someone was trying to murder me. I've been in… relationships with numerous underworld figures or whatever you want to call them and I feel that maybe they feel threatened by my situation. I wasn't trying to flee the country at all; I was trying to protect myself from being killed or harmed."
Wow. And we thought the Manolo Blahnik full of cocaine was bad. [The Gloss]
Until tomorrow!
Love & Fashion,
Glamazon Kamille
View Related Posts:
[fbcomments width="600" count="off" num="15"]