GLAM SCOOP: Heidi Klum Talks Divorce With Elle, First Look at Madonna's Shoes, Azealia Banks Poses As Terry Richardson
Tuesday, March 13, 2012
Good Afternoon, Glamazons! I hope you are having a glamazing day. I'm here soaking up this amazing weather and planning what fabulous Spring ensembles I'll be shopping for. I'm going to try a bit of chartreuse and lots of floral prints. What trends are you excited for this Season? Oh and I'm also planning a fabulous outfit for Channing's two year blogaversary party this Thursday! Follow us on Twitter for the play-by-play and come here for the recap! It should be a blast.
In the meantime, I have your daily dose of fashion and beauty news! Let's get to the scoop.
Madonna Launches "Truth or Dare" Footwear Line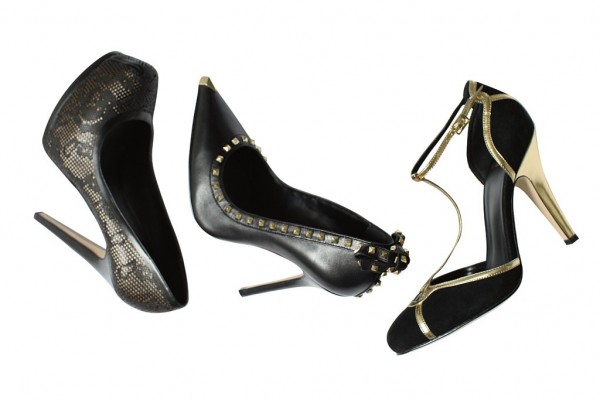 Glamazons, I totally told you it would only be a matter of time before Madonna launched a footwear line! Well, guess what? She's done just that. Madonna will debut a "Truth or Dare" footwear line this summer, consisting of 60 shoes priced from $89 to $349 and available at Macy's, Nordstrom and ASOS. Isn't this glamazing news? Get your first look above. What do you think of Madge's shoes? [Glamazon Diaries]
Check out the Kardashian Kollection Lingerie Ad
Looks like the Photoshop team worked overtime on the Kardashian Kollection lingerie ad. Featuring Kim Kardashian, Khloe Kardashian and Kourtney Kardashian in corsets, garter belts, bras and panties, the ad promotes the new range of intimates the sisters will have available at Sears. What do you think of the ad?
Vera Wang Launches Cosmetics Line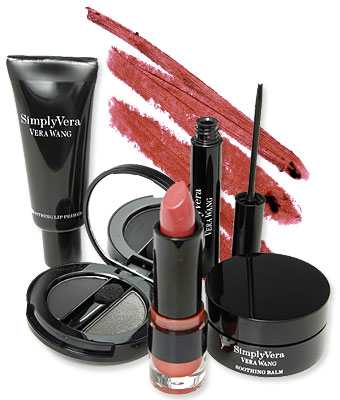 I just adore when fashion designers enter the realm of beauty, especially those as talented as Vera Wang. Joining Oscar de la Renta who is launching a line of nail lacquers in the Fall, Vera Wang just announced her very first line of cosmetics called 'Simply Vera,' which will be available at Kohl's. "A pop of color is such a gorgeous way to let your natural beauty shine through. It's the ultimate accessory," Vera said during an interview with WWD. The collection will be priced between $16.50 to $39.50. Will you be picking up any mascaras or lip glosses from the 'Simply Vera' collection? [InStyle]
Diane von Furstenberg Honors Oprah in Awards Ceremony
Oprah is pretty awesome (goes without saying) and her moving yet comforting interview with Whitney Houston's daughter Bobbi Kristina is only the latest example. Another legend, Diane von Furstenberg, celebrated Oprah's general amazingness with a 'Lifetime Leadership' award at her ceremony at the United Nations. So well-deserved, right? [Beauty Is Diverse]
Azealia Banks X Terry Richardson
Azealia Banks is clearly having her moment in the sun, having recently been photographed by Terry Richardson for T Magazine.
And of course, Azealia Banks did the obligatory shoot dressed as Terry Richardson where they both played around with braids.
Love it! [iluluonline]
Heidi Klum Opens Up To Elle
Heidi Klum took time to chat with Elle Magazine in her first exclusive interview since her divorce from Seal. Here's what Heidi had to say in the interview:
"I'm a lioness. I have four cubs. I'm a mom. I want to take care of my kids and protect them. I don't want to talk about them, or him, or me.

People don't need to know who did what……I don't want to talk positively or negatively about the ups and downs that we had. Every couple goes through things. Unfortunately, we're in the public, so the highs are out there. But I don't think it's necessary — especially for our children — to have the lows being printed in magazines and talked about."
She's absolutely right and it now makes sense why she was so upset when Seal did an interview earlier this year discussing their relationship.
Sidenote: doesn't Heidi look completely snatched in this spread? Gorg. What do you think of her interview, Glamazons? [Everything You Need to Know]
Sophia Vergara Covers InStyle
Let's face it Glamazons: you can't help but LOVE Sofia Vergara. She's beautiful and has plenty of attitude. The Modern Family actress is covering the April issue of Instyle Magazine looking as ravishing as always. Check out photos from the spread below:
What do you think of Sofia's shoot, Glamazons? Isn't it hard to believe she's pushing 40? I need to be clued in on what fountain of youth she is sipping from. [Celeb Shut]
Until tomorrow!
Love & Fashion,
Glamazon Kamille
View Related Posts:
[fbcomments width="600" count="off" num="15"]