A Day in The Life: Channing in The City's Two Year Anniversary Party
Monday, March 19, 2012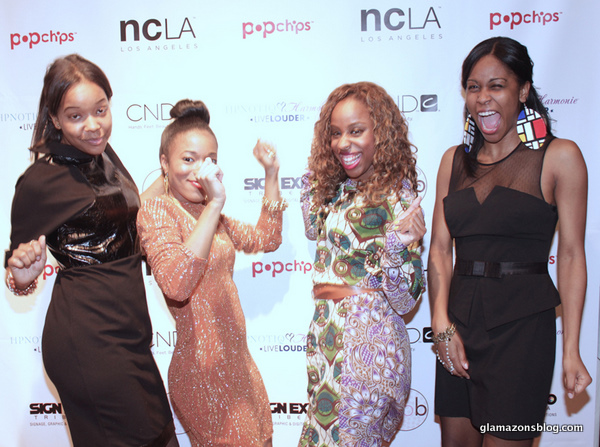 Glamazons,
It was such an honor to host Glamazon Channing's two year blogaversary party for her site, Channing In The City last Thursday. Not merely because I adore Channing (isn't she SUCH a great addition to this site?) but because two other Glamazon writers coordinated the event: Glamazon Kamille and Glamazon Krystal. And they did a fabulous job!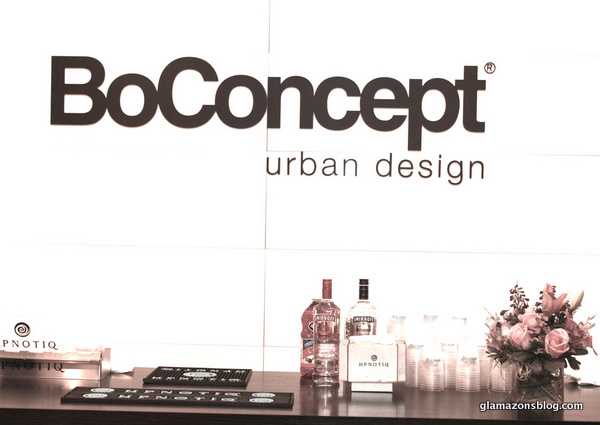 The event was held at BoConcept Madison located in midtown on the East Side of Manhattan. The swank furniture store was transformed into a beauty and style oasis!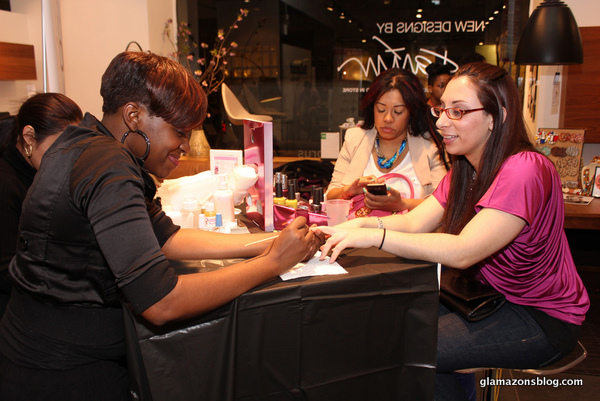 There were nail stations courtesy of Polish Bar Brooklyn (one of my favorite beauty haunts in the borough!) and Nail Taxi NYC.
I fell in love with "Did It On Em" from Nicki Minaj's collection for OPI and Polish Bar Brooklyn hooked me up with a mani in the shade. The polish is bold without being loud and adds a jolt of neon to every look.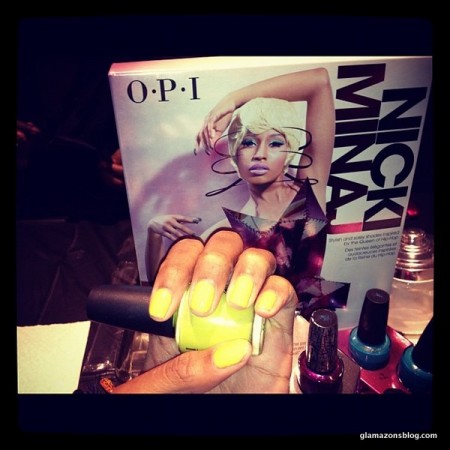 Cool for Spring, right? The neon nails went perfect with the Marni for H&M dress I wore to the party!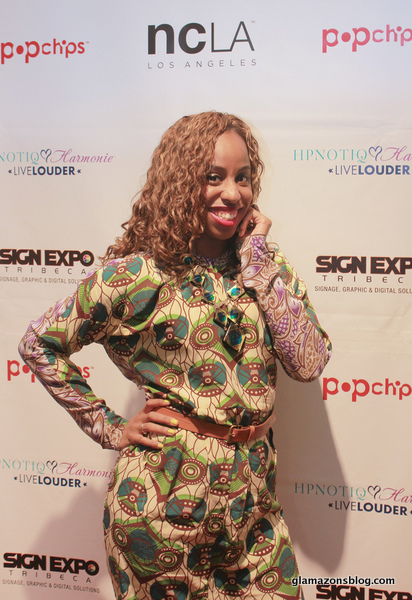 Other attendees like Christina Brown of LoveBrownSugar and Misha of The Fab Chick hit the Nail Taxi NYC bar for some fresh Minx Nails.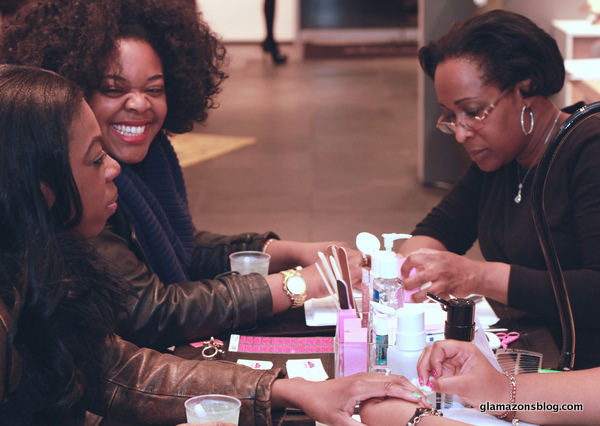 And then, there were the jewelry bars. You guys know beautiful jewelry is a weakness so I pretty much melted when I ran into the creator of Yumnah Najah Designs (below). I've only been writing about her jewelry since forever!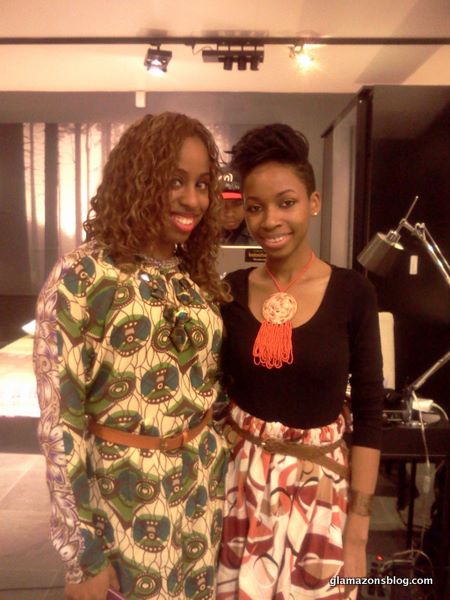 I successfully convinced my buddy Christina Brown of LoveBrownSugar to get this ring which she debuted on her Twitter along with her Minx nails (it's mod, beautiful, bold, affordable, what more does one need?):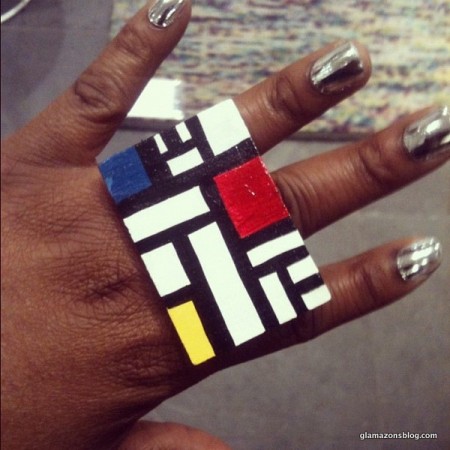 And I became hopelessly obsessed with this necklace: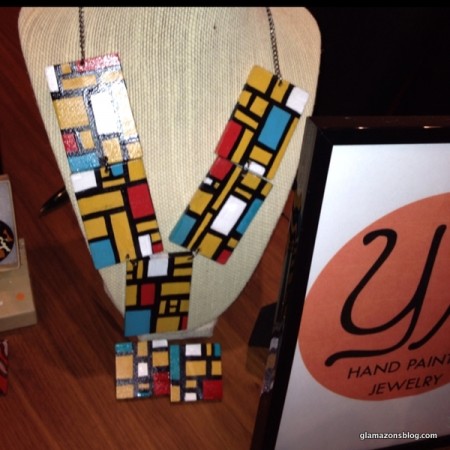 I mean, can you even? Brilliant.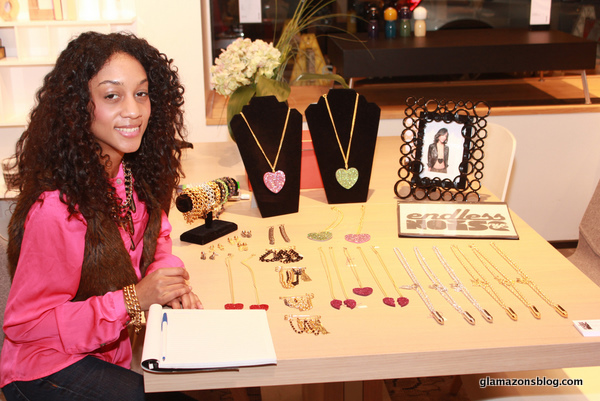 I also was introduced to Endless Noise NYC, a funky jewelry company with so much rockstar edge by designer Iran Ortiz (above). I'm talking bullet necklaces, safety pins with super cool chain detailing, heart pendants swarovski crystal-ed out! Love how fun these pieces are!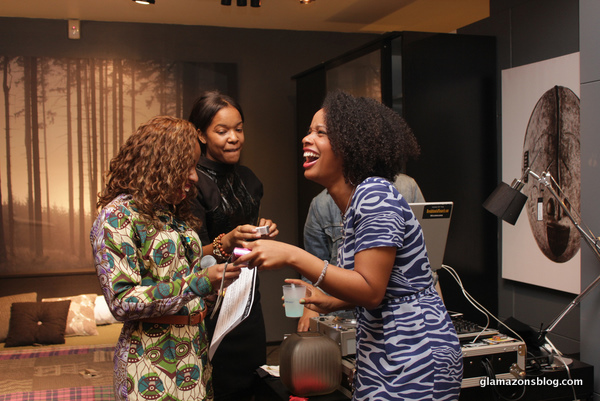 Not to mention, I had the distinct pleasure of giving away jewelry pieces from both brands in a raffle contest. I can't begin to tell you how happy the ladies were who scooped up the pieces but you can see Alicia's joy above lol.
The giveaways included a dress from special guests, Chantelle and Danielle Piper of Kastle Designs and Treasure Chest Jewelry…who I'm also kind of obsessed with. They posed with Channing and I below.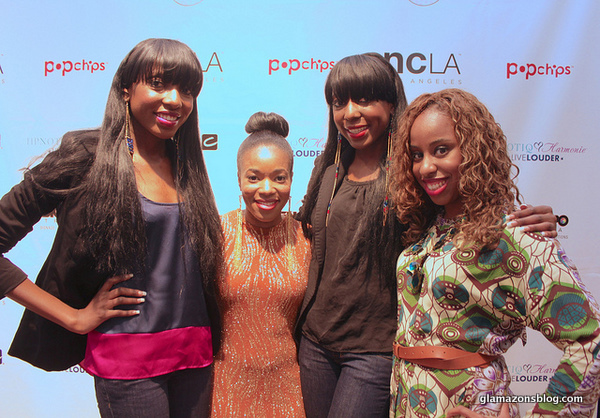 The designers even outfitted the guest of honor Channing for the night in a Kastle Designs dress and Treasure Chest earrings. POW! Doesn't she look exquisite?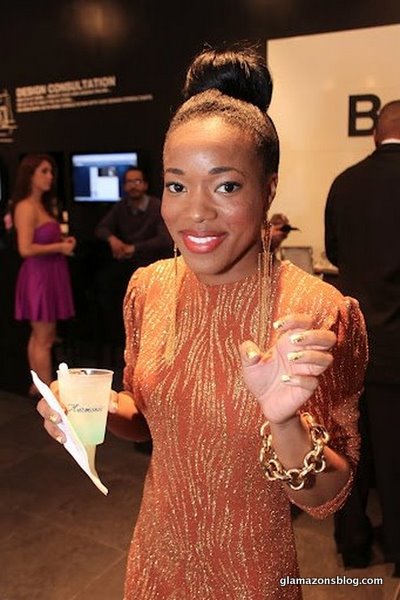 In addition to drooling over Channing's outfit (and secretly trying to convince Kamille to let me keep the giveaway dress for myself…shameful I know but it was amazing!), I had the time of my life dancing to tunes by DJ Physics like Rihanna's "Birthday Cake (Remix)" and "Party" by Beyonce. It goes without saying that I didn't sit down all night thanks to him (below with Channing).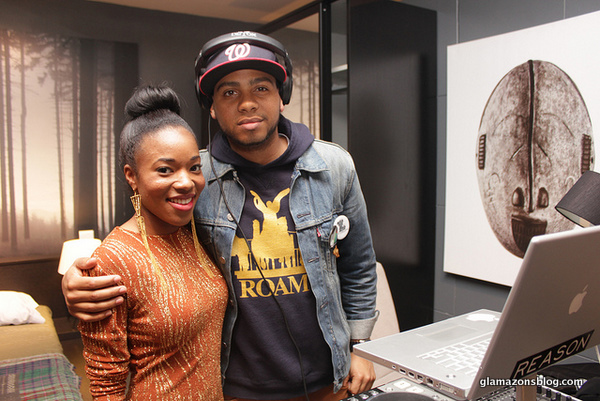 We also enjoyed hors d'oeuvres by Iman Dean of Sweet P Catering (whose brunch I attend every first weekend of the month). I'm talking Caprese Salad Skewers and Curry Chicken Skewers with Mango Salsa that were to-die-for, Glamazons. Delish!
And finally, guests treated themselves to cocktails courtesy of Hpnotiq with chic names like "Sequins and Glitter" and my fave "Harmonies in the City."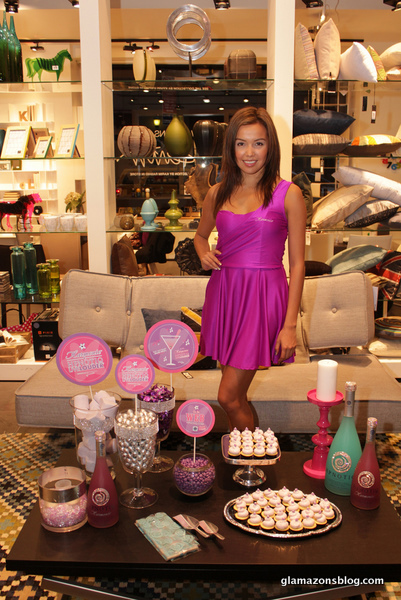 They even had a dessert bar with cupcakes and chocolate (above) and you know I had to indulge!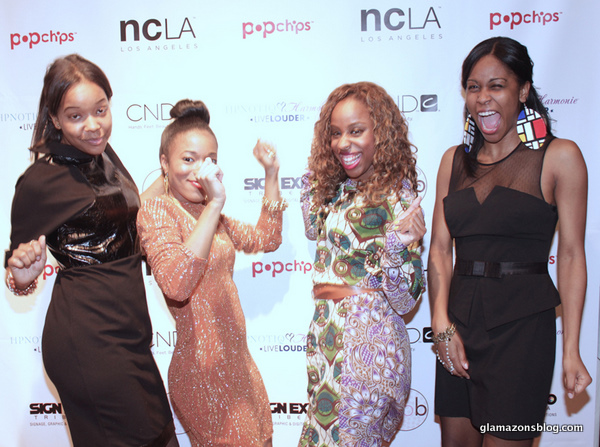 One of my favorite moments of the night was hitting the red carpet with Glamazons Channing, Krystal and Kamille. We had a ball posing, dancing and laughing while photog Bayyina Black snapped away.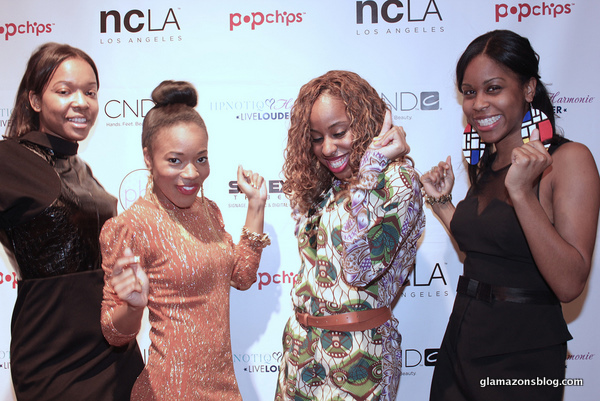 Love my Glamazons!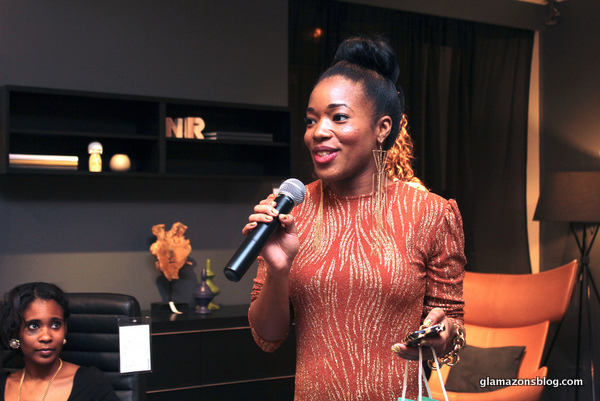 But the very best part of the night was undoubtedly Channing's heartfelt speech when she thanked everyone from her closest friends to her amazing Mom for their support. She is so talented, humble and kind and her success is truly inspiring and well-deserved.
I said as much to her mother (below) who is so supercool and stylish it's ridic. She told me Channing got her style from her grandmother who always looked amaze and passed it down to her daughter, dressing Channing's Mom in fab pieces like suede boots when she was a little girl.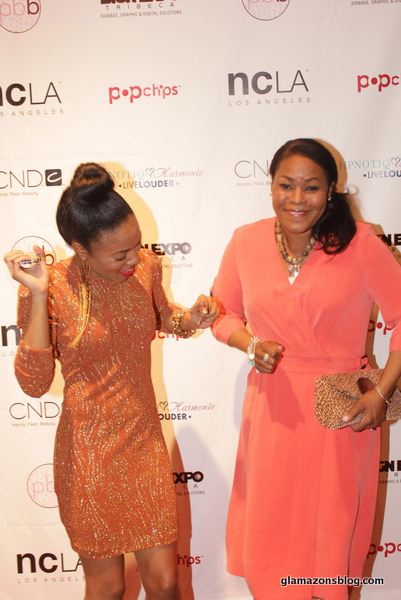 I like to think of fashion and style as a part of a family's legacy, something Glamazons take pride in and pass down through generations. So I loved to hear that story!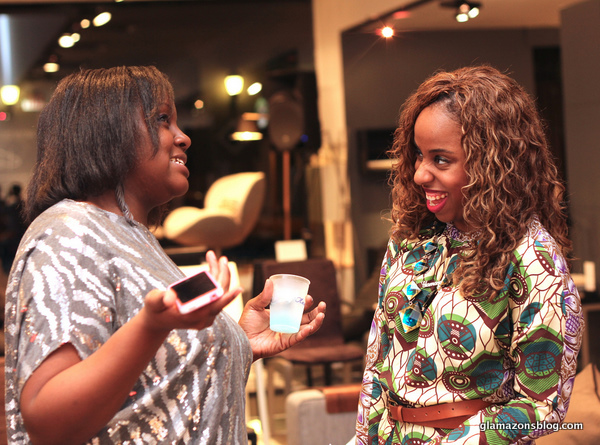 It was also so great to mingle with friends like Akua Harris of The Style Qween (above), Christina of LoveBrownSugar, Misha of The Fab Chick, Alicia Criner of Champagne Beauty (below with Channing and I) and more!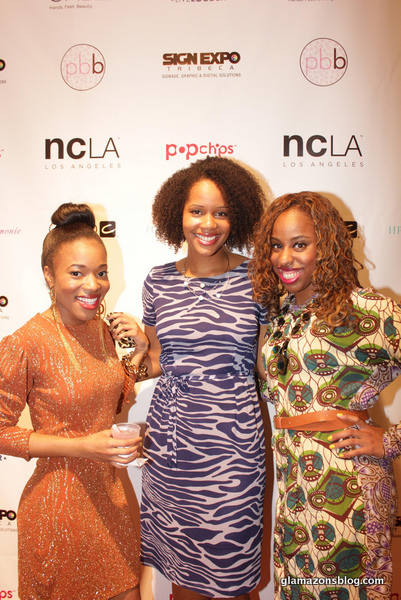 I even got to see Ally Harvest, who I grew up with and lived next door to in my original hometown of Orange, New Jersey! She looked fab in sequins and pearls (below, far right):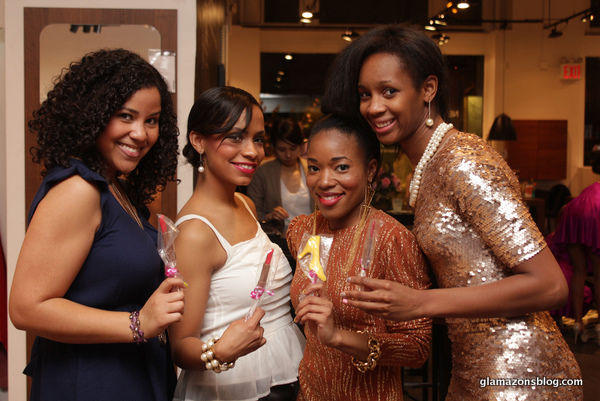 Overall, it was a beautiful night that ended with gift bags full of treasures like copies of Juicy Magazine to Pop Chips (which I promptly tore up in the cab) to CND (Creative Nail Designs) nail lacquers.
Congrats again to Glamazon Channing on the 2-year anniversary of Channing in the City and to Glamazon Kamille and Glamazon Krystal on a successful event. Here's to many more!
Check out more pictures from the event below and even MORE pics here:
Kisses,
Glamazon Jessica
Photos: Bayyina Black
View Related Posts:
[fbcomments width="600" count="off" num="15"]