GLAM SCOOP: Barack Obama Is Selling Nail Polish, Ricky Martin and Sons Cover Vanity Fair, Cassie for Clam Magazine
Thursday, March 22, 2012
Yay, Glamazons!! Why am I so excited, you ask? Because it's almost Friday, of course! I'm always excited for Fridays and for the weekend ahead (moreso now that the weather is perfect). That hasn't changed since grade school actually, lol. But before we toast the start of the weekend, let's get to the news, shall we? Here's the scoop:
Barack Obama Is Selling Nail Polish
Yes, you read that correctly. In support of Barack Obama's re-election, his campaign is now selling nail polishes which are pretty pricey given the size.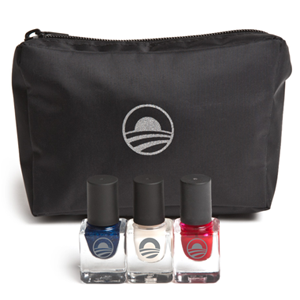 They come in a set of 3 colors and each one is not even half the size of Essie polishes and will run your pockets about $40. If it came with a dinner with Michelle Obama, I'd totally buy it. If you are so moved, purchase them here. [Stylite]
StyleCaster Names The 50 Most Stylish New Yorkers
New York's first couple (who also appeared in Vogue) Carmelo Anthony and Lala Anthony, our girl crush Genevieve Jones, Theophilus London who shut down the Rebecca Minkoff Fall 2012 show, Stacey Bendet of alice+olivia, Nate Berkus and more make the list. [Stylecaster]
Store Sells Shoes That Come With Free Men
Yes, Glamazons, this happened. A store in Kuala Lampur, Malaysia, is collaborating with a dating service to push shoes and sugar daddies in one neat little package. While I do find this weird, shoes and men are my two favorite things. They may be onto something. [The Cut Blog]
Coco Rocha Covers Harper's Bazaar
For the April issue of Harper's Bazaar Singapore, Coco Rocha goes completely glam on the cover. Is she not werquing the life out of that pretty perfect red lip? This is why she's a top model du jour. YASS! [Beauty Is Diverse]
Tommy Hilfiger Continues To Use Unsafe Work Factories After A Deadly Fire Killed 29 Workers
A year following a deadly fire that claimed the lives of 29 workers in a factory that produces clothing for Tommy Hilfiger, the designer admits to still using unsafe factories. Seriously, though?
In case you're snickering and shaking your head at this admission, he offers news that said factory will be donating one million to  "design and implement a fire safety inspection program based on internationally recognized workplace safety standards." I'm sure that brings little solace to the families of the people who lost their lives due to unsafe working conditions. [Fashionista]
Cassie Goes GLAM For Clam Magazine
Glamazon Cassie is covering the new issue of Clam Magazine rocking fresh fashions with a tribal flair. As much as I question the persistence of her half-shaven hairstyle, I live for this shot! That girl knows she can model. Are you loving it, Glamazons? [iluluonline]
Ricky Martin and Sons Cover Vanity Fair Spain
Awww. MAC Viva Glam ambassador Ricky Martin covers Vanity Fair Spain with his twin sons for their April 2012 issue. I must say that his adorable sons, Matteo and Valentino, are certainly stealing all the shine!
His partner Carlos also makes an appearance. So cute! What do you think of their cover? [Vanity Fair Spain]
Until Tomorrow!
Love & Fashion,
Glamazon Kamille
View Related Posts: