#NYFW Backstage Beauty: Richard Chai Fall 2012
Friday, February 10, 2012
The most wonderful time of the year is here! (And I mean that in the most jokingly sarcastic tone possible.) On Day One of Fashion Week (which was yesterday for me) I made it to plenty of shows, but only went backstage for one. (It's usually the other way around for me, but this season I decided to change it up a little bit.) So, the day began super early with me being jostled backstage by photographers and fashion crews to check out beauty looks at Richard Chai. Here's the scoop: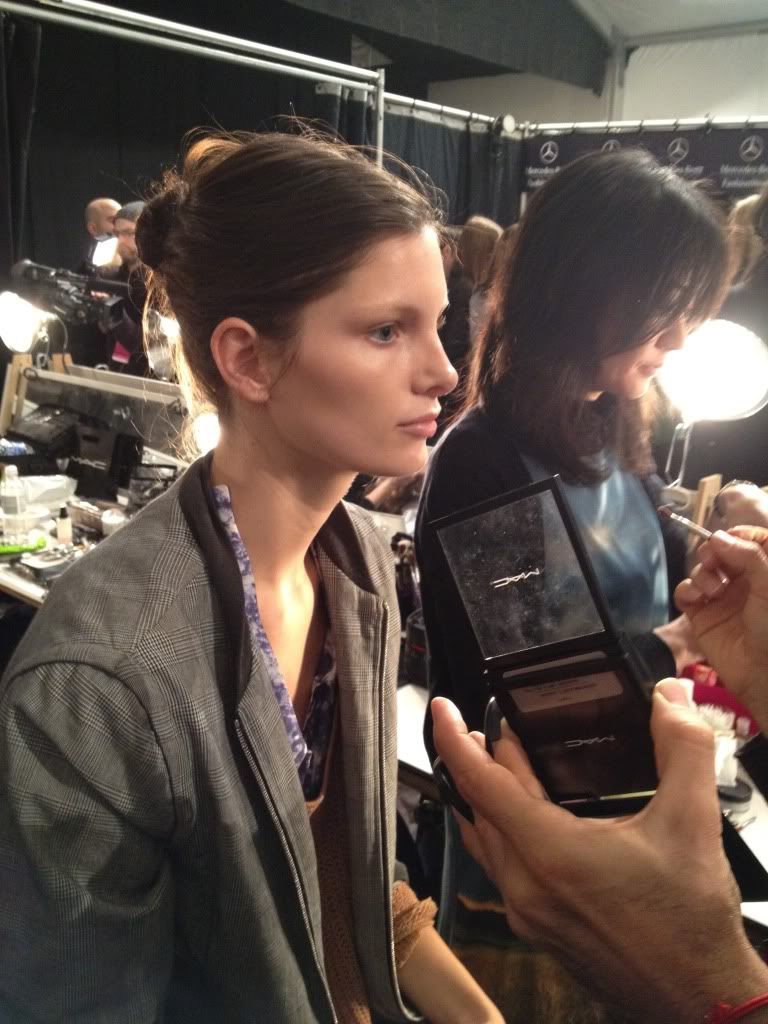 Over in makeup, James Kaliardos (for MAC) worked fervently with his team to create masculine beauty looks.
"The collection is a bunch of masculine separates, so we wanted the girls to look sort of well scrubbed and more masculine than pretty feminine," he said.
To do this, the team nixed foundations and instead used concealers under the eye and around the nose "just to brighten up those areas," Kaliardos said. Then, Prep and Prime Beauty Balm (which is basically a tinted moisturizer) was used to a bit of sheen to the cheeks. A nude shade was used for the lips. Then, Kaliardos gave us the Chai Tea on a new product from MAC called Coffee Walnut Sculpting Cream (it's the muddy, greenish looking shade that you see above). Kaliardos blended this shade into the eye sockets of the models to deepen and add that dimension that you usually see in the eyes of guys. "We're sculpting out the eye socket without it looking like eye shadow," he said.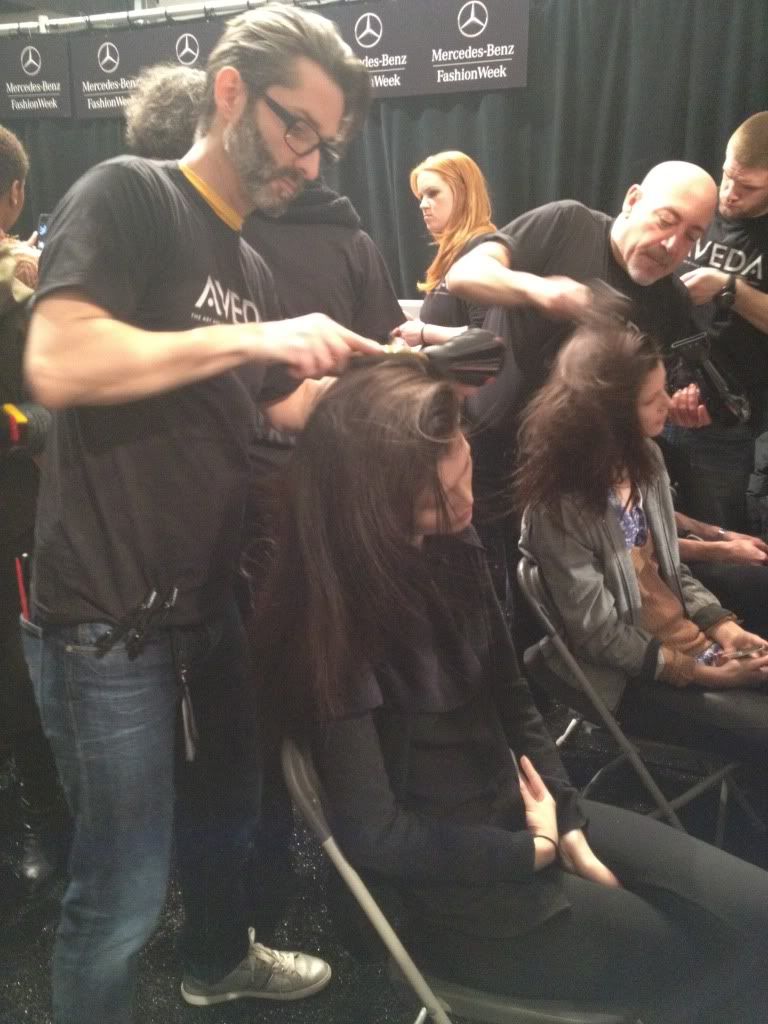 In hair, Kevin Ryan (for Aveda) and his team were working fervently on messing up everything.
"What we're doing today is like a 180 on a hair 'do," he said. "It's like when you start with a hair idea and the you change your mind midway through. You get this kind of serendipitous hair accident, which is working well.
Ryan and his team of combined a cocktail of products in order to create this look which included Volumizing Tonic, Texturizing Creme and Humectant Pomade. They used a bit of the Air Control hairspray on the ends, but still made sure that it looked messy.
"It's a little bit dirty…like lived-in hair in that deconstructed feel," he said. "By starting with one thing and then flipping back, you do get those happy accidents that if you aim for you sometimes don't get."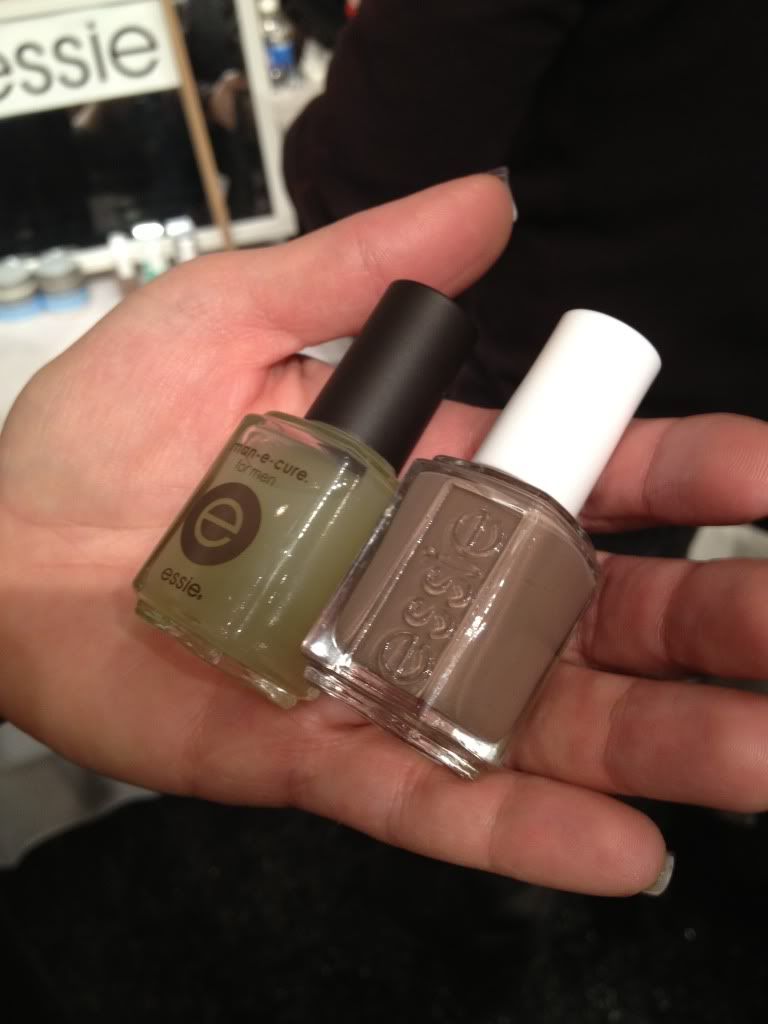 Right after interviewing Ryan, I ran into the fabulous Essie Weingarten (creator of that Essie nail polish that you're probably currently wearing on your nails or toes haha) and we talked all things nails for about 20 minutes before I realized that I'm supposed to be getting the scoop on the look smh. So, then I scooted over a nail tech who told me that they wanted to reflect the "androgynous texture" of Richard Chai's collection. There were two shades combined (a semi-shiny top coat over Glamour Purse) to mimic the texture of wool.
And there you have it, Glamazons! Now I'm off to pump some coffee into my veins. What do you think of the look?
xoxo
Glamazon Andrea
View Related Posts:
[fbcomments width="600" count="off" num="15"]