10 Minutes With: Miss Universe, Leila Lopes PLUS She Shares Workout and Beauty Secrets!
Friday, February 17, 2012
Glamazons, as a former pageant girl, my ultimate dream was to be Miss Universe. I would fantasize for hours on end about coronation night, excitedly thinking of being crowned the most beautiful woman in the world. I saw it clear as day in my vision, I'd be dressed in a long sequined gown, rocking huge pageant hair and of course, my look wouldn't be complete without mascara-tinged black tears running down my face. In my fantasy, I'd re-enact the pageant cry with my hands shaking while mouthing thank you to the audience, judges and my family members.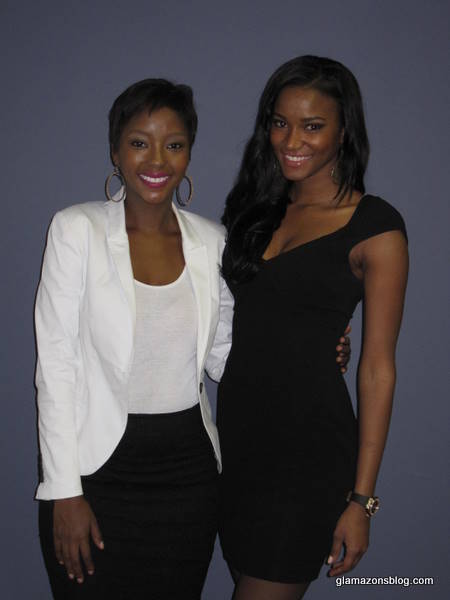 Alas, my dream of being Miss Universe never came to fruition but the night that Leila Lopes captured the title, it felt almost as if I had won (that's her and I above). Leila and I share the same heritage, both being of African descent. So you can only imagine how ecstatic I was when she made history as the first Miss Angola to become Miss Universe.
From the moment I saw her image radiating across TV screen all the way from Sao Paulo, Brazil, I instinctively knew she would be the winner. Shared culture aside, in my brief chat with Leila, I found her to be beautiful, smart, engaging and of course charismatic.
Having defeated 88 other contestants in the 60th annual Miss Universe pageant, Leila knows a thing or two about beauty. Find out what Miss Universe had to say about staying in shape, Angelina Jolie and living in NYC.
Glamazon Makho: First things first, you are in terrific shape! How do you do it? Any workout tips?
Leila Lopes: I think genetics help because my Mom is 47 and she's the same size as me. She's a Mom of four so I hope to look like her at that age! I'm not a "gym person" so when I have a competition or a photo shoot I just eat less. I don't diet or stop eating because I love eating and I eat everything.
GM: I love to eat as well, so I totally get it. As Miss Universe, do you get a gym membership?
LL: Yes, I get a gym membership and a personal trainer. I workout two times a week and I watch my meals.
GM: Two times a week only? You look fantastic! So fashion week has taken over NYC and you've already attended a few shows. What shows or designers are you looking forward to seeing?
LL: I'm going to walk for Sachika Twins, I've tried on their clothes and they are amazing! I'm going to walk in the Rolando Santano show as well. I will also be attending the Vivienne Tam presentation in addition to a ton of other appearances.
GM: Will this be your first time walking in a runway show?
LL: Yes first time in the US, but I've actually walked before in South Africa for Johannesburg fashion week. The designer I walked for is a man named David Tlale.
GM: Oh I know David Tlale, he's HUGE in South Africa! Switching gears for a second,you were deemed the most beautiful woman in the Universe, who do you find beautiful and why?
LL: I would have to say my Mom definitely. But If I had to pick a celebrity I would choose Oprah, I think she's beautiful and has a good heart. She's rich but she still cares about others, not to mention she does a lot in Africa which is great. I would throw Angelina Jolie in there as well. Those ladies are my biggest celebrity inspirations. If I were to be really famous, I would want to be like them.
GM: You've traveled to a lot of places all the over the globe, do you have any non-traditional beauty tips?
LL: I exfoliate my body with sugar and raw honey every single month. It's great!
GM: You are always pictured on the red carpet looking fabulous; do you get a whole new wardrobe from the Miss Universe organization?
LL: Designers give me stuff all the time; they usually send clothes or shoes for me to wear. I also have a stylist that works here at the Miss Universe organization
GM: Let's discuss your hair-look the night you won the Miss Universe title. You went against the grain by wearing your hair in a sleek up-do. What made you wear your hair up when all the other contestants wore it down?
LL: I actually like wearing my hair up but it was my ex-boyfriend who made me stop wearing it that way. He used to tell me that "I looked really young when I had my hair up" so I started wearing it down. So when I was at the Miss Universe competition, I tried the dress on with the designer and he put my hair in a bun. Almost instantly we both agreed that the dress looked better with an up-do, so we both decided to do the bun.
GM: That was a great decision to wear it up, I mean you look great with it down..But I can really see your features when you wear it up. Last and final question, how you do like living in NYC?
LL: Well I am a very calm person and New York is too crazy. It's way too crazy and way too busy.
———
Who knew Miss Universe was down to earth? I had a lot of fun with this interview; talking to Leila was like chatting with a girlfriend. Glamazons, remember the name Leila Lopes! Her star is only beginning to ascend.
xo,
Glamazon Makho
View Related Posts: