GLAM SCOOP: Manolo Blahnik x J.Crew, Nicki Minaj for March Vogue, Trina Gets Styled by June Ambrose
Wednesday, February 15, 2012
Guys, in one more day, we will be able to say we survived another season of New York Fashion Week! We've successfully trekked from show to event to party in our best outfits, blogging and tweeting all the while. Though we may have sacrificed some sleep (thank God and Oil of Olay for eye cream!), it was totally worth the experience (seriously, New York City comes even more alive than usual!). I hope you enjoyed all our coverage from backstage to the front row…and keep coming back for our reviews of Milan, London and Paris shows.
While we were busy taking New York Fashion Week by storm, the fashion and beauty world kept turning—with new magazine shoots (ahem, Kim K.), broken CFDA regulations (bad Marc!) and a collaboration that will make Glamazon Channing very happy. Let's get to it!
Marc Jacobs Casts Underage Models In His Show, Explains Why
Guys, it seems like days ago when Diane von Furstenberg announced regulations about underage models at New York Fashion Week shows. Marc Jacobs didn't seem to get the memo or at least didn't care. He sent 14 year-old Ondria Hardin and Thairine Garcia down the runway at his pilgrim-inspired show and was very clear that the CFDA can kiss his, ahem, as-cot. "I do the show the way I think it should be and not the way somebody tells me it should be. If their parents are willing to let them do a show, I don't see any reason that it should be me who tells them that they can't," he told The New York Times. "There are children actors and children models for catalogues and stuff, so I guess if a parent thinks it's ok and a kid wants to do it, it's fine."
Well, take that CFDA and DVF, who issued guidelines that models should be 16 at minimum to participate in shows. The rules are not mandatory and in MJ's case, not relevant either. [British Vogue]
Kim Kardashian Snags Allure Magazine Cover, Talks Paris Hilton, Kris Jenner and Having Babies
Time for a reinvention! Now that the public generally can't stand Kim Kardashian, she's in image overhaul mode starting with a natural-looking cover for Allure Magazine. Rocking understated makeup and beach waves, Kim opens up about everything from Paris Hilton to her Mom to her whirlwind marriage and divorce. No quote on Reggie Bush though (haha). Check out a few excerpts:
On Paris Hilton:
"I don't really talk to [Hilton]. I mean, if I saw her, I'd say hi, but we don't really talk."
On Mama Kris:
"People [think] because you film your life on a reality show, you live everything for the cameras. But we all have limits. My mom has no limits. We need someone, right, to have no limits? That's my mom."
On Her Wedding/Divorce:
"When I saw Khloé and Lamar get married—and they had their wedding on TV—I thought, Oh, my gosh, that's so exciting! That's what I want! If you were to ask me now, that's not what I want." The experience "definitely made me want to be more private with my relationship, whenever I choose to get into one again. I'm not ready, but when that time comes, I'll be more cautious about who I let my world open up to."
On Having Babies:
"Khloé joked with me and said, 'Will you be my surrogate? I said, 'I think I have a couple more years when I just want my body to myself. At 35, I promise I'll consider it.'"
Interesting. Do you buy this new, more grounded Kim? [Oh No They Didn't]
Crystal Renn Makes Her Sports Illustrated Swimsuit Issue Debut
Between her gorgeous dark hair and beautiful facial features, it's really no denying Crystal Renn is HOT. So a feature in Sports Illustrated's legendary swimsuit issue is a no-brainer, right? Believe it or not, it's Crystal's first time appearing in the Sports Illusrated Swimsuit Issue but she quickly makes up for loss time. She looks stunning in a white and red striped beach hat and bikini bottoms, photographed by Walter Iooss Jr. in Sydney, Australia. Isn't this shot SICKENING? [Beauty Is Diverse]
Manolo Blahnik x J.Crew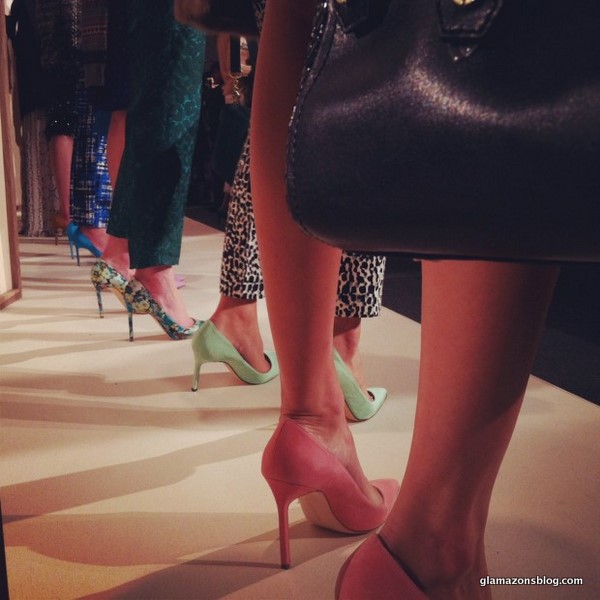 Glamazon Channing fell hopelessly in "crew love" with J.Crew Fall 2012 collection, and there's more good news where that came from. J.Crew has collaborated with legendary shoe designer, Manolo Blahnik, on a capsule collection that also made its debut at New York Fashion Week. Get into Manolo's classic pointy toe pumps in 41 different styles like mint green, floral print and even glitter! Glamazons, we are DROOLING! Manolo Blahnik President, George Malkemus, said: "It's a way of bringing high and low together. This is the way modern women dress today, and nobody does it better than J.Crew." Word.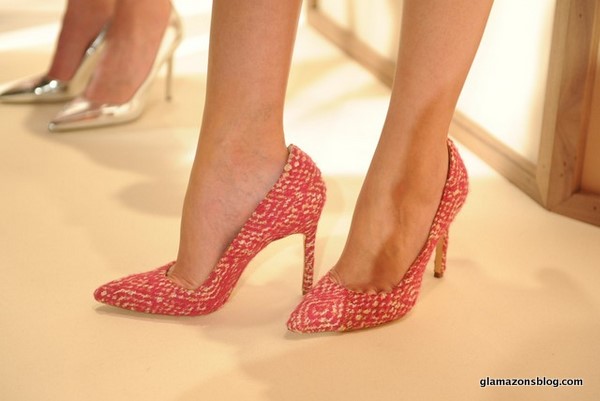 The shoes, priced from $595 to $645 (still steep!), will be available at select J.Crew stores and online. No deets as to the release date but we'll keep you posted (of course). [WWD/Fashionista]
June Ambrose Works Her Magical Stylist Powers on Trina
Here's another reason to get excited for the March debut of Styled by June on VH1. As you know, the premise of the show is June Ambrose styling celebrities looking for a fashion makeover and my God, look what she did to Trina!
If this isn't a testament to June's transformative powers, I don't know what is. Not only is Trina completely clothed (she previously embraced the Miami short/tight dress look to show off those curves…nothing wrong with that), but she looks SO high-fashion and gorgeous! This is everything. I mean, can you EVEN? #JuneforPresident [ILuluOnline]
Nicki Minaj Criticizes The Fashion Industry For Vibe, But Appears in Vogue
Now this is interesting: Nicki Minaj has managed to criticize the fashion industry and appear in the fashion bible in the same week. This is almost more confusing than her Grammys performance/outfit…almost. Maybe Roman did the Vibe interview and Nicki was in the Vogue shoot? That just gave me a headache. Anyway, so Nicki did a shoot for Vibe Magazine and in the interview, she lamented the politics of the fashion industry. When asked if she feels she's been accepted by the fashion industry, she replies:
Yeah, I realized more recently that even if it's for a fashion magazine, I'm not gonna change who I am. When I was doing photo shoots last year, I kept on being told, "This is what we want your hair to look like and this is what we want you to look like," and it really, really stifled my creativity. So the other day I was talking to a photographer, and he said, "You know what, I like your everyday looks so much better than when you do photo shoots for magazines." And I was like, "So do I, you're absolutely right." I'd been getting more and more frustrated for a while.

But I've made up my mind that when you see a Nicki Minaj magazine cover from now on, it's really going to reflect me and it's going to be something that I creatively had a hand in, because I don't have to do it anymore. I don't have to do things just to please people. It's okay to do what I love because what I love, my fans love. And they're really the only ones that should matter. The fashion world will have to come to Nicki Minaj, as opposed to Nicki Minaj trying to go to the fashion world.
Read more here. Does that mean that Anna Wintour had to chase her to get this feature in Vogue Magazine's March 2012 issue:
We doubt it. And just whose idea was it to shoot her in blueface? We're guessing that was Nicki's creative direction. [Vibe Vixen]
OK…off to begin Fashion Week recovery (i.e. take a nap and soak my feet)!
Kisses,
Glamazon Jessica
View Related Posts:
[fbcomments width="600" count="off" num="15"]