GLAM OR SHAM?: Kanye West Rocks Fitted Acne Sweater and "Zen Grey" Nike Air Yeezy 2 Sneakers at Mark Fast Fall 2012 #LFW
Thursday, February 23, 2012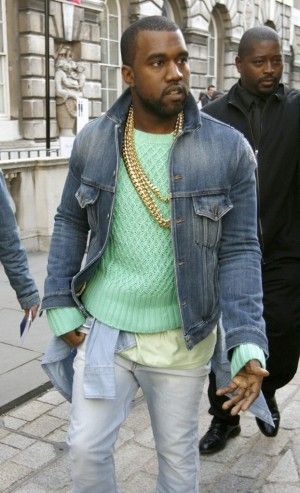 Glamazons, we all know that Kanye West loves pushing the fashion envelope but after he was spotted rocking a skirt during the Watch The Throne tour and more recently, an Acne Jade Crop Cable Knit heading to the Mark Fast Fall 2012 show during London Fashion Week, folks are a wee bit concerned. Is Kanye signaling the beginning of an era of tight shirts, skirts and skinny jeans for men? And are we onboard with him?
He paired the fitted Acne sweater with a dark denim jacket, light sandblasted jeans and the "Zen Grey" Nike Air Yeezy 2 Sneakers he designed.
While many are criticizing his fitted sweater, I'm not mad at it. I think Kanye is a genius in the fashion department (cough, sometimes) and hopefully, his second Kanye West collection showing on March 6th will prove just that. He is a trendsetter and rocks leopard without an ounce of shame, and there's something brave and cool about that, right? Plus: if women can cross over into menswear dressing (we're looking at you, Janelle Monae), why can't men wear tighter clothes?
What do you think, Glamazons? Do men that rock fitted shirts turn you off? Or do you simply not care as long as he looks good? Discuss.
If you're loving Kanye's look, cop it here for $363:
Do it, 'Ye!
Toodles Luvs,
Glamazon Krystal
View Related Posts: