GLAM SCOOP: Jason Wu for Target Restocking, Kanye West Showing Again in Paris, Christian Louboutin Explains YSL Lawsuit
Wednesday, February 8, 2012
Hey Glamazons!
I hope you all are having a glam week! Mine has been completely insane thus far. With all my running around and prepping for Fashion Week, I was soso excited to meet and chat with Adrienne Bailon in the midst of the craziness. She's such a sweet woman, gorgeous too! Will give you the deets on that interview soon.
In the meantime, I've got the latest fashion and beauty news. Lt's get to it!
Jason Wu for Target Restocking
Did any of my lovely Glamazons trek out to their local Target this past weekend to get your hands on some pieces from their Jason Wu collection? If you did and you were disappointed, you were not alone. Good news is on the horizon though. I'm happy to share that Target announced merchandise from the collection will continue to "trickle" into stores. #WOOT.
Here's Target's official statement:
Response to the launch of Jason Wu for Target has been incredibly strong. Many of our stores are sold out of the collection or running low. The collection will not be restocked; however, product will continue to trickle in through the chain and online at Target.com in the coming days and weeks. We'd encourage guests to check their local Target store and Target.com regularly if they'd like to purchase a piece of Jason Wu for Target.

Regarding product limitations, we tested product limitations online at Target.com and are encouraged by the positive feedback we've received from our guests. We did not enforce product limitations in our stores. The retail landscape is constantly evolving and we realize that consumer appetite for our limited-edition design collections has changed, most notably with last fall's launch of Missoni for Target. We will continue to look at all aspects of our limited-edition programming to ensure we're offering guests the best possible experience, both in our stores and online at Target.com
Way to clean up your image after the Missoni for Target drama, Target! Will you guys shop the restocked Jason Wu for Target line? [Miami New Times]
Christian Louboutin Explains YSL Lawsuit
The two fashion mega brands are at it again. This morning, Christian Louboutin spoke out about the YSL lawsuit, defending his lawsuit, addressing critics who say he can't copyright a color and lamenting his battle with YSL.
"I find it most incredible that a group like PPR would take the risk of defending itself as a plagiarist," he said. "They claim to fight against counterfeiting and plagiarism of which they are victims and yet behave like this. […]

The footwear designer added that PPR, who owns YSL, had made "many proposals" to buy his company in the past – all of which he turned down. He expressed his disappointment at having to take the brand to court, considering that he knew the head of PPR – ceo François-Henri Pinault – very well and that Yves Saint Laurent himself was someone he had worked with and had "great admiration for". Louboutin also asserted that he wasn't trying to copyright a colour, but the issue was more complicated.

"I understand that, but it is a red in a specific context [in the way that], there is Ferrari red [and] Hermès orange," he told French newspaper Libération. "Even in the food industry, Cadbury recently won a lawsuit against Nestlé for using purple packaging. All this proves that the colours play a part in a brand's identity. I'm not saying that red usually belongs to me – I repeat that this is about a precise red, used in a precise location."
He DOES have a point. Who are you siding with, Glamazons? [VOGUE]
Kanye West Confirmed To Show at Paris Fashion Week
Aww, Kanye. It's been confirmed that this year during Paris Fashion Week we can expect another collection to hit the runway from our beloved rapper/designer/filmmaker/Donda CEO Kanye West. Karla Otto, Kanye West's PR agency, confirmed to WWD that West will indeed show a new season of his line, Kanye West (not to be confused with Dw by Kanye West), at 9.30 p.m. on March 6. Can't wait to see what Ye comes up with! Hope it's not criticized as harshly as last time. ::prays to Fashion Gods:: What advice do you have for Kanye as he preps his second collection? [Fashionista]
Meagan Good Covers VIBE Vixen
WOWZA! Looking stunning in red, actress Meagan Good covers the latest issue of VIBE Vixen. The "sexy siren" dishes on self-actualization, acting in Hollywood, love and much more. Isn't she a beauty? [VIBE Vixen]
Eva Mendes Covers Marie Claire
Speaking of gorgeous, Glamazon Eva Mendes covers Marie Claire in a vibrant, color-drenched bejeweled top that screams glamour, not to mention her to-die-for voluminous hair and flawless makeup! In the interview, she shows off her shy side when asked about Ryan Gosling (her super-handsome boo), marriage and children. Can't wait to pick up the issue! Love me some Eva. [People]
David Beckham Was Embarrassed To Watch His Underwear Ad for H&M
Here's something we didn't see coming: David Beckham was embarrassed to watch his H&M ad that aired during the Superbowl. Embarrassed about being too perfect, maybe?
"I'm very shy. When we were watching the Super Bowl yesterday in a room of about 20 people and it came on and I actually didn't know where to look. It was kind of embarrassing. The kids loved it but they were also embarrassed as well because there was other people in the room."
That's adorable that he gets shy like the average person, even though he's WAY more attractive. Aww. [Styleite]
Michelle Williams for Boy by Band of Outsiders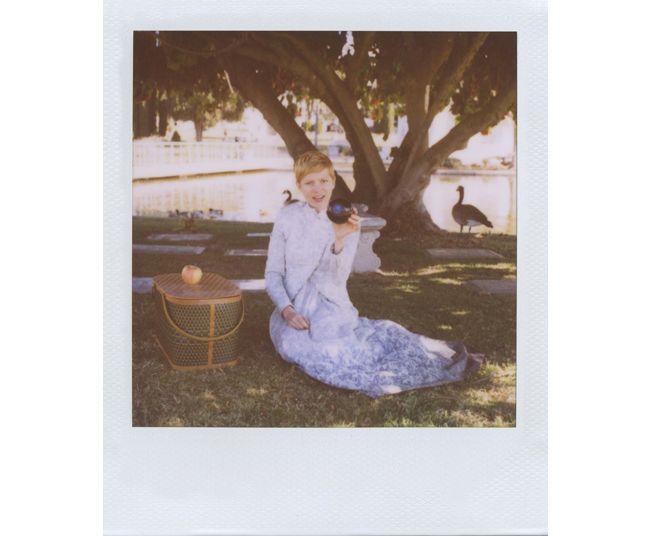 Michelle Williams is really Marilyn Monroe to me these days, so nice to see her back in her normal element. The gorge blonde gets casual for a campaign with the Band of Outsiders announcing her as the face of their line, Boy bu Band of Outsiders. GORG as always, right? She's even prettier to me when she's understated. LOVES IT! [Styleite]
Until Tomorrow…
Toodles Luvs!
Glamazon Krystal
View Related Posts:
[fbcomments width="600" count="off" num="15"]