GLAM SCOOP: Angelina Jolie for Vogue Turkey, Naomi Campbell Walks for Roberto Cavalli and Are You Offended by Kate Moss' W Magazine Shoot?
Monday, February 27, 2012
Glamazons,
To say this month has been crazy is an understatement! But…now that my last February work assignment (covering The Oscars!), I'll be headed off on a much-needed vaca with one of my bestest friends. I swear, the city is the most fabulous place to live in but every now and then, you need to get away just to keep your SANITY. I'm also happy to say Goodbye (temporarily) to the cold weather and layers (I know I'm not the only one who is ready for Spring!).
In the meantime, I have the latest fashion and beauty tea including good news for Kanye West and jewelry designer du jour Melody Ehsani and not-so-good news for Kate Moss (if she cares what those pesky bloggers think of her). Let's get to it, shall we?
Angelina Jolie for Vogue Turkey
Coming off her fabulous appearance at The Oscars where her leg stole the show (more on that later), Angelina Jolie's cover for Vogue Turkey just surfaced online. And guys, it is GAWGUS! Shot by Mert & Marcus, the March 2012 cover shows off Angie's stunning face in black and white and quite frankly, it just made my whole week. How sultry and timeless! Do you love it, Glamazons? [The Superficial Diva]
Kanye West Designs Shoes for Dion Lee's London Fashion Week Presentation
The criticism surrounding Kanye West's first line was awful, we know, but I don't remember anyone slamming the shoes? They were pretty cool, actually. (In fact, I remember Kanye bragging about them after an emotional tirade defending the actual clothes). 'Ye just might have a future in shoe design because he designed the shoes at Dion Lee's London Fashion Week presentation, and they are glamazing. SO, SO sexy. Who knew?! What do you think, Glamazons? Should he stick to shoes? [Fashionista]
FIRST LOOK! Melody Ehsani Does Nail Wraps for NCLA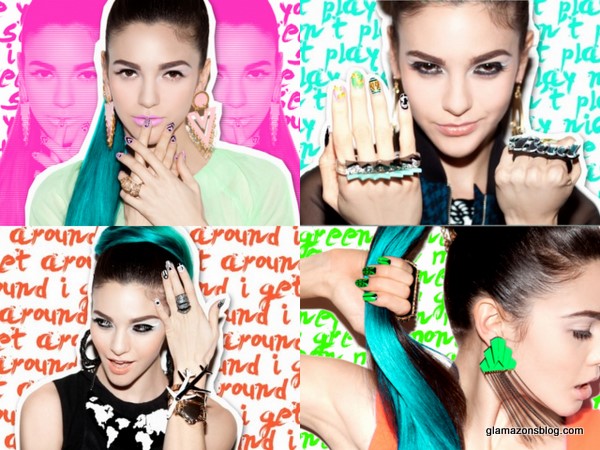 Melody Ehsani is one of my (and Beyonce's) favorite jewelry designers so I squealed at news that she's venturing into the world of beauty with nail wraps! The beautiful (and supercool) style maven joined forces with NCLA for the line which boasts the SICKEST details we've ever seen.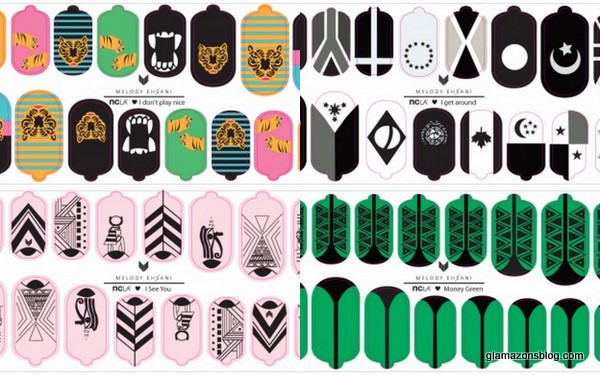 We're talking animals and stripes and the hottest geometric patterns to ever grace a nail. Will you pick them up when they hit ShopNCLA on March 1st? [High Snobette]
Tyra Banks Graduates from Harvard Business School!
We love smart fashion girls over here so we're thrilled to report Tyra Banks has walked in a Harvard Business School (HBS) graduation ceremony! Model, mogul, talk show host AND Harvard Grad alum? Talk about over-achieving. I learned a ton just from reading her interview with The Harbus (HBS' independent newspaper) where she talked about why she chose to go to HBS, what her future business plans are and those comparisons to Oprah. Here's an excerpt:
On Oprah:

"The comparisons are extremely flattering, impossible to live up to and inconsistent with my goals."

On Why She Attended in the First Place:


"There's a difference between a career and a business," Banks opined. While she loves her career, she wants to turn her brand into a sustainable, legacy business. Accordingly, she looks to Walt Disney and Virgin's Richard Branson as role models. "I'm not looking to build my company based on fans."
Read the full interview here. Aren't you proud of Tyra? [Beauty Is Diverse]
Kate Moss Gets Sacrilegious In The March Issue Of W Magazine
Coming off of Nicki Minaj's disturbing Grammy performance, Kate Moss' new W Magazine shoot is more than I'm prepared to deal with, Glamazons. In the latter, Kate poses, legs ajar, in a pair of black panties on the bottom and full nun garb on top and in a church, topless. Err?
The shoot, which features Kate in Alexander McQueen, Commes Des Garcons and more, has drawn a ton of criticism (which we think…was the point) but what do you think? Are these images offensive? [The Gloss]
Naomi Campbell Walks in Roberto Cavalli Fall 2012 Show
Brace yourselves for a Naomi Campbell runway sighting! The iconic supermodel (who actually rejects the word…though she's IT, obvs) sashayed down Roberto Cavalli's runway in the Fall 2012 collection to close out Milan Fashion Week. She is SO Roberto's muse (remember when she starred in Cavalli's Spring 2012 ad?).
Naomi stormed the catwalk wearing a breathtaking gown with leather trim, a plunging neckline and sick black leather gloves.
And yes, it was backless. Oww! [The Washington Post]
Until tomorrow!
Kisses,
Glamazon Jessica
View Related Posts:
[fbcomments width="600" count="off" num="15"]