10 Minutes With: Makeup Legend Damone Roberts AND Introducing The Look Bag Beauty Service!
Thursday, February 2, 2012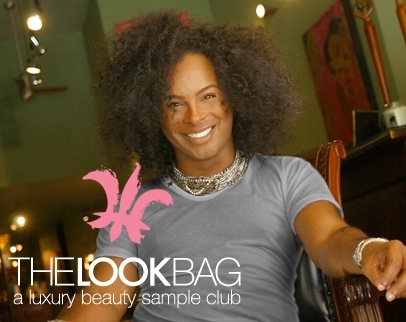 When the worlds of beauty and entertainment collide, it's sure to result in something glamtastic! Such was the case when E! Entertainment TV co-founder Alan Mruvka and celebrity makeup artist Damone Roberts joined forces to launch THELOOKBAG, "a luxury beauty sample club," where beauties get at-home monthly deliveries of the latest and greatest products to try! Sounds like heaven, right?
Interested to learn more about what THELOOKBAG is and how you can add this service to your beauty repertoire? Keep reading for answers to all this and more in our interview with Alan Mruvka and the legendary Damone Roberts!
Glamazon Margo: You're the newest face of THELOOKBAG! Can you give me details about this fab collaboration?
Damone Roberts: Alan and I joined forces as we both constantly keep our eyes on popular culture and see how the Internet has become a part of everyday life, for literally everyone. We both also realized that no matter what is going on in a person's life, they feel better when they look better. The beauty industry is consistently growing and it can be a bit overwhelming to walk into a beauty department and have no direction.
THELOOKBAG gives subscribers a way to try things out for multiple uses in a resealable container before you decide to purchase. How many products do we all have sitting in the back of a drawer that we only used once?  We saw a void in the market and decided to join forces to fill it.
GM: What is your favorite aspect of having a new lifestyle, fashion and beauty website in collaboration with the man behind E!. Do you think it will be larger than life?
DR: I believe when you are sincere in what you are doing and confident in your talents, there is no way one can't win. My favorite part is: I live for good beauty products and now I get to try them all and share the best ones with our members.
GM:  What are your go-to products from THELOOKSTORE.com to help keep those gorgeous curls of yours looking great?
DR: Thank you for the compliment. I'm a big fan of the Kim Vo Moisturizing Nourish Conditioner, I am also quite fond of Obliphica Treatment Hair Mask. I believe good hair starts with healthy hair!
GM: What makes THELOOKBAG so original and different from similar services?
DR: The fact that the products are actually being selected by someone who has been very successful in the beauty industry for many years. I have learned plenty of beauty secrets after being exposed to the best of the best by the best.
I'm certainly not saying I am the best makeup artist this industry has ever had, but I am saying that I am good at what I do and have been fortunate enough to have actually worked on the faces of Madonna, Beyonce, Gwyneth Paltrow and Megan Fox to name a few, who have constantly be exposed to the world's greatest products. We share this info with one another and now I can share it with our members, who may not be as privy to this information. I also have two very busy Salons in Beverly Hills and New York. My clients are constantly bringing in new things for me to try.
I also love the fact that you fill out a form when you join TLB that tells our team your skin type, your nationality, your style icons and more. This is beneficial as we want our clients to be 100% satisfied with the products we send them to try. It does not make sense to send a conditioner for straight blonde hair to a woman with kinky dark hair….or a moisturizer for dry skin, to someone that has extremely oily skin.
GM: We know you're a brow guru so you have to tell us what brow look is en vogue for 2012?
DR: 2012 is all about a defined arch without compromising the thickness! We still want the drama but in a softer, fuller way.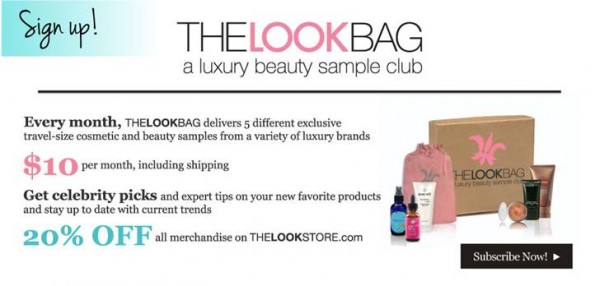 GM: Alan, you're pretty much the brains behind one of the hottest entertainment networks so how did a beauty website come to be your next business venture?
Alan Mruvka: I always like to have my finger on the pulse of what's happening culturally. Women's beauty e- commerce and programming is where it's at right now. Viewership, advertising, and e-commerce are all chasing the highly sought after female demographic. Beauty is in the bull's-eye of that. At THELOOKBAG, for $10 a month women receive 5 different luxury deluxe beauty samples every month, picked for them especially by beauty guru Damone Roberts.
GM: Damone Roberts is the newest face of TLB. How did this relationship come about?
AM: We set out to find the one the premier beauty guru in Hollywood. We wanted the person who was first to come to everyone's mind when it came true celebrity beauty and glam. When you talked to everyone in Hollywood the name was simple: Damone Roberts.
GM: What sets TLB apart from similar beauty services such as Birchbox?
Alan: THELOOKBAG is the gold standard in beauty sample programs. We went out to look for the premier celebrity beauty guru and were lucky enough to partner up with Damone Roberts. Since we are smaller than Birchbox we have the ability to specialize The Look Bag for an individual's needs. The samples that we send out are of the highest quality. Try us and you'll see we are the Rolls Royce of beauty sample clubs.
Glamazons, click here for more info on THELOOKBAG. And tell us what you think of the innovative beauty sample club!
Ciao Bellas,
Glamazon Margo
View Related Posts: