GLAM SCOOP: Christopher Kane NOT Going to Dior, Katy Perry Covers Interview, Dannijo Does Shoes!
Tuesday, February 28, 2012
Good Afternoon, Glamazons! I hope you are having a fab day! I've been pretty busy lately planning Glamazon Channing's two year anniversary party for her glamazing blog Channing In The City. Stay tuned for all the deets!
Until then, I have your daily dose of fashion and beauty news. Let's get to it!
Carrie Bradshaw "Carrie Diaries" Character Casted
Over several months, dozens of rumors have hit the internet regarding which actresses would be playing the Sex in The City Characters in the "Carrie Diaries." Remember we heard Blake Lively and Elizabeth Olsen were being considered? Well, we've finally got the scoop! Turns out the leading lady will be Soul Surfer actress AnnaSophia Robb. There's no word yet on who will play Samantha, Miranda or Charlotte just yet. What do you think of AnnaSophia as a younger Carrie, Glamazons? Who would you have picked? [Fashionista]
Katy Perry Covers The March 2012 Issue of Interview Magazine
Talk about a glamourous beauty transformation! Katy Perry's style took a 360-degree turn for the best on the March 2012 issue of Interview Magazine. She looks absolutely stunning! I must admit: I had to do a touble take at first because the cat eye and big tresses are so reminiscent of Amy Winehouse's signature style. What do you think of the cover and Katy's transformation, Glamazons? [Stylelite]
Joan Smalls Is The First Black Model to Cover Vogue Italia In Four Years
Joan Smalls is on her way to becoming the world's next Supermodel. Besides being a Victoria's Secret Angel, one of two featured models in Chanel's Spring 2012 campaign and the face of Estee Lauder, Joan Smalls has stormed the catwalk at some of the most important shows of Fashion Month including Dolce & Gabbana. Well, the gorgeous Glamazon isn't stopping there! She's made history as the first African-American woman to grace the cover of Vogue Italia in four years. Incredible! What do you think of Joan's cover, Glamazons? [Huffington Post]
Christopher Kane NOT Going To Dior
Glamazons, the internet was abuzz this morning with rumors that Christopher Kane is headed to Dior after famed fashion writer Suzy Menkes speculated as much for The New York Times. Kane quickly shut those rumors down, however, telling Vogue UK:
While it is incredibly flattering that I could be considered for a role at a house such as Dior at this stage in my career, I can confirm that I have not been approached. I am focused on developing my own label and my ongoing collaboration with Donatella Versace for Versus.
Well, there you have it. Will this Dior speculation EVER end? Everyone from Marc Jacobs to Raf Simons has been associated with the gig, formerly held by John Galliano. One thing is for sure: the fashion house needs to find a replacement soon. [Fashionista]
Nicole Richie Covers Flare Magazine
Glamazon Nicole Richie takes an effortless trip to Sequin City in an amazing gold and white ensemble for the April Issue of Flare Magazine. Love her look, as always. She is such a style darling. Will sequins end up in her line for QVC? Here's hoping! What do you think of the cover, Glamazons? [Beauty is Diverse]
Dannijo Does Shoes!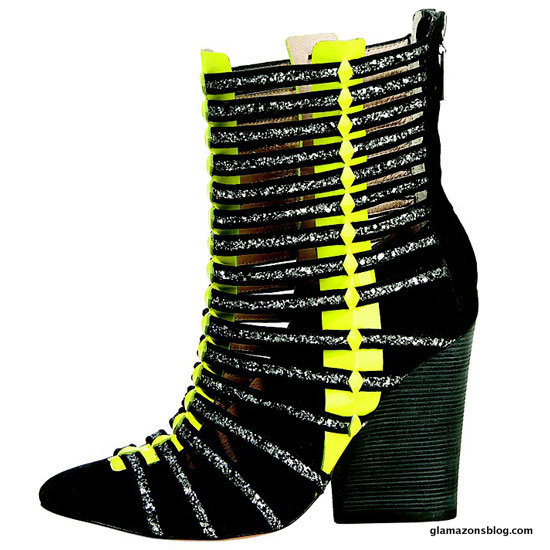 Guys, you are well aware that I am OBSESSED with Dannijo jewelry and now the brand is debuting "jewelry for your feet!" *SQUEAL* In collaboration with footwear brand Matt Bernson, Danielle and Jodie Snyder are releasing a five-piece shoe collection, priced from $238 to $420 and available in August at Shopbop.com and Dannijo.com. Feast your eyes on one of the shoes above, the Zeppelin, with its glittery cage and neon embroidery detail. I LIVE! [FabSugar]
Victoria Beckham for Madame Figaro
Victoria Beckham is gracing the cover of Madame Figaro. Doesn't she look so beautiful in her one-piece floral swimsuit (a HUGE trend this Spring!) and soft curls? And of course, she's giving a fierce Zoolander stare for your nerves. LOVES!
Love & Fashion,
Glamazon Kamille
View Related Posts: