A Day In The Life: Glamazon Margo Talks Charity, Beauty and Movies With Boris Kodjoe!
Friday, February 24, 2012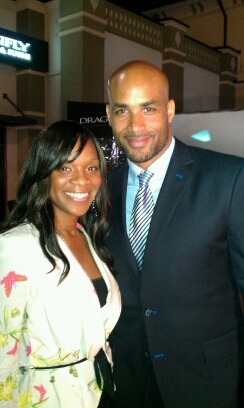 Glamazons, I've been swooned by an absolutely gorgeous man. It all happened so fast, and I'm still smiling from ear-to-ear about it, but somewhere between me tapping him on the shoulder and him looking into my eyes and chatting it up a bit with me, the skies parted and my night was suddenly perfected.
Last night officially kicked off the 2012 NBA All Star Weekend in Orlando, and since this year's festivities are taking place in my neck of the woods, I figured there was no better way to get my weekend started than by attending the Eternal Couture charity fashion show hosted by the ridiculously handsome actor Boris Kodjoe. (OK, so maybe I wasn't swooned because he's happily married to the equally attractive actress Nicole Ari Parker, but in my mind we made a connection! I mean I felt like I was reliving a scene from Brown Sugar or something!)
Just as the runway show ended I wiggled my way from the press area and found Boris casually chatting it up with a couple of fans. Once their conversation ended, I tapped him on the shoulder and introduced myself. He shook my hand and by the time our picture was snapped, we were engaged in a conversation about his love for charity, support for his wife and upcoming events. Here's the tea on what "Gorgeous Brois" is up this year.
GM: Why did you take on the role as the host of the fashion show tonight?
BK: They inquired if I was free to come through, and I was already in Orlando. Plus, I'm always on board for anything that's related to charity.
GM: Speaking of models, you have a beautiful wife with a phenomenal figure, and I just covered her new Save Your Do headbands. What's your take on this venture?
BK: I think it's great. She had a great idea and did a lot of research and came out with a great product that hopefully you'll enjoy.
GM: We all love to see you in action on both the big and little screens, what's on the horizon for you this year?
BK: I have two new movies coming out this year. I have Resident Evil coming out in September and I'm directing my first movie and that's coming out this summer.
Although, our chat was short, Glamazons it was oh-so-sweet! To top it off, it looks like we'll be seeing lots of Boris on the big screen this year. Totes a night to remember!
Ciao Bellas,
Glamazon Margo
View Related Posts:
[fbcomments width="600" count="off" num="15"]