GLAM SCOOP: Versace for H&M Sold Out in Minutes!, Solange Talks Blue Ivy with InStyle, Taylor Swift's Full Vogue Spread
Thursday, January 19, 2012
Good fashion afternoon, Glamazons! Hope your day is everything. My morning has been quite busy, prepping for New York Fashion Week! Are you excited for all the shows? Stay tuned for our report straight from the runway.
Until then, I have your daily dose of fashion and beauty news. Let's go!
Old Navy Countersues Kim Kardashian
Well, things still aren't looking too good for Kim Kardashian. A few months ago the reality star decided to sue the fashion brand for $20 Million over use of a "Kim Kardashian Lookalike," who just so happened to be dating Reggie Bush at the time, in one of their commercials. Kim is arguing the lookalike infringes upon her brand. Old Navy is now countersuing Kim with a look into how much that brand is worth, and we all know news outlets have been reporting her reputation (and money) is sinking. Old Navy will take into account the Kardashian shows' ratings which are currently tanking (with pictures surfacing showing that the scenes are staged) and how much money all Kim's myriad products have truly earned. Glamazons, this could get ugly. [Racked]
Michelle Williams Graces GQ as Marilyn Monroe
In addition to American Vogue and Vogue Paris, you can now add the February issue of GQ Magzine to Michelle William's "Marilyn Monrie-esque" repertoire. Who knew she had that amazingly hot body under there? This inspires me to shop for Valentine's Day (and umm, go to the gym!). [Fashion Etc.]
Versace for H&M on Sale Today Sold Out within Minutes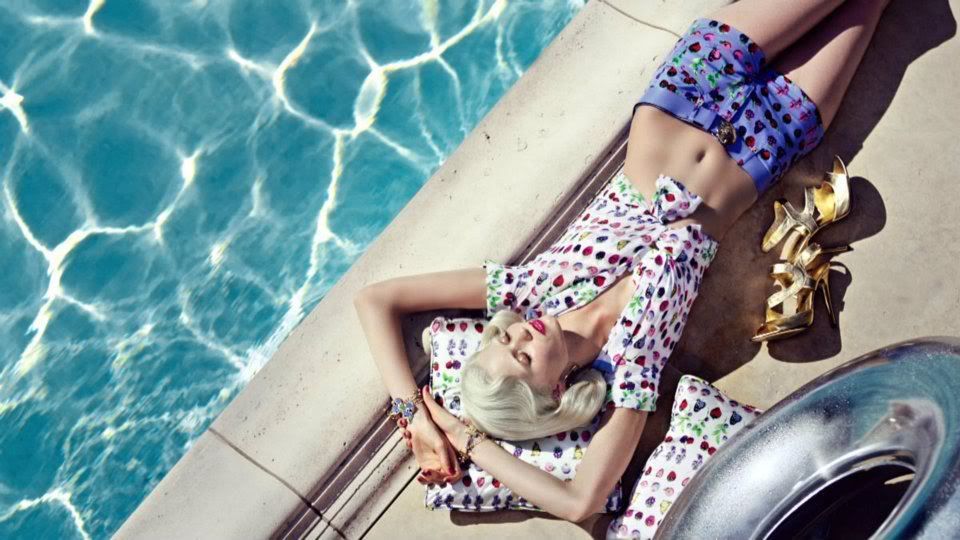 At about 11AM this morning, the Versace for H&M Spring 2012 Cruise Collection was released online and as expected, it sold out within minutes. Interesting, since many bloggers didn't think the collection was that hot. For whoever missed out on scooping up a printed blouse or two, guess there's always eBay. [Fashionista Wears Chanel]
Solange for InStyle Magazine
In the February issue of InStyle Magazine, Solange shows off her glowing natural 'fro and love of florals. Oh and discusses her already-famous niece, Blue Ivy Carter.
"This may sound awful, but I'm excited to let the baby do whatever it wants, in the same way my sister's done with my son. I'm going to get her back for all those late-night popcorn sessions and just spoiling my child to no end!"
Awww, spoiling a child is the sign of a great Aunt! [InStyle]
Another Former Assistant of Rachel Zoe's Gets Their Own Show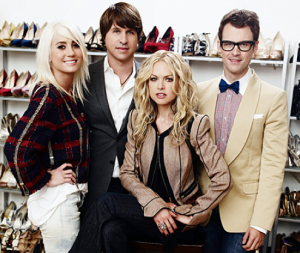 Seems assisting Rachel Zoe is a surefire way to get your own show. Brad Goreski isn't the only former assistant of Rachel Zoe gracing our TV screens this year. Get ready for Taylor Jacobson's new show debuting later this year on Oxygen. Love it already! #TeamTaylor [Fashionista]
Jay-Z Bashed for Layoffs at Rocawear
Back in my days as a young'n without a care in the world, Rocawear was the it urban brand to wear. However, it's been years since the brand has been able to hold as much prestige as it once did. Recently, the brand announced that it was changing its image with a more sophisticated, less urban spin. It seems that hasn't fared well either.
The day before Blue was born, Rocawear laid off 28 of their 56 employees. Yikes. Folks are claiming this move is further evidence that Jay-Z is down with the 1% over the 99% despite what his "Occupy All Streets" t-shirts represented. (Note: he didn't share the profits of the t-shirts with the Occupy movement). Perhaps, this may be an opportunity for his laid-off employees to work at the 40/40 club which just re-opened yesterday. And speaking of which, here's gazillionare Warren Buffett throwing up the Roc at the opening.
Get em, Jay? [Styleite]
Taylor Swift's Full Vogue Spread
You already saw (and loved!) Taylor Swift's Vogue cover. Now, check out the glamorous, 70s-inspired spread, which appears in the February issue of Vogue.
What do you think of the spread, Glamazons? Wouldn't it be amazing if Taylor really started dressing like this? [The Gloss]
Love & Fashion,
Glamazon Kamille
View Related Posts:
[fbcomments width="600" count="off" num="15"]