GLAM SLAM: Michelle Obama in J. Mendel at BET Honors Plus Happy Birthday Mrs. O!
Tuesday, January 17, 2012
Guys, I had a pretty amazing weekend (this is one of the reasons why) but I have to admit, I was kind of disappointed that I had to miss the BET Honors taping in D.C. for work. In addition to a performance by Stevie Wonder, my favorite artist EVER, First Lady Michelle Obama made an appearance at the show, tributing Maya Angelou who was among the honorees. (You can watch it all on BET February 13th 9 PM EST…yes, that was a shameless plug).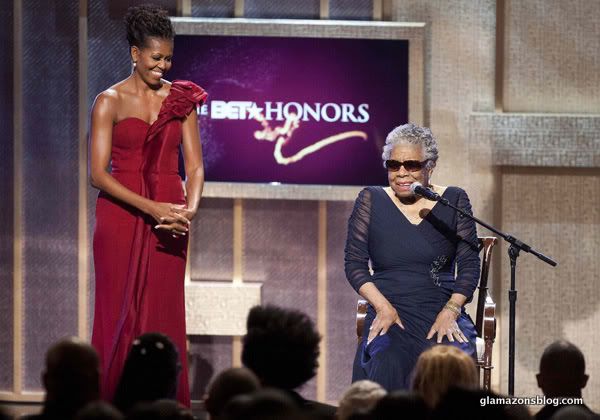 She presented the Literary Award to Maya saying, "It is not enough merely to seek greatness for ourselves, we must help others discover greatness within themselves. We need to reach down and reach out, and give back and lift others." Wow. As you guys know, Michelle Obama is everything.
The First Lady, who embodies grace, poise, elegance, class and all the things your mother told you a woman should be, truly has it all: a successful career, academic achievements, a loving husband, adorable daughters, a supportive Mom, an amazing body, glorious, shiny hair and an impeccable wardrobe. She values the right things (health, family, education) but still knows how to put together a fierce outfit. That, my friends, is a true Glamazon.
I could celebrate Michelle Obama everyday but I figured her birthday is the perfect time to well, gush, over her some more. With that said, let's take a look at her outfit at BET Honors: a stunning crimson J. Mendel Resort 2012 gown.

In keeping with the whole confident in your own skin thing, Mrs. O showed off one of her best features, her toned upper body, with a one-shoulder neckline. The floral detail on the neck and draping along the front of the dress add a touch of femininity and romance to match the scarlet hue.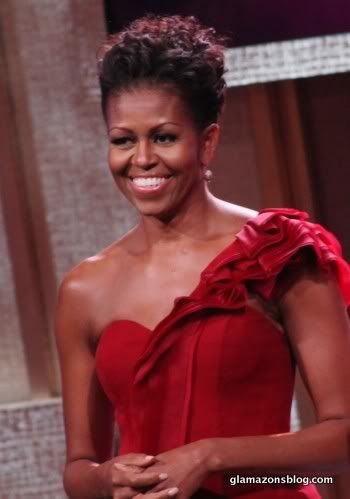 Michelle swept her hair up in an elegant updo so as to not compete with her gown. It totally makes her look regal, right?
I love the way this J. Mendel gown compliments her frame and skin tone, so of course, I'm giving it a GLAM SLAM. What did you think of her look?
And join me in wishing a glamtabulous birthday to our First Lady, Michelle Obama. Happy Birthday, dahling!

Kisses,
Glamazon Jessica
View Related Posts: