GLAM SCOOP: Heidi Klum and Seal Divorce Statement, Fashion's Night Out Date and Dita Von Teese for Target
Monday, January 23, 2012
Happy Monday, Glamazons!
How was everyone's weekend? Mine was filled with late nights and fun! ( I was not letting the snow put a damper on my plans ;) ). I had a little girls night with pizza, cupcakes and wine (yum!), danced the night away at a Delta Sigma Theta dance and as per usual, indulged in some tasty food. All weekends should be as glamtastic as the one I just had.
While I was out partying, the fashion world was ticking. Let's get to all the news!
Fashion's Night Out Date Revealed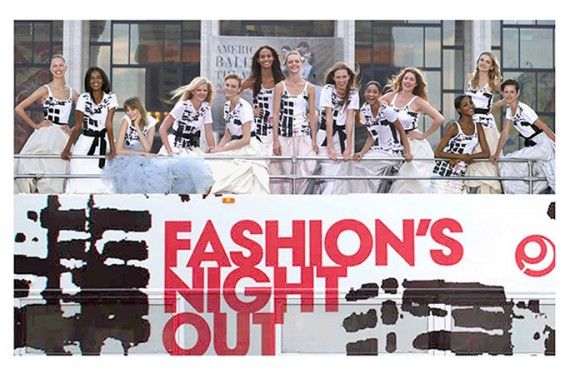 The date is finally in, Glamazons! It has been confirmed that Fashion's Night Out will take place on Thursday, September 6th in NYC. Get excited because it is guaranteed to be a night of nonstop madness and fun! [The Cut Blog]
Dita Von Teese for Target
Every Glamazon needs to have at least one glamazing piece of lingerie in their arsenal and now famed burlesque superstar Dita Von Teese is designing affordable intimates for everyone. Dita Von Teese penned a 26 piece capsule collection for Target Australia which will hit stores in February (perfect gift for your boo on Valentine's Day!).
The collection will consist of high-cut briefs, G-strings, balconette bras and more. Although only the Aussies will be getting a first taste of the collection, WWD suggests that it will be going international. [The Gloss]
Karlie Kloss for Oscar de la Renta
Karlie Kloss is the star of Oscar de la Renta's Spring 2012 ad campaign and this girl is totally working it. Shot by Craig McDean and styled by Alex White, the ads feature Kloss rocking ODLR's colorful shoes, handbags and breathtaking dresses. Mark our words: this is Karlie's year! [Stylecaster]
Heidi Klum and Seal Release a Statement On Their Divorce
Please say it ain't so! Power couple Heidi Klum and Seal are getting a divorce :(. TMZ reports that Heidi will file divorce papers in L.A. County Superior Court this week due to "irreconcilable differences." Hmm, we've heard that one before. This is sad news because the two have three children together and have just been together for like ever. And were so cute! People got a confirmation via this statement.
"While we have enjoyed seven very loving, loyal and happy years of marriage, after much soul-searching we have decided to separate.

"We have had the deepest respect for one another throughout our relationship and continue to love each other very much, but we have grown apart. This is an amicable process and protecting the well-being of our children remains our top priority, especially during this time of transition.

"We thank our family, friends, and fans for their kind words of support. And for our children's sake, we appreciate you respecting our privacy."
Tears! [People]
Baby Harper Beckham's Glam Style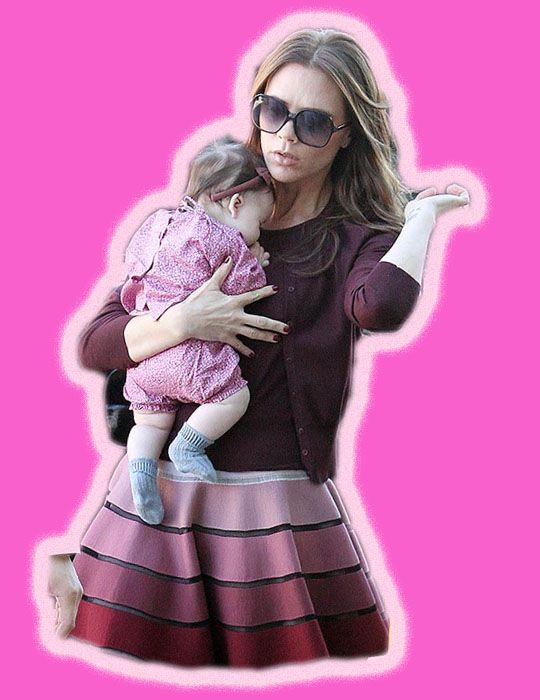 Like daughter, like mother, right? In the case of Harper Beckham, her mom Victoria makes sure she is best-dressed for every occasion, even a walk around the block. Flaunting a floral onesie above, the six month old has a future in fashion for sure. I can't wait until she starts to dress herself…oh and design, of course. [Fashionista]
Opening Ceremony & Adidas Collection
I have not purchased a pair of sneakers for myself in what feels like ages. Perhaps I have just grown out of them because every time I walk into a store I see nothing I like. Hopefully, the upcoming collab between Opening Ceremony and Adidas will give me some options. Inspired by this year's Olympics, the line will consist of about 100 products, including both clothing (priced from $100 to $630) and footwear ($140 to $325). Pretty cool right? I can't wait to see some visuals, then that will determine my decision, lol. [Lucky Magazine]
Until Tomorrow,
Toodles Luvs!
Glamazon Krystal
View Related Posts:
[fbcomments width="600" count="off" num="15"]