GLAM SCOOP: See Doo-Ri for Macy's, Zac Posen for Lord & Taylor, Demi Moore Rushed to Hospital
Wednesday, January 25, 2012
Glamazons, how are you? I hope you've been just fabulous and enjoying the decent winter weather (for those of us in cooler cities!). Last night, I attended a private event held by luxury hair company Indique Hair and Amica Style's Danielle Premone and had a glamazing time (more on that later)! I'm also getting excited because Fashion Week is beyond close now. Fashion shows, celeb sightings and giveaways are on deck!
For now, I've got your daily dosage of fashion and beauty news. Let's get to it!
First Look at Doo-Ri for Macy's! It's GORG!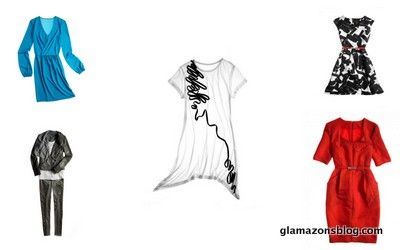 The looks are finally here, Glamazons! Back in October 2011 we reported that the Doo-Ri Chung collection would be coming to Macy's Impulse and now, we have our first look at the pictures. GLAMAZING! The collection launches February 15 (just in time for my birthday :)) and is filled with prints, bold colors and one of the cutest floor-length dresses I've ever seen. With a price range from $39-$159, I'll definitely be purchasing. What about you? Are you checking for this collection? [Fabsugar]
Demi Moore Rushed to the Hospital
Demi Moore was recently rushed to hospital for a substance abuse-related issue (!). People are speculating her breakup from Ashton Kutcher is having an adverse effect on her health. Whatever the cause, I hope she gets the help she needs ASAP. Her rep released a statement saying:
"Because of the stresses in her life right now, Demi has chosen to seek professional assistance to treat her exhaustion and improve her overall health. She looks forward to getting well and is grateful for the support of her family and friends."
Poor Demi, my heart goes out to her kids in all of this. Hopefully, she recovers and everything works out for the best. [Jezebel]
Nicki Minaj Reveals Her Beauty Favorites
Ever wonder what Nicki Minaj's favorite beauty products were? Us too! The barb dished to Elle magazine what she can't live without. MAC Viva Glam lipstick (hers of course!), Vaseline Total Moisture Cocoa Radiant, Skintimate Extra Gentle Moisturizing Cream Shave, MAC Pro Long Wear liquid foundation, Dove cleansing bar and MAC black liquid eyeliner made Nicki's list. Pretty impressive, down-to-earth list given all her outlandish beauty moments, don't you think? [StyleBlazer]
Zac Posen Teams Up With Lord & Taylor For Diffusion Line
Zac Posen is one of our all-time fave designers, which is why we do virtual back-flips whenever he releases an affordable collection. After his capsule line for Target (which we LOVED!), he's jumping on the masstige train again with a diffusion line for Lord & Taylor, which includes 12 dresses ranging from $149-$199. *Dances around* The line will be available in April at 30 L&T locations. Woohoo! [Stylecaster]
Grace Jones, Chaka Khan, Sister Sledge & More At Paris Fashion Week
Paris Fashion Week officially has me jelly and anticipating New York's festivities. Why, you ask? Well, Grace Jones, Chaka Khan, Sister Sledge and Gloria Gaynor rocked the stage with their vocals at Etam's Couture show. OMG, I would've killed to be there! I am a Grace Jones STAN! The scene evoked Studio 54 as models catwalked while the music icons performed their timeless hits. Do you see Grace Jones' legs? GAG! [Coco and Creme]
Until Tomorrow,
Toodles Luvs!
Glamazon Krystal
View Related Posts:
[fbcomments width="600" count="off" num="15"]