Beauty Crush: Impress Press-On Manicure By Broadway Nails like Nicole Scherzinger on X-Factor
Friday, December 23, 2011
I'm always looking to find innovative beauty trends to share with my favorite people in the whole wide world…my fellow Glamazons! A couple of days ago, I spent my 15-minute break at my glam-free government job watching a webinar learning about the new imPRESS Press-On Manicure by Broadway Nails. Let me just say, this was quite the mani eye-opener.
There are 36 styles to choose from: 18 designs and 18 fab colors. You can mix and match them to create tons of cute, unique looks! In the pic above, I'm wearing a gorgeous purple color with a hint of a blue shimmer, called Velvet Rope, that I love, love, love!
The thing that's supposed to set these nails apart from others is they have a flexible texture that lets you have more control when fitting them to your nails.
Now, you know I had to put these nails to the test! I have pretty large hands (and feet…smh), so when I first saw the nails in their adorable packaging, which looks like a nail polish bottle, I just knew they wouldn't fit! To my surprise, they fit perfectly.
Application is easy. Just remove the clear tab from the back of the nails that conceals the sticky part, press it on and repeat until you're done.  They should last up to a week without popping off. So far, I've been wearing them for 3 days, and I haven't had any problems.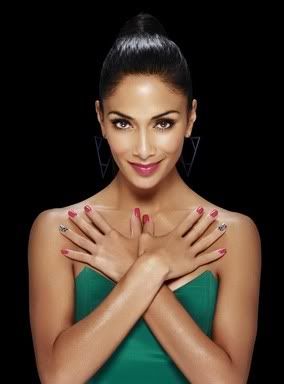 Nicole Scherzinger is the celebrity brand ambassador for the nails, and has been seen rocking them on X-Factor. Here is some behind-the-scenes footage of her at the commercial shoot.
Each imPRESS Press-On Manicure kit comes equipped with 24 nails and is available at CVS, Walgreens & Walmart stores nationwide. Colors cost $5.99 and patterns are $7.99.
I can't wait to get my hands on the crackle and leopard print designs! Glamazons, what do you think about the imPRESS Press-On Manicure kit? Would you try it?
Ciao Bellas,
Glamazon Margo
View Related Posts:
[fbcomments width="600" count="off" num="15"]