GLAM SCOOP: Iris Apfel for MAC, David Yurman Says Kate Moss Copied Him and Alice Dellal for Chanel
Monday, December 19, 2011
Oh, Glamazons.
Mondays are always hard for me but today is particularly excruciating as I had a holiday potluck dinner at my house last night that lasted to the break of dawn (Fun times, though!). Besides shopping and traipsing around the city in heels, I love to COOK so you'd be proud to know my macaroni and cheese was a hit at the dinner…as was my friend's egg nog, which is why today is all about sunglasses and advil (cue Kanye West). Hope your weekends were just as festive!
OK, so while we were out holiday partying and buying gifts, the fashion and beauty world kept turning, and we've got all the tea. Let's get to it!
Iris Apfel for MAC. YASS!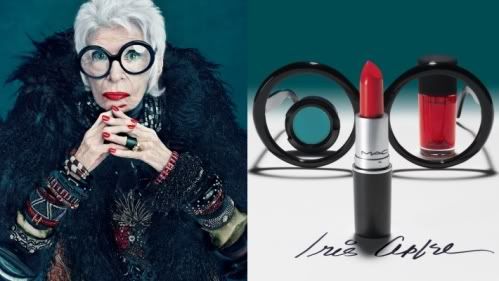 The most fashionable 90 year-old woman in the history of style, icon Iris Apfel, who we LOVE, is releasing a new collection for MAC. Expect lots of bold color (as is Apfel's signature) and all bird names (i.e. Party Parrot) because she loves her birds! The line of lipstick, shadows, pencils and nail polish launches on January 5th. Wish it came with her fab glasses, too. [MTV Style]
Handle Your Scandal: David Yurman Says Kate Moss Copied Him
Am I the only one who thought Kate Moss and David Yurman were besties? I mean, it was only a year ago she was starring in his ad campaign. I guess not. The claws have come out, Glamazons, as David Yurman's rep has accused Kate of copying his 2011 campaign for ads from her jewelry collection for Fred. And umm, we kind of believe him. The ads are just too similar to be a coincidence but you be the judge. [Fashionista]
Alice Dellal For Boy Chanel Handbags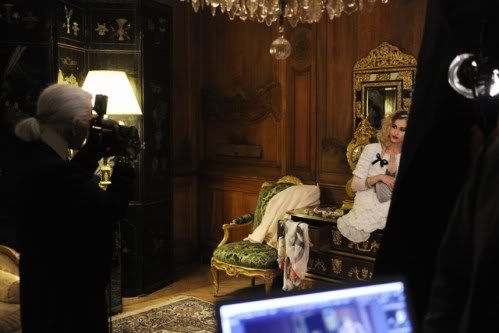 Remember when Karl Lagerfeld tapped Blake Lively for Chanel handbags and some of you kind of felt she was too California-dreamy (read: boring and bland) for such a regal, luxurious brand? Well, Karl must read this blog (I would DIE!) because he tapped Alice Dellal for Boy Chanel handbag's campaign. The drummer in band Thrush Metal (who had her head half-shaved way before Cassie) has attitude and personality for days and is totes the embodiment of his grunge moment (you DO know he's having a moment, see his Fall 2011 collection for proof). Can't wait to see these ADS! What do you think of Alice for Chanel, Glamazons? [Racked]
Really Girl? Amber Rose Gets Demure for Stylecaster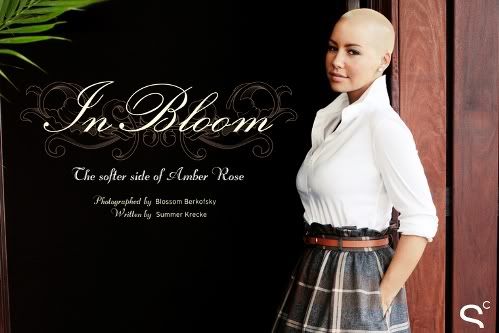 Wait, is THAT Amber Rose? While her ex Kanye is ending his Watch The Throne tour and reportedly dating Kim Kardashian, Amber is busy loving up Wiz Khalifa and being an, err, model. No, seriously, Rose is making waves with a campaign for Smirnoff, a gig judging BET's Master of the Mix and now, this really sophisticated photoshoot for Stylecaster.
Entitled "The Softer Side of Amber Rose," the shoot captures Amber rocking lace, florals and even a plaid skirt. And she doesn't look uncomfortable! Maybe now she'll put the leggings to rest? [Stylecaster]
Jennifer Aniston Uses Botox, The Media Goes Nuts
So in the news that shook fashion and beauty last weekend, Jennifer Aniston admitted to using Botox to InStyle. I'm sorry, Glamazons, but I just don't see why this is a big deal. Tons of folks in Hollywood use Botox (umm, didn't we watch Kim K get it done on national TV?) so the world shouldn't stop spinning because Rachel did it. I actually think it's pretty brave that she came out and admitted it — and she also confessed to getting sun spots and gaining .5 a couple of pounds. So she IS human afterall. [PeopleStyleWatch]
How To Care For Your Skin During Your Holiday Cocktail-Induced Hangover
In news that I really needed to know today, BellaSugar gives us the tea on fixing booze-induced skincare woes. Glamazon Andrea always says water, water, water and as I said before, Kanye recommends sunglasses and advil (LOL) but their fancy expert suggests chicken soup and baths with olive oil. ::heads to grocery store to pick up both:: [BellaSugar]
Gisele for Givenchy Spring 2012
Breaking: Gisele is still gorgeous. Like, BEYOND. The supermodel is featured in the Spring 2012 campaign for Givenchy on the beach in Barcelona alongside a truck, two male models, a dog and a surfboard. Everything a woman needs. [Beauty Is Diverse]
Until Tomorrow!
Kisses,
Glamazon Jessica
View Related Posts:
[fbcomments width="600" count="off" num="15"]