Would You Wear…Temporary Lip Tattoos like Kim Kardashian and Lady Gaga?
Tuesday, November 29, 2011
Yes, Glamazons, you read the headline for this story correctly. There's a new beauty trend in town and I must say it's pretty unique. Lipstick tattoos are making their mark (pun intended) on the fashion and beauty world and giving the words 'read my lips' a completely new meaning!
Celeb Glamazons Lady Gaga, Jessie J, and Kim Kardashian have all been spotted wearing the trend.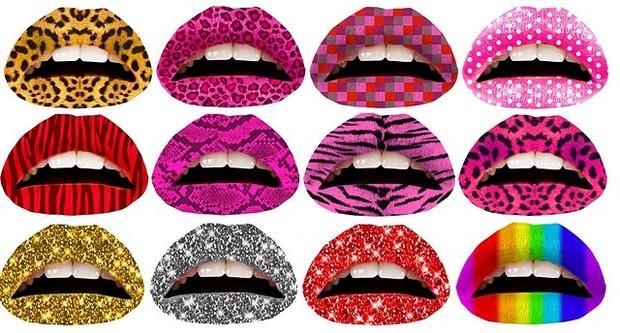 The company Violent Lips (Cute name, right?) first introduced me to this fad when they sent me some super-cute cool hot pink lipstick tattoos with 'XOXO' written in white on the bottom lip. To my delight, that was just one of many fab designs! You can choose from purple cheetah print, black and white checker, silver glitter, pink giraffe, red zebra print and many more.
The Violent Lips tattoos cost $14.95 and there are three applications in each pack. Check Violentlips.com to learn more about these fab pieces of lip art!
And check out this video to learn how to apply them:

This innovation really has brought me to the conclusion that there is no limit to the glam creations that we will experience in the beauty industry.
Glamazons, is this something that you would try, or are the designs too OverTheTop.com for your taste?
Ciao Bellas,
Glamazon Margo
View Related Posts: