Top Cyber Monday Deals!
Sunday, November 27, 2011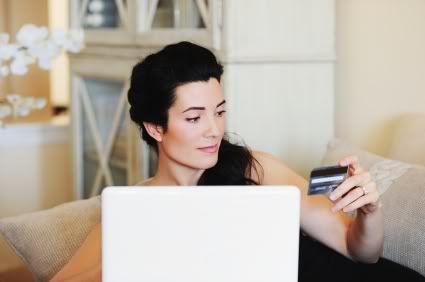 Happy Cyber Monday, Glamazons! Yes, it's that time of year again. To help you with your digital shopping experience, we're sharing some of the best Cyber Monday Beauty Deals with you.
Tarte Cosmetics- if you want to save on makeup, you gotta check out these deals from Tarte.  Get $10 off when you spend $50 and up, $20 off when you spend $75 and up, and $30 off when you spend $100 or more. Use the code:CYBER at checkout. You also get to choose a free full-size gift with every order. For all orders of $40 or more you get free shipping! 
BeautyRx Skincare- Preserve your pretty with a special offe from the beauty brand. If you purchase two products on BeautyRx.com, you get the third for 50% off. The coupon will be applied to the most expensive item. Just log on to Beautyrx.com and use coupon code: BF2011
Dr.Brandt Skincare- Get your glam on with discounts from skincare guru, Dr. Brandt. The  Dr. Brandt Lineless Eye Cream, which is great for sensitive skin, is on sale ($60 $29). Dr. Brandt Flaws No More R3P Eye, an , intense triple-peptide eye cream, is newly reduced ($80 $39).
CleanWell- All CleanWell products purchased between 11/24-11/29 will be an additional 25% off.  Use the discount code SAVE25 at checkout.  Availability: www.cleanwelltoday.com
Tweezerman- Keep those brows looking tight, Glamazons! There will be free shipping on all orders. You can also get a really cute free gift, the Candy Cane Glitter Mini Slant Tweezer. Availability: www.tweezerman.com
LovelySkin- Shop your fav beauty brands, such as Jane Iredale, Colorescience, Obagi, Stila, EltaMD, and more over at LovelySkin.com and get 25% off all orders. There's also a special gift for orders over $200.
Zeel- Keep you health and wellness up to celebrity status with this deal where you can get an instant $25 credit in addition to up to 25-30% off services with Rihanna's trainer, the US Tennis Association's massage therapist, the Today Show's dermatologist, along with services from other top Zeel expert's! It's free to join, so what are you waiting for?! Log on to www.zeel.com/holidays and register for your $25 credit!
Lisa Hoffman Beauty- Receive a Free Signature Votive Candle & Deluxe Samples ($15 retail value) with every $65 purchase and receive free shipping over purchases of $50 or more. Availability: www.lisahoffmanbeauty.com
LightStim- Get a $29 discount on LED Light Therapy with LightStim for Wrinkles. It will be $270 (instead of $299). You'll also receive  a 10ml bottle of LightStim Collagen Peptide Serum. Use the promo code "CyberLight" to receive free shipping.
Dale and Thomas Popcorn-  Sweets and treats are the absolute best! Enjoy 25% off select items at www.DaleandThomas.com!
Happy Shopping!!
Ciao Bellas,
Glamazon Margo
View Related Posts: