GLAM SCOOP: Kim Kardashian for Marie Claire, Nicole Richie x QVC, West Hollywood Bans Fur
Friday, November 11, 2011
Good Afternoon, Glamazons!! Happy Friday & Happy Veterans Day! We have reached the end of yet another week! Today, the tree at Rockefeller Center will be making it's annual debut. I can't wait to see the tree lightening in a few weeks. Love holiday time.
Anyway, I have your daily dose of fashion and beauty news. Let's get to it!
Kim Kardashian Covers the December Issue of Marie Claire Magazine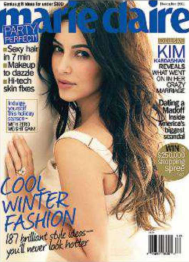 Following the news of her divorce that hit the media like a wildstorm last week, Kim Kardashian speaks on her 'crazy marriage' for Marie Claire's December 2011 issue.
I know by now many of you are clearly sick of hearing about the Kim K hoopla (I am too!). I've heard more comments about her wedding being a sham than I can count. But this cover may just be the evidence naysayers were looking for.
The headline reads: Kim Kardashian reveals what went on in her crazy marriage but since magazine interviews occur weeks to months in advance—and issues go to print six weeks prior to hitting newstands—and Kim only announced her divorce 11 days ago—the 'tell-all' cover story has really strange timing. Unless of course, it was all planned in advance. Hmmm…
What do you think about the cover, Glamazons? Do you think Kim K's wedding was a sham? [Fashionista]
Kate Moss' Sister is a Model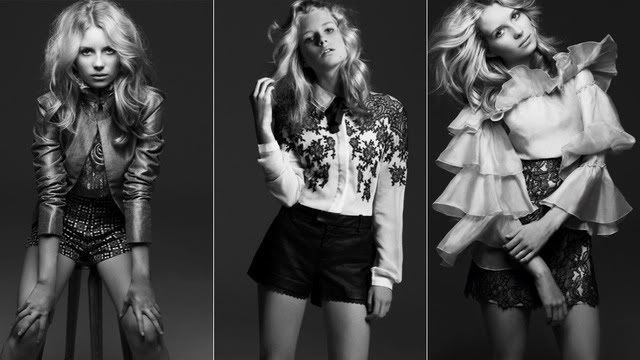 Lottie Moss, Kate's younger sister, is following in her big sister's footsteps straight down the catwalk. A photoshoot, where Lottie looks absolutely stunning has surfaced, proving good genes run in that family.
Would you believe she's only 13? She looks quite mature for her age in these shots. Glamazons, do you think 13 is too young of an age to start modeling? What do you think of Lottie Moss' look? [Jezebel]
Nicole Richie's Line for QVC
Glamazon Nicole Richie will soon be expanding her budding fashion empire with a new fashion line that's she is launching with QVC.
According to insiders, the new line, premiering in February, will cater to women of all size and shapes. With Nicole's incredible fashion sense, I'm sure this line with be nothing less than glamazing. Aren't you super excited for it, Glamazons? [Coco Perez]
West Hollywood Bands Furs
In news I'm quite sure PETA is happy about, West Hollywood banned the sale of fur within city limits earlier this week, becoming the first city to do so.
Any store that's found selling furs within the city will be fined. Wow!
Glamazons, what do you think of the ban? Will it spread to other cities? Is it about time? [Glamour]
Bloomingdale's X Dr. Romanelli's Beetle Bailey & Popeye Bomber Jackets
Bloomingdale's NYC flagship store has teamed up with Darren Romanelli for a limited-edition collection of military bomber jackets featuring comic and cartoon favorites Beetle and Popeye. I LIVE!
Each jacket was designed using swatches from real military uniforms, which is super cool. Love the fun flair the iconic cartoons give these jackets! They would definitely make the perfect Christmas present for a guy, don't you think? [Freshness Mag]
Have a glam weekend!
Love & Fashion,
Glamazon Kamille
View Related Posts:
[fbcomments width="600" count="off" num="15"]