GLAM SCOOP: Jay-Z for GQ, Kim Kardashian for Haute Muse, PETA vs. Mario Brothers & More
Tuesday, November 15, 2011
Good Afternoon, Glamazons! I hope  you're having a glamazing day. Have any of you gone holiday shopping yet? I'm so excited that there will be a Black Thursday and Friday this year and plan to shop to my heart's content.
Anyway, in the meantime, I have your daily dose of fashion and beauty news. Let's Go!
Jay-Z Get's Dapper for GQ
Jay-Z graces the December 2011 issue of GQ Magazine in which he is given the title, "The King of the Year." Love! For someone who has a major impact on music, fashion and business, the title comes well-deserved, no?
In the issue, Jay discusses fatherhood, Beyonce's VMA pregnancy announcement, Kanye's perfectionism during Watch The Throne recording sessions and his own father's absence in his life. And he looks quite dapper in Ralph Lauren's Black Label suit and a happy father glow! What do you think of his spread, Glamazons? [Coco & Creme]
Kim Kardashian for Haute Muse Magazine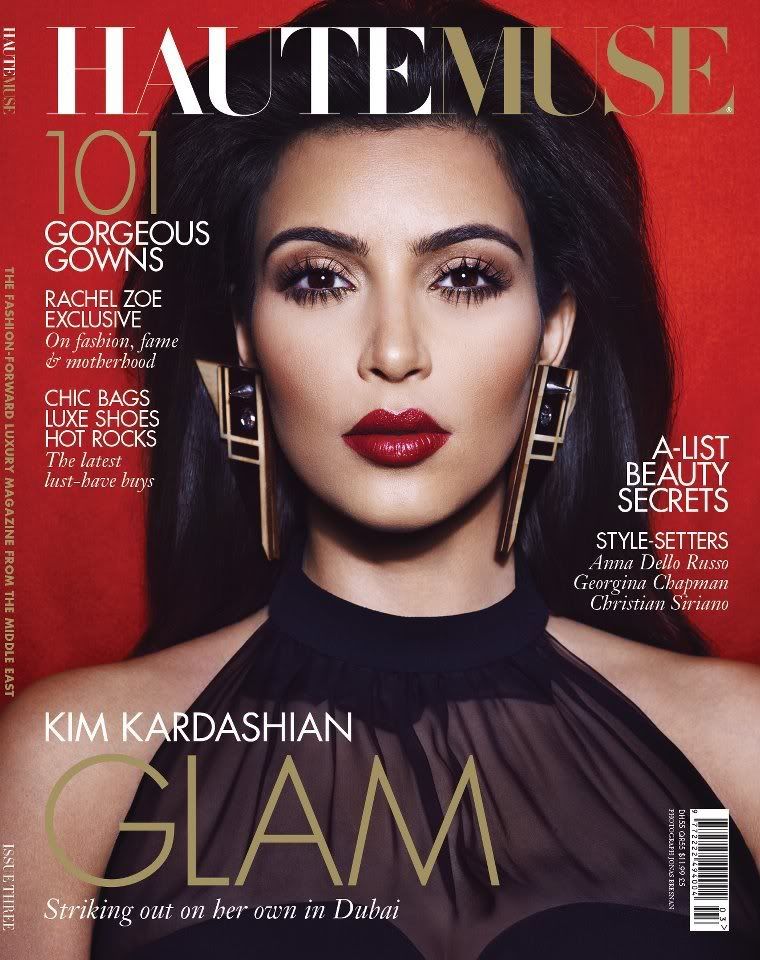 Kim Kardashian is stunning on the cover of Haute Muse Magazine's November 2011 issue. I adore her earrings…and those fierce red lips!! Need that color to survive!
Anyway, in the interview, Kim spoke on fashionistas she loves like Nicole Richie and Rihanna:
"I love people that take risks and have that confidence for fashion, like Nicole Richie and Rihanna. Even though I might not dress like them, I respect and really like their style."
Umm, how could you NOT? They are only our style inspiration and Kim dresses pretty fab herself. What do you think of her cover, Glamazons?

I adore it! [Haute Muse Magazine]
PETA is Angry with…Mario of Super Mario Brothers
In the sideeye news of the day, PETA is angry with Mario (yes, that Mario. The fictional character from the Nintendo games we grew up playing). I know you're scratching your head trying to figure out what human would waste anger on a cartoon? and why?!
Well, PETA is mad that Mario rocks "Tanooki suits" in the new Super Mario Brothers 3D land game. I just can't deal, Glamazons.
Here's what PETA had to say:
When on a mission to rescue the princess, Mario has been known to use any means necessary to defeat his enemy—even wearing the skin of a raccoon dog to give him special powers.

Tanooki may be just a "suit" in Mario games, but in real life, tanuki are raccoon dogs who are skinned alive for their fur. By wearing Tanooki, Mario is sending the message that it's OK to wear fur. Play Super Tanooki Skin 2D and help Tanooki reclaim his fur!
To be honest, there's not much I'll say about this because I think it's totally ridiculous. I mean, really. With all the games where cartoons shoot people and carry guns and weapons, a pretend fur suit isn't something I'd be upset about. But to each his own. What do you think of the "drama," Glamazons? [Racked]
China Glaze to Release Hunger Games Collection
If the Muppets X OPI collection wasn't enough to satisfy your stylish thirst, China Glaze will soon be releasing a Hunger Games Collection (see swatches above)  in February in conjunction with the release of the new movie. How glam is that? The colors are super cute for the transition from Fall to Winter. I can't wait until it's released.
What do you think about the colors, Glamazons? [Vibe Vixen]
Love & Fashion,
Glamazon Kamille
View Related Posts:
[fbcomments width="600" count="off" num="15"]